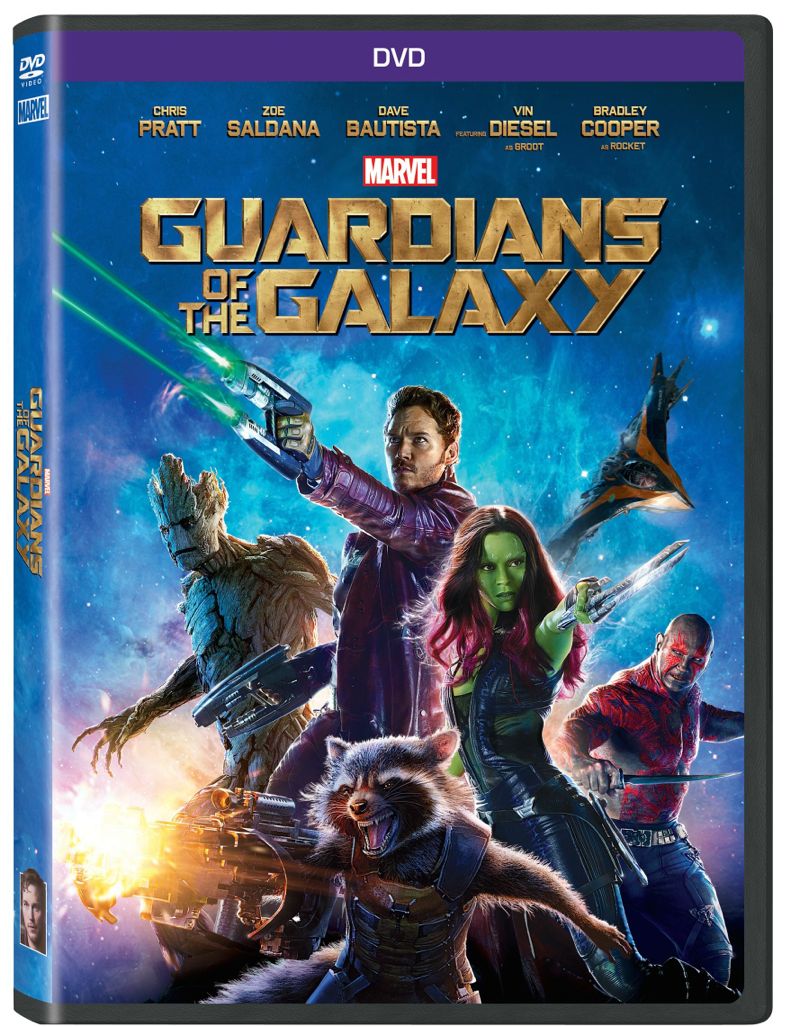 Guardians of the Galaxy begins with a young Peter Quill, aged nine, whose mother lies dying in a hospital bed. Shortly after, the boy is abducted in a spaceship by a band of pirates led by Yondu (Michael Rooker). Leaping 26 years ahead, Peter (Chris Pratt) is now on the abandoned planet Morag, where he steals a mysterious orb. Peter still has the Walkman he had at nine years old and still enjoys classic rock, which features throughout the movie, creating a pretty amazing soundtrack.
Peter then travels to a planet called Xandar, where he tries to sell the orb, but his plans are hampered by Gamora (Zoe Saldana), an assassin sent by Yondu, and bounty hunters Rocket (Bradley Cooper) and Groot (Vin Diesel), who want to capture Peter in order to get the bounty placed on his head by Yondu. A fight breaks out between all four and they're arrested and sent to prison, where they meet Drax (Dave Bautista). Drax's family was killed by Ronan (Lee Pace), a dangerous Kree who wants power at any cost, even if it threatens the safety of the entire galaxy, and Drax is bent on revenge. The five escape from prison and band together to keep Ronan from taking the orb.
Chris Pratt gives an amazing performance as a regular guy turned hero and has earned accolades for portraying a character reminiscent of (and equally as awesome as) Star Wars' Han Solo. Pratt bulked up for the role and looks very bit the part of a cheeky and reluctant hero. Add to that his incredible comedic timing and you've got a performance that could carry the film.
He doesn't have to, though, because he's supported by an equally impressive cast. Wrestler-turned-actor Dave Bautista is endearing as Drax, despite Drax being a tough guy who wants to murder someone. Bradley Cooper lends his voice to Rocket, bringing ample cheekiness and brashness to the table, while Vin Diesel brings heart to Groot – a "tree-being" of few words.
The DVD/Blu-ray release offers a selection of special features and extras, including deleted scenes, a gag reel, audio commentary with director James Gunn, featurettes titled Guide to the Galaxy with James Gunn and The Intergalactic Visual Effects for The Guardians of the Galaxy and finally, an Exclusive Look at Marvel's The Avengers: Age of Ultron.
Also new on DVD/Blu-ray this week are: Dolphin Tale 2, Calvary, Frank, I Origins, Maïna, When the Game Stands Tall and Yves Saint Laurent. For a full list of DVD releases, click here. ~Alexandra Heilbron