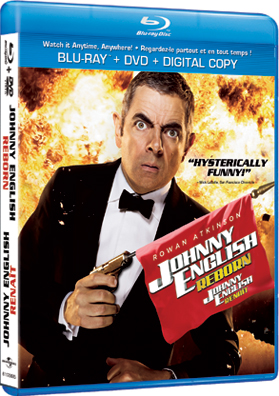 Everyone's favorite bumbling, British spy is back as Rowan Atkinson (Mr. Bean) returns as MI7's elite secret agent in Johnny English Reborn. The comedy sequel is a witty spy parody that's guaranteed to make even anti-Mr. Bean viewers crack a smile. When MI7 needs Britain's greatest spy to come back from a self-imposed sabbatical, English jumps at the opportunity to help his country. He'll have to uncover the mystery behind the sinister Vortex group and how they tie into his botched mission in Mozambique.
While the movie might overdo it every now and then, Atkinson is a natural at physical humor, and director Oliver Parker manages to highlight Atkinson's strengths. Gillian Anderson (click here to see Gillian's exclusive interview with Tribute about the movie) does a credible job as the stern, disapproving Pegasus while the beautiful Rosamund Pike holds her own as Kate Sumner, MI7 behavioral psychologist and English's love interest.
One of the film's strengths is the addition of young Daniel Kaluuya playing the rookie MI7 agent Tucker. Throughout the movie, Atkinson plays his slapstick humor off his partner Tucker to excellent results. If Reborn has a major flaw however, it would be the the plot, which is relatively predictable and straightforward. It's forgivable, however, considering the focus is clearly meant to be on the humor.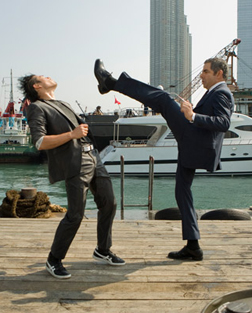 Johnny English Reborn is a fun film to watch with the family, being a good balance of suspense and comedy. While the first film focused more on witty dialogue, Reborn relies more on visual gags. The Blu-ray and DVD combo comes packed with bonus features, including deleted scenes, a staple of the home entertainment packaging. Reborn also features a brief description from the director as to why each scene was not included in the final version of the film.
Other features, such as The Making of: Johnny English Reborn, English in Hong Kong and The Wheelchair Chase, include in-depth views at key moments of the film. Ultimately, however, the best features are the gag reel and Working with Rowan, both of which showcase what it's like to work with Atkinson. In fact, these last two features are so good that they leave one hoping for a full-feature commentary by Atkinson. Sadly, only Parker and screenwriter Hamish McColl are included in the commentary. A bit of a missed opportunity. Still, the DVD is worth having for the extras. To watch the Johnny English Reborn trailer, click here. ~Rodrigo Cokting