Byrning up the big screen
Tribute.ca spoke with actress Rose Byrne about her upcoming film Knowing.
Q – Before we chat about your new film Knowing I'd like to congratulate you on your TV series Damages. The show has taken off like wildfire, and it must be so exciting for you to work with people like Glenn Close and Ted Danson.
Byrne: It's been really fun. We film the show in New York, which is an awesome city to work and live in. The writing is great on the show and, of course, working with these luminaries like Glenn and Ted and this season we have William Hurt and Timothy Olyphant. I have to say, I have a really great gig.
Q – What was your very first meeting with Glenn Close like? Were you in any way nervous or intimidated?
Byrne: I had done auditions with Brad Pitt, Josh Hartnett and I have worked with Peter O'Toole so I guess I was nervous, but I had done those big things before so that really helped me a lot. It helped that I had worked with other big actors before, so I guess it just took the edge off.
Q – The show has some complicated story lines too. Are you enjoying the challenge of playing Ellen Parsons?
Byrne: I am, but it is challenging. This season has so far been very interesting for my character because she is undercover working for the FBI. TV is notoriously known for its long hours, we have 14-hour day shoots (minimum), sometimes an 18-hour day and that can be hard.
Q – Is it a lot different for you than working on a movie shoot? Was it hard to change gears and commit yourself to a television series?
Byrne: It was different. TV is a completely different discipline, which I think I am still learning about. You just have to learn how to work fast and pace yourself.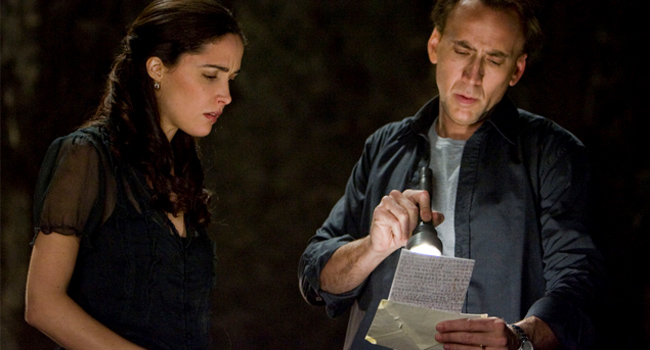 Q – On to your new film, Knowing, what was it about this script that initially caught your eye?
Byrne: I know Alex Proyas (director). He's an Australian director and we had nearly worked together before, so we had mutual friends. That was one huge reason for taking the role, and it was also shooting in Australia where I am from. I found the premise of the film very interesting, I am a huge fan of Nicolas Cage, and it was during my hiatus from the show. I went in and auditioned and I felt very lucky, to be honest, to get the role.
Q – Your family still lives in Australia, in Tasmania. Did you have a chance to hang out with them a bit?
Byrne: They came to Melbourne and I did get a chance to go to Tasmania. I have other relatives who live in Melbourne so I saw lots of people down there, which was great. Yes, my parents live in the wilds of Tasmania, which is always a good time! (laughs)
Q – How did you enjoy working on Knowing with Nicolas Cage? Is he an intense kind of guy?
Byrne: Yes, he is actually. He is very serious about the work and very focused. I did get a glimpse of the lighter side of Nic and I just found that he is such an interesting person and has a real wicked sense of humor and his lovely family is with him almost all the time. We had some very intense scenes–it's a very dramatic kind of film and all of our stuff was very serious. We didn't have a lot of down time to relax, so it was mostly a tense atmosphere on the set.
Q – Would you work with him again?
Byrne: Oh yes, I loved working with him and would again in a heartbeat. He's such a great actor with an amazing body of work. I wish I had had the time to just pick his brain and ask him about things he has worked on and people he's worked with.
Q – What did you take from working with a guy like that, just watching him in action?
Byrne: I guess good discipline. It's the same working with Glenn Close or Brad Pitt or any of those huge actors, you see how disciplined they all are and work really hard to be as good as they are. They have crazy lives and not only have to deal with all of that but still come to work and give great performances. It's amazing to see. They do the best they can and I find that so inspiring. They don't take things for granted and they easily could when they are so famous.
Q – Can you set up the premise? You play a woman named Diana Whelan.
Byrne: Nicolas plays a man who has lost his wife and he's a Professor of Physics at MIT in Boston. He has a 10-year-old son who goes to a school where a time capsule has been dug up in the schoolyard, which was buried 50 years ago. He finds this strange paper inside the capsule with all these lists of numbers on it. So he takes it home and leaves it out and his dad finds it and reprimands him for taking it out of the school. Nic starts looking at the paper and realizes that these numbers are predictive of disasters that have happened in the world like 9/11, the bombings in London and natural disasters as well like the Tsunami.
Q – Pretty scary stuff.
Byrne: Exactly, and while Nic's character is trying to get people to listen to him, everyone thinks he's crazy but he decides that he has to get to the bottom of this mystery. He figures out that the woman who wrote these numbers down was mentally disturbed and died, but she had a daughter whom he tracks down and that is who I play. I'm the only source he has to try and figure out where these numbers came from. I come into the picture about halfway through and we have this crazy stuff we go through together.
Q – Yes, it's pretty action packed!
Byrne: Yes, having to deal with all the "end of the world, doom and gloom" is very dramatic. I play a single mother with a ten-year-old daughter. I liked this character because she is basically running from her past and she doesn't want to turn into the kind of woman her mother was, that's her biggest fear. It was a huge challenge.
Q – The movie deals with time capsules so is there is anything you would put in a time capsule today which wouldn't be opened for at least fifty years?
Byrne: I don't have a journal or a diary but I used to when I was little. I wish I had one now. However, if someone who does keep one and puts a life journal with your thoughts and your most intimate things that go through your head I would do that. I would totally share it.
Q – Okay… all of Rose Byrne's secrets out and exposed. I'd like you to dish on every co-star you've worked with. Now that would make for some good stuff!!!
Byrne: Oh yes, the things I could tell! All the ins and outs of their lives, it would be scandalous. Who I liked best and who I fell madly in love with and who I hated. What juice! (laughs). I think I'd love to put some beautiful, high-end clothes in there too. There's nothing like a nice old vintage dress.
Q – The film also deals with predicting disasters, and terrible things that are going to happen. If you had the ability to know something like that would you want to know the future?
Byrne: You know I used to. I used to see psychics, I was really into that but then it reached a point where I thought they were predicting a self-fulfilled prophecy. I was doing what would happen because they told me what would happen. So I just stopped going about two years ago. I am already too paranoid about everything, I have to relax and this was only making it worse.
You mentioned earlier that one of the reasons that you wanted to work on the film was because of director Alex Proyas (I, Robot).
Q – What did he bring to this movie?
Byrne: For me, when you work with someone like Alex I feel like I was in such safe hands. He's a visual master and he is very clear about what he needs to see. He then leaves you alone unless there is something particular that you're not doing. However, he lets you make your own decisions and then gives you suggestions if you need them.
Q – Lastly, I wanted to ask you about another film, Adam, you have coming out with Hugh Dancy, that just debuted at the Sundance Film Festival to rave reviews.
Byrne: Yes, I am really proud of that one too.
Q – Dancy plays a man who has a form of autism called Asperger's Disease and I was wondering if you did any research on it to prepare for it?
Byrne: I actually have a family friend who has Asperger's. He is around 15 years old, so I had already been touched by it and knew about it already. The character that I play in the film is completely ignorant to it and she doesn't understand it at first. So I didn't go overboard to be honest because I wanted to be a bit ignorant, I felt it would help my performance not knowing too much. I did read up on it, but I didn't go to any of the socialization meetings that the director recommended we go to.