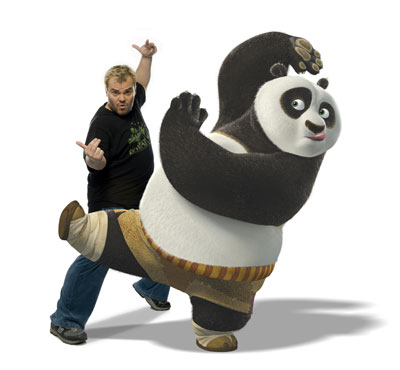 Funnyman Jack Black kicks his way onto the big screen in the new animated film Kung Fu Panda.
— By Bonnie Laufer-Krebs
Shark Tale was your first voiceover experience, so obviously doing work for an animated film is something you enjoy. You are an actor who is used to being expressive with your face, so what is it that you love so much about doing voice over?
Black: It's just, you know, the same thing that's fun about acting with my face. It's just as fun without my face. It's still making fun of voices and behaviours through the voice. It's a different kind of challenge.
The cameras were on you while you were doing your recording sessions for Kung Fu Panda, correct?
Black: That's true. They were filming me just in case I did some funny moves that they wanted to copy.
Could you tell us a little bit about your character (Po) and what it is that you liked about him?
Black: Well, (Po) is a Panda bear who is a big sort of sensitive daydreamer. I guess what I love about the character is that he has this idea of himself of being a master of something. Like in this case a kung fu master, but really he's just sort of this big clumsy clown. That was very funny to me. The script was rich with potential. I love playing the panda in Kung Fu Panda. I think it might be my best movie role to date! That's right. It was even better than the Leader of the Nasties in Never Ending Story Part 3. If that's possible. (laughs)
What was the hardest thing about voice acting for you?
Black: The hardest thing about voice acting is just keeping the pipes fresh because when you do a few hours of studio voice work you can get hoarse fast. So I just keep lubricated with a lot of tea and water.
Can you describe Po's kung-fu style and what his signature move would be?
Black: Po's style is sort of soft and bouncy and he's definitely a heavy butt squisher. If you feel the wrath of his behind, if he sits on you it's pretty much over!
Do you do have any background in martial arts that you could apply to this character?
Black: I did do a little karate, and a little judo. I'm a pretty mean tough customer.
We've seen you in many different types of films, some of them definitely NOT for kids. What's making you go the PG route?
Black: I just liked the project. I like doing the animations and I have to say,School of Rock kind of opened up the world for me where I realized I could be funny without dropping the F bombs.
Does it have anything to do with getting married having a kid?
Black: Not really, no. I made School of Rock before I was married and it was just something I felt that I could be good at. Because even though I have done like, you know, Tenacious D, that has a lot of bad language in it, the humour is pretty child like. It's still pretty sophomoric sort of, you know what I mean. I was already thinking like God, I want to have a kid's TV show or something. I wanted to get into that world before I did School of Rock so it all seems like a pretty natural progression to me.
What you were like as a kid? Were you the class cut-up?
Black: Yes. I was definitely what you would say I guess a class clown. I liked to make people laugh and that got me all the way to where I am now. I suppose I that need for attention and laughter became a part of my world.
Did your teachers think you were funny or did it ever get you into trouble?
Black: I don't remember my teachers ever really laughing at me to be honest. Actually in high school I had trouble just staying awake in class, which was the truth of the matter. (laughs). There was a teacher in high school and I fell asleep in his class a lot I guess. One day I fell asleep and when the bell rang he just told everyone to quietly leave the classroom. Then he had the next class come in very quietly and I woke up in the middle of the class of strangers. I was like who are these people? Oh my God, I slept and then everyone one laughing as I got up tail between my legs and went to class. That was pretty embarrassing.
What will appeal to the parents who take their kids to see Kung Fu Panda?
Black: You know, it's got a nice message about following your dreams and staying true to who you are and not being embarrassed about who you are. I think it's got a good empowering message for the kids and I am really proud of that.
As an actor, how do you prepare for the reality and pressure of playing a character that has to fulfill an ancient prophecy?
Black: Oh. Well, you know, everybody fantasizes at some point or another about being the chosen one. Who gets to save the world. The ancient prophecy is an old tale, it's a time tested adventure tale. And I just prepare by not preparing. It's pretty well just going for it!
A lot of physical mental training I imagine.
Black: Not really. But yes, I just go scene by scene. Like this is what my character is doing here and this is what he wants and this is who he is. I don't do a lot of method acting. I didn't go and live with the pandas. I didn't eat bamboo, none of those things.
Jack, your son is almost two. You have another one on the way. What has surprised you most about becoming a father?
Black: Wow – it has been absolutely incredible. You can't really prepare for how much you're going to love this new creature that comes into your life. This new family dynamic is pretty fantastic. I didn't know that I had it in me all the feelings and warmth. My heart got bigger I think.
Has your son Sam learned to play the guitar yet?
Black: Not yet, but he does like to pluck the strings.
Excellent. That's a good start.
Black: That's only half of the battle there.
Give him some time.
Black: That's right. He's only 20 months. All he needs is a couple hundred more months under his belt then I'm sure he'll be better. ( laughs)
Have you heard from any younger fans who saw School of Rockand who were inspired to start their own bands?
Black: Oh, you never know. I, let's see, yes. I met tons of kids who have started, playing music and were inspired to start bands. I always feel good. I'm glad that that happened.
Do you think Kung Fu Panda has the potential to spark a new martial arts craze?
Black: The martial arts craze? I don't know it seems to be going strong. It always has been. Even when I was a kid I remember all the kids did karate at some point or another. It might, yes, I don't know it might make it even bigger but it would be great if kids took an interest in karate if they haven't already. Its great exercise and loads of fun!
What's your all time favorite martial arts movie and why?
Black: My favourite one is actually kind of a new one that I saw called Kung Fu Hustle with Stephen Chow.
What did you like about it?
Black: He totally got the humor and kung fu excitement mixture just right. He's so creative with the characters especially the way that people you don't expect to have kung fu mastership, do! I loved the way he revealed them one by one and get higher levels of kung fu mastery. It was just really beautiful, I loved that movie.
The formula of showiness and action is that what we're going to see with Kung Fu Panda?
Black: Sort of but I have to tell you, it's not so silly. This one is like a real story of this panda's journey. It's as real as that can be about a talking animal on a kung fu journey. (laughs)! I'm very proud of it. I think it's one of the funniest and coolest movie's I've done.
What kind of movies did you enjoy as a kid?
Black: When I was a kid, I really liked The Wizard of Oz. I liked whatever my friends liked. But, you know, it's embarrassing to say that I really liked The Breakfast Club for some reason. I liked all the science fiction kind of action movies, Star Wars and Alien, those kinds of movies. Some others wereTerminator, Road Warrior.
There are a lot of actor's who lend there voices to the film–Jackie Chan, Lucy Liu and Angelina Jolie. Did you get to work with any of them?
Black: I didn't actually have any scenes with Jackie where we were working at the same time. The only actor I physically worked with on this movie was Dustin Hoffman. The rest of them, you know, this is the process of making the movie. You go into the sound booth alone and they put your voices together later on just to make it easier on all the actor's schedules. Jackie Chan's was really busy making movies and so was I. So we didn't ever share the room, but it's cool just to be in a movie with those actors.
School of Rock sort of launched you in the teen arena and in the family movie and family entertainment genres. It also launched some of the kids that were in the movie with you. Is there any chance of a sequel?
Black: Unfortunately, I have not kept in touch with any of the kids from School of Rock and I do often wonder how they're doing and when we're going to meet again. I know it would be a shocker to see them now because even though it's only been a few years, those are big growth spurt years. So they're probably all taller than me. It would be really weird to see them now. But I wish them all well. They were so good in that movie and had just as much to do with the success of that thing as I did for sure. And I hope there's a sequel some day. There's not one written yet but if there's a good one I would jump at the chance.
In Shark Tale you used an accent. Was there anything that was either challenging or refreshing about using your own voice in this movie.
Black: Well, you know, you feel a little more vulnerable when you're doing your own voice. You can't really hide behind a character and say those are not my emotions, because they usually are when I am using my real voice."