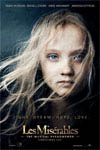 Anne Hathaway, Russell Crowe, Hugh Jackman, Eddie Redmayne, Amanda Seyfried and director Tom Hooper talk about bringing the smash hit musical Les Misérables to the big screen.
The world's longest-running musical, Les Misérables tells the story of Jean Valjean (Hugh Jackman), hunted for decades by the ruthless policeman Javert (Russell Crowe) after he breaks parole. When Valjean agrees to care for factory worker Fantine's (Anne Hathaway) young daughter, Cosette, their lives change forever.
Les Misérables opens on Christmas Day.