Love, Simon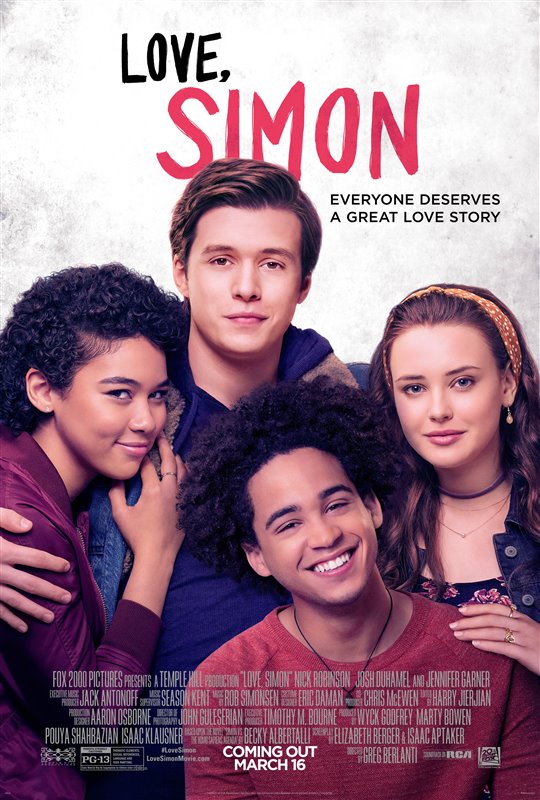 is a movie that you didn't know you needed. It's heartfelt, emotional and tackles the subject of coming out with delicacy and tact, sprinkled with so many emotions, while being a comedy, nonetheless. This is no easy feat, and the cast and crew have delivered a genuine same-sex rom-com that will be enjoyed by the masses — whether you're young, old, gay or straight. This adaptation of Becky Albertalli's YA novel Simon vs. the Homo Sapiens Agenda is the first gay teen romance released by a major studio. And it's about time.
The film follows Simon Spier (Nick Robinson), who lives with his parents Jack and Emily (Josh Duhamel, Jennifer Garner), who are the picture-perfect couple — high school quarterback who married the valedictorian and have two kids and a dog named Bieber. Yes, Bieber.
Nick has a close-knit group of friends, who he picks up in his car on the way to school everyday, including childhood friends Leah (Katherine Langford) and Nick Eisner (Jorge Lendeborg Jr.), and a new friend, Abby (Alexandra Shipp). He seems to have it all together. However, he hasn't told his family or friends that he's gay, and in light of the fact that his classmates bully an openly gay kid, the last thing he wants to do is reveal his secret.
Simon becomes friends with an online pal named Blue, who is also a closeted teen in his school. They email regularly, keeping their identities hidden from each other. Unfortunately, their classmate Martin (Logan Miller) catches a glimpse of Simon's emails and takes a screenshot. He blackmails Simon into helping him try to make Abby fall for him. Trying to protect his secret and relationship with Blue, Simon puts everything in jeopardy — including his friendship with his closest friends.
In the meanwhile, we see Simon falling for Blue as they reveal more details about their lives and discuss the possibility of coming out to their families. Simon tries to figure out who Blue could possibly be? Every guy he sees who he thinks is cute, he tries to interact with, hoping he's Blue. This awkward exchange is sort of cute.
It's about time we see a same-sex rom-com that teens can relate to. What made Simon's journey real and all the more sincere was the fact that this film is helmed by Greg Berlanti, an openly gay man who is the renowned producer of shows such as Riverdale and Dawson's Creek. His perspective made the light, flirty scenes work and added more emotional depth to the aww-worthy scenes. He also added scenes that were a departure from the book, making Simon a more realistic character.
Nick Robinson, who plays Simon, has a knack for playing vulnerable teens. He's relatable, funny and easily wins over the audience. For a character who has difficulty expressing himself because of his secret, it's key for Nick to be able to act with little or no words, which he does impressively.
Josh Duhamel and Jennifer Garner are downright funny. They are open-minded parents, and they have no clue how to react when their son finally gets drunk. I liked seeing these actors in their respective parental roles. The young actors playing Simon's friends shine in their respective roles. Many young adult films sometimes tend to focus on the main lead, but this one gives enough screen time to the others as well. Alexandra Shipp, Katherine Langford and Jorge Lendeborg Jr. play well into the story line and are definitely a good choice of actors.
Overall, I really enjoyed watching this film and will do so again. High school is tough enough and for a gay kid, it's probably even harder. This rom-com is packed with solid life lessons, a lot of heart, laughs, awws, and sure did get a lot of applause from the audience I was watching it with. ~Marriska Fernandes
If you have seen the film and would like to rate/review it, click here.