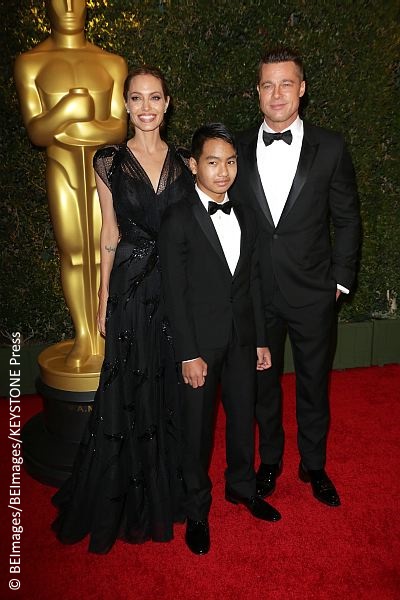 It just keeps getting worse for the Jolie-Pitt clan.
Angelina Jolie and Brad Pitt's son, Maddox Jolie-Pitt, 15, refused to attend the Oct. 8 reunion with his dad.
Angelina, 41, filed for divorce on Sept. 19 from Brad, 52, and according to media reports, a violent incident between Brad and Maddox on a private plane was the trigger for the divorce.
The Los Angeles Department of Children and Family Services recommended that Angelina and her six children – Maddox, Pax, Zahara, Shiloh, Vivienne and Knox – temporarily stay at a rented house in Los Angeles. The kids went through counseling to prepare them for their visit with their dad.

According to Us Weekly, an insider revealed, "He [Brad] wanted to make sure the meeting would be the most productive for the kids." However, a source close to Angelina revealed Maddox didn't attend, saying, "He chose not to go and stayed with Angie."
An eyewitness to the plane incident reported that Brad was intoxicated and "getting physical" with the kids, which had led to the F.B.I. getting involved. They interviewed Angelina and the children this week on Tuesday (Oct. 18) to get more information, including where the plane was when the altercation occurred.
Maddox was adopted by Angelina in 2002, two years before she started dating Brad in 2004. The Ocean's Eleven actor legally adopted Maddox in 2006. While one source tells Us Weekly that Maddox "doesn't really see himself as Brad's son," another says that "Maddox never wants to see Brad again."
Brad and Angelina are currently battling over custody of the kids. According to the temporary agreement in place until October 20, the couple share legal custody, while Angelina has sole physical custody.
Here's hoping all goes well for the Jolie-Pitts.
~Marriska Fernandes