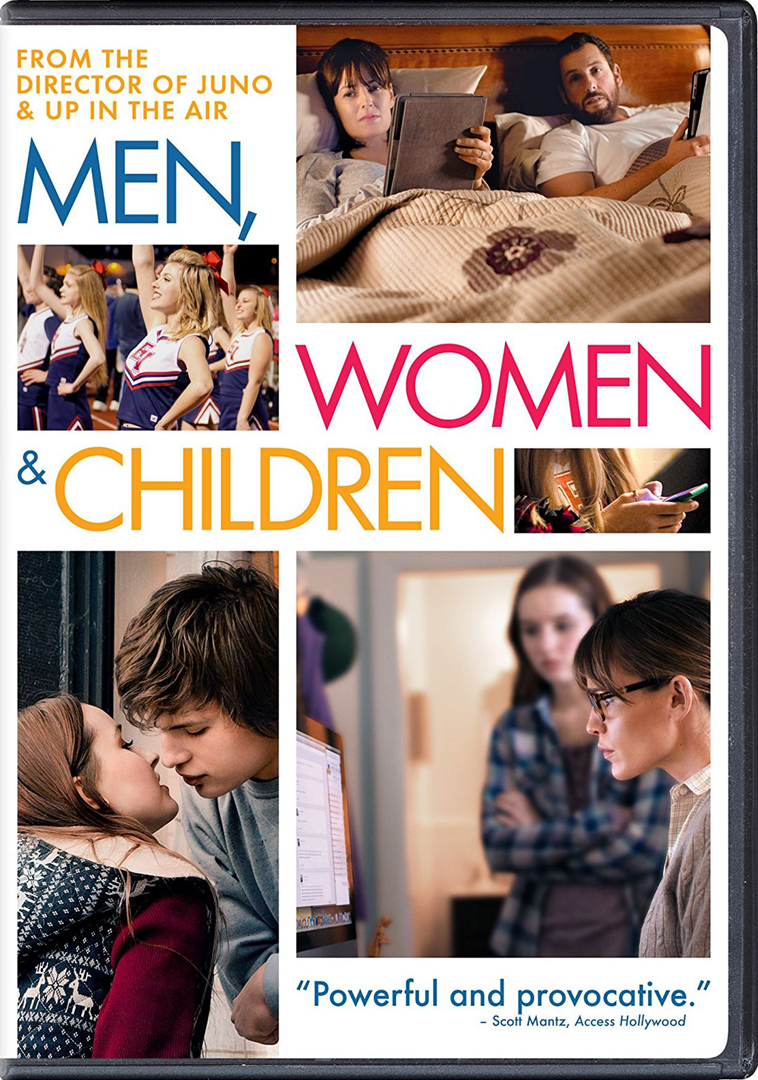 Unlike cars, which come with a book on how to best take care of them to ensure a long, happy car life, people don't come with manuals. We're free to make our own choices and whether or not that leads to happiness is up to us. In Men, Women and Children, at first you may think the main storyline is about how we are obsessed by technology. That's a huge part of this story, but the main theme is how does someone get on the road to happiness in their personal life?
Many of the characters in this movie are preoccupied by sex. Adam Sandler plays Don, a husband and father who has been addicted to porn since he was a teenager. When he uses his 15-year-old son Chris's computer and finds he's a regular on porn sites, it almost makes him proud of the boy. What he doesn't realize is that online porn has a much stronger influence on boys than the magazines he used to look at when he was a teen. His son has been rendered incapable of having a loving relationship with a woman because online he's found deviant sex practices with domineering women and has become obsessed with that.
When a girl named Hannah is attracted to Chris, she's not interested in him beyond his body and he's not able to have a relationship based on love because he's so focused on sex. When he later realizes he wants a real relationship with a girl who cares about him, it makes him profoundly unhappy because he has no idea how to find love.
Hannah is in the same position, although she doesn't realize it. She's been posing for her mother Donna (Judy Greer), who takes risqué photos of the girl for her "acting and modeling" website. After years of doing this, the girl no longer knows right from wrong – she's convinced posing in this way and having sex with people she doesn't care about is perfectly normal. A scene with the two of them walking through a mall is telling – they're not talking to each other because they're both too busy texting. We don't see what Donna is doing, but Hannah is sexting with Chris, while her mother is so preoccupied that she has no idea what her daughter is up to.
Meanwhile, Don is so focused on having sex that his wife (Rosemarie DeWitt) is turned off by him. She wants sex, but Don doesn't provide her with the love that she needs so to go along with it she begins to look elsewhere, to find men who will appreciate her. For his part, Don is so frustrated by his wife's apathy towards him that he's tempted by the escort service he finds on his son's computer history.
At the heart of this story are two troubled teens. Since Tim's (Ansel Elgort) mother ran off to California with her boyfriend, leaving her shocked husband and son behind, Tim has decided he doesn't care about anything. When he quits football, he loses any friends he might have had and watches a Carl Sagan YouTube video called Pale Blue Dot, from which he derives the conclusion that life has no meaning. He runs into Brooke (Kaitlyn Dever) at school, who has defaced a poster her mother made. Brooke's mother, Patricia (Jennifer Garner), is an uptight woman who insists on having all of Brooke's passwords so she can check everything the teen does online, or on her phone, every day. Being monitored 24/7 pushes Brooke to have a secret account on Tumblr, the only thing her mother doesn't know about.
Tim and Brooke slowly get to know each other. They become not only friends, but a source of comfort as they confide their beliefs and troubles in each other. While everyone around them is obsessed with sex, they're desperate for emotional connection. What Patricia does when she finds out her daughter has a boyfriend is so wrong that you wonder if anything good can blossom from a society so obsessed with using technology to feed their desires. Her paranoia about her daughter being part of this perversion that surrounds them all almost ruins two families.
This movie may not have done well at the box office – to be fair, it was a limited release – but it's not only fascinating, it's a story that's worth watching – you'll be thinking about it for quite a while afterwards. Additionally, the performances are top notch. In particular, Travis Tope, who plays Chris, doesn't give us much to like about him until the moment he realizes what he really wants is love. It makes your heart break to see his pain – and to know that he still doesn't have a clue how to find love because he's so entrenched in his online porn habit.
Divergent star Ansel Elgort gives a low-key performance as Tim, who is carrying a tremendous amount of pain about being abandoned by his mother so she can focus on her affair with another man. He tries to protect his father, who's also been carrying that pain for a long time, but he doesn't know how. Tim slowly begins to come back to life as he gets to know Brooke. Ansel's performance is understated, but well suited to the character.
Kaitlyn Dever, who reminded me of Ellen Page in director Jason Reitman's earlier critically acclaimed movie Juno, plays Brooke as a brave, resilient soul who seems to accept her mother's oppression, but at the same time fights for her small triumphs against the constant monitoring. She's somewhat cut off from other people, as is Tim, but she's open to human contact and although confused at first when Tim sits down at her table at the mall, uninvited, she makes conversation and slowly begins to realize there's much more to him than an ex-jock.
There are no special features on this DVD and usually I'm disappointed by this, but the message of the movie was so powerful and thought-provoking that it would have been distracting to watch behind-the-scenes footage or bloopers. Other movies releasing on DVD/Blu-ray this week include: A Walk Among the Tombstones, Gone Girl, Jessabelle, Jimi: All is By My Side, Love is Strange and The Two Faces of January. ~Alexandra Heilbron