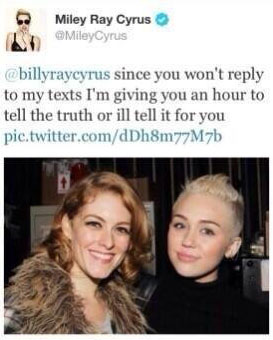 On Monday, Miley Cyrus tweeted what appeared to be a threat to her father, Billy Ray Cyrus. The tweet said: "@billyraycyrus since you won't reply to my texts I'm giving you an hour to tell the truth or ill tell it for you." Attached was a photo of Miley with actress Dylis Croman, who starred opposite Billy Ray in a Broadway revival of the musical Chicago last winter. Several media outlets have speculated that Miley was hinting that Billy Ray and Dylis had an affair, leading to Tish Cyrus recently filing for divorce. The tweet was removed about an hour later and another one appeared that read: "Wtf? My twitter was just actin all types of cray!" Nice try, but no one is buying that someone hacked into her account, especially after the tweet she sent her father a few weeks ago that read:

"Since your texts and email obviously aren't working would you like to talk like this?" Miley seems to enjoy airing private family matters.
To his credit, Billy Ray has not responded publicly to any of his daughter's juvenile tweets and despite any speculation, there's no evidence Billy Ray had an affair. In fact, Tish was photographed last Sunday with her head on Billy Ray's shoulder as they went out with daughter Noah to pick up a pizza. Miley obviously forgets reports that her mother had an affair in 2010 with rocker Bret Michaels, leading to Billy Ray requesting a divorce at the time. Miley put her full support in her mother's camp at the time. Billy Ray later reconciled with his wife, saying he didn't want to break up the family.