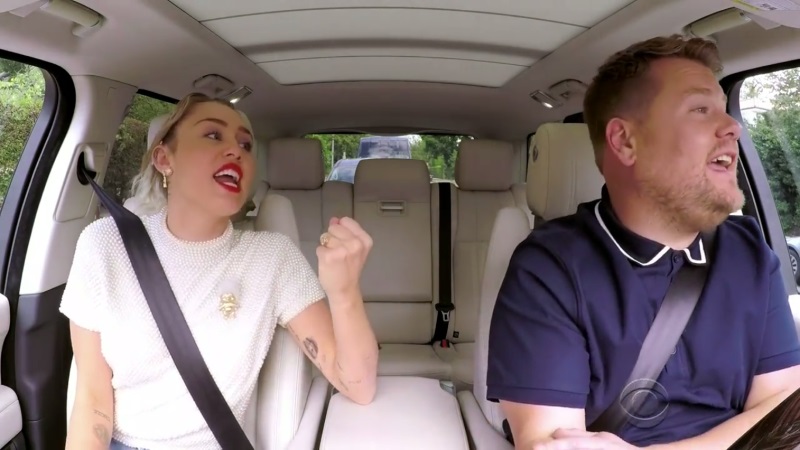 The "Malibu" singer turned James Corden's hit Carpool Karaoke segment into an opportunity to tell all about some of her most famous, or should we say infamous, moments.
In the midst of singing along to her hit songs such as "Party in the USA," "We Can't Stop," "The Climb," and "Wrecking Ball," 24-year-old Miley Cyrus opened up about certain aspects of her life and career.
An avid marijuana smoker, she admitted to not being able to get high before a performance, after Corden asked Miley how high she was for her raunchy performance at the 2013 MTV VMAs with Robin Thicke. She responded, "Actually zero. I can't smoke before I go on stage, I get too scared. That's just me. That's how insane I am. That's just normal."
She then revealed the opposite was true for her video shoot for her hit song "Wrecking Ball," admitting she was at a "10." But while her 2013 MTV VMA performance with an awkwardly placed foam finger made headlines for maybe some of the wrong reasons, it ended up influencing the singer and actress to engage in activism.
She explained, "I realized if that many people were going to talk about something that I did, or something that I do, then I should make it a good thing. And I should make it something that can change people's lives rather than be a controversial conversation that does nothing but become a fun Halloween costume for people."
You can watch Miley's segment of Carpool Karaoke on The Late Late Show with James Corden below. ~Alexa Caruso