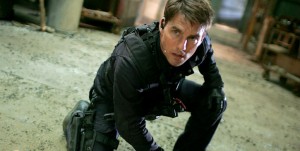 It's been almost 20 years since the first Mission: Impossible movie came out in 1996 and it's all systems go for Ethan Hunt in the fifth installment of the series.
Along with Tom Cruise reprising his role as Ethan, the cast includes Jeremy Renner returning as William Brandt; Simon Pegg back as Benji; Ving Rhames back as Luther Stickell; Sean Harris as a possible villian; Rebecca Ferguson and Alec Baldwin. Paula Patton is also rumored to star.
The film was originally set for a Christmas day release, but is now releasing five months ahead of schedule to avoid competition with Star Wars: The Force Awakens (releasing December 18) and the James Bond sequel Spectre (hitting theatres November 6). Taking MI5's Christmas day spot will be the animated film Monster Trucks. The new summer release date pits it against the boxing drama Southpaw, the action-thriller remake Point Break and the drama Selfless. Also, MI5 is an action movie, which generally do better at the box-office during the summer.
The film is directed by Christopher McQuarrie, with Cruise, J.J. Abrams and David Ellison producing. The plot is still unconfirmed.
Mission: Impossible 5 hits the big screen July 31, 2015. ~Sandra D. Sukraj