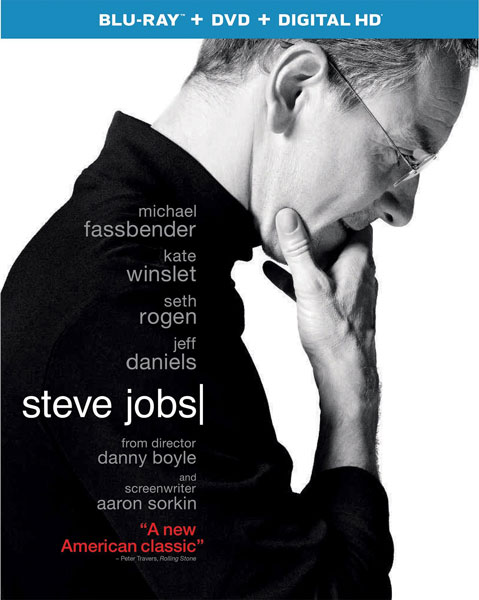 "The Macintosh is mine," says Steve Jobs, and so it was.
Before you know it, you are in the thick of Steve Jobs — British director Danny Boyle's film about Apple founder Steve Jobs. The movie launches head first into the fray and never lets up.
Technically, it's a biopic, but it's also a drama. It's also entertaining, funny and intriguing, not to mention fast-paced. Only moments in, I knew I was in for a treat.
The film has style — in the camera angles, the flow, and the imagery. Watch for the brilliant way the Skylab launch is incorporated into a scene. I found it new and refreshing. A watershed moment has pouring rain as a backdrop. Truly symbolic.
Boyle employs a lot of flashbacks, but they don't distract. If you're paying attention, you can catch a glimpse of iconic news anchors Peter Jennings and Connie Chung.
I loved that I could not at first recognize Kate Winslet in her portrayal of Joanna Hoffman, marketing executive to Jobs. Not a single hint of her iconic character Rose DeWitt Bukater of Titanic. Winslet has already won the Best Supporting Actress Golden Globe and a BAFTA for this role and has been nominated for an Oscar at the 88th Academy Awards to be aired later this month.
German-born actor Michael Fassbender as Steve Jobs also has an Oscar nod: Best Actor. It's through him we learn who Jobs was. Entrepreneur. Perfectionist. Micromanager. Charismatic showman. And above all else a visionary.
Fassbender is immediately likeable in this role, even if his character is not. The talented and versatile actor has been seen before in such films as Inglourious Basterds and 12 Years a Slave.
Seth Rogen plays Steve Wozniak, who met Jobs in 1969. He was 19 and Jobs was 14 when they bonded over electronics and as partners, built their first computer in the garage of the Jobs family home. In 1976, they co-founded Apple Computers. Rogen played Wozniak as an honorable man, who reminded me of a teddy bear: warm and fuzzy and capable of bear hugs.
It struggled in theaters when it released in October 2015 – a mystery to me. It was that good. Maybe it was because Steve Jobs' widow, Laurene Powell Jobs and family lobbied studios to prevent the film from being made. Yet Boyle revealed he had the support of Jobs' first daughter, Lisa Brennan-Jobs, who worked with screenwriter Aaron Sorkin.
The film is organized into three parts. Part one is 1984 with the introduction of the Macintosh computer. Part two takes place in 1988 when the NeXTcube computer is launched. Part three takes place in 1998 with the debut of the iMac and world domination.
Steve Jobs had a master plan that I won't divulge here. Suffice it to say, it was a good one. Pay close attention when Joanna questions the direction they are going in. It's brilliant. But then, so was the man.
Bonus features are sparse, but include: Inside Jobs: The Making of Steve Jobs and Feature Commentaries with Filmmakers.
~Sharon Salsberg