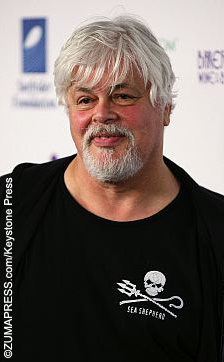 German officials have decided to extradite Canadian Sea Shepherd founder and environmental activist Paul Watson to Costa Rica. This follows his arrest at the Frankfurt Airport over the weekend for a decade-old warrant involving a 2002 confrontation with a Costa Rican shark finning boat on Guatemalan waters. This incident was featured prominently in Rob Stewart's award-winning 2007 film Sharkwater. Click here to view footage from Sharkwater.
The Sea Shepherd Conservation Society has put out a call to action, asking supporters to contact the Germany Ministry of Justice to overturn its decision to extradite Watson. They believe with enough international support, Watson can be saved from the potential of facing an unfair and politically motivated trial in Costa Rica. Click here to sign an online petition to free Paul Watson.
Next week, the public will have the opportunity to attend the Canadian premiere of Confessions of An Eco-Terrorist, directed by Peter Jay Brown, activist and long-serving Sea Shepherd crewmember. The film, screening at University of Toronto's OISE auditorium on Friday May 25, features 30 years of never-before-seen insider footage of the most exciting, despairing and triumphant eco-campaigns in the world. There will be a Q&A with the film's director following the screening.