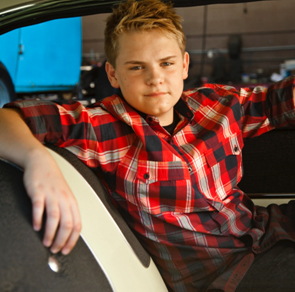 At only 15, Reese Hartwig is already a rising star with an impressive resumé, an effervescent personality, and a passion for movies. All this and a mature, enthusiastic outlook on his career appear to be paying off big time for the young actor. If you don't already know him by his voiceover work in the video game, The Elder Scrolls: Skyrim, you will definitely know his face by year's end. Reese plays the role of Munch in the sci-fi adventure Earth To Echo and will appear as the school bully, Elliott, in Alexander and the Terrible, Horrible, No Good, Very Bad Day, alongside Steve Carell and Jennifer Garner. We spoke via phone to Reese who was at the Beverly Hilton Hotel attending the 5th Annual Thirst Gala hosted by Jennifer Garner.
How did you get into acting professionally?
I originally lived in Arizona and I grew up there. I was there until I was about eight years old. My dad was in the Air Force and he did a commercial with United Airlines, but then 9/11 happened, so we moved out to California and now my dad runs a company called Picture Car Warehouse. He's like a talent agent for cars that are in movies – all the Fast and Furious cars and the Transformers cars – he runs all of those. So he was into it, and when we'd drop off cars and we'd see the sets and all the famous people and see what they would do. It was really cool, so we were like, "Hey, we can give this a shot. I mean, we live in California, might as well, right?" So we did, and it worked out.
Tell us about your character, Munch, in Earth To Echo.
Munch is shy. He's a little, innocent, funny guy. There's always one of him in every group. He's one of the film's three main friends who live in a neighborhood that's going to be destroyed and he always keeps his head on a swivel. He's ready for anything, which is really cool, and he's also very loyal, like to the point of where it's kind of stupid loyal, which is pretty funny. But he's a real good kid.
Are there are any films or any actors that inspired your performance in this film?
Well, I always look up to Chris Farley, Will Ferrell and Jim Carrey. Those are my favorite guys. But Munch in particular? You know, when I originally got the script, we were thinking about what movies we could watch to see what we could work off of but we thought about it and we were like, "For this character, I should just do my own thing. Not based on anybody." There's always a kid like that in every group of friends, so it's a bit of imitation of other people. Ninety per cent of kids' roles, when you have to play the kid, require you to just be a kid. What would a kid do in this situation, depending on what type of kid it is? So we would mainly think about that in between scenes. Henry [Gayden], the great writer he is, he would just show me what I had to do. It was very clear, from the way he would write it, how it was meant to be said.
Having worked with Steve Carell and Jennifer Garner, is there anyone you'd like to work with in the future?
I would love to work with… a lot of different people because I've been watching a lot of different movies lately. X-Men: Days of Future Past just came out and I would love to work with Michael Fassbender, who plays Magneto. That guy is a great actor. He's like a modern-day Darth Vader. I loved his part. I really enjoyed that. Oh well, Kate Beckinsale, I think she's the most beautiful woman in the world. I would love to work with her. Karl Urban. I just saw him in the new Judge Dredd. That movie was so good and it looked like it was going to be okay. That was definitely my favorite movie of that year. Oh yeah, and Lena Headey, who played Mama, she's also the Spartan Queen in 300, I would love to work with her too. She's awesome. She plays every type of role and she always rocks it.
What differentiates this from other sci-fi films that feature kids in lead roles, such as E.T., The Goonies, and Super 8?
One of the really interesting things is that it ties in with modern, social media-type stuff, like YouTube. It's like, if kids found an alien today, this is probably how it would happen, which is cool. They go on the Internet, on Yahoo answers, and ask, "Has anybody else seen this? What is this?" And then they put it all on YouTube and all those different tie-ins with modern technology is really cool. I think this makes it a lot easier to kids, these days, who are watching it, because that's what they do.
Echo sees via your characters' cell phones, which says something about the way we see other people through social media and the way we interact with the world through our devices. Do you think Echo is symbolic of anything?
For the four kids, Echo really brings everyone together. We are all completely different from each other. We kind of complete each other, in a way. We all have different flaws and we all have our pros and we kind of make up for each other and he's the one who brings us all together to make a big team to get things done. He's also a little, innocent guy. He doesn't mean any harm. He's just trying to get back home, just like how we are. So we kind of feel for him and we all want to help him so he's a symbol of bringing everyone together, a symbol of friendship.
In both Earth To Echo and your voiceover work for the Skyrim video games, you interact with something that's not physically present. Doyou have a method for dealing with that absence?
Dave Green, the director of Echo, would really help me out with those kinds of things. It's crazy, the type of things they do behind the scenes. They would put different tape marks and have different ways to keep our eye lines straight. He would tell us what's going on, how Echo's feeling, and he would give us little examples like, "It's like a poor, hurt puppy dog," just to give us a feel of what's going on. I mean, it is our job, but it can be challenging sometimes, but as a cast, we would help each other out and work off of each other because if you see all the kids looking around, looking all sad, even if there's nothing there, it does make you feel a little bit sad, so that helps a lot too.
You've introduced the film in places like Arizona and L.A. – what's the response been like?
Arizona was really great. I'm from Arizona so a lot of my friends and family, mainly my entire mom's side of the family, went to the screening and that was really fun because I got to finally show them, like, "Yeah, this is what I've been talking about," because we filmed the movie two years ago, so I was like, "I wasn't lying. I'm in a movie." So that was pretty fun. So far, people like it. There's not much expectation for the movie, which is cool. Echo might be like, "Yeah, it might be good, it might not be, we'll just check it out," and then you watch it and you're like, "Oh, wow, that was a pretty good movie." Kids love it and it's a lot more fun when you watch it with kids and their families because they all laugh together. It's finally a movie that people can enjoy together. It's not just for specific people. In the screening when Munch says something funny and everybody laughs, it makes me laugh because I'm like, "Wow, they thought that was funny. That's awesome." The experience of being with an audience is definitely rewarding.
According to your official website, you want to attend medical school and become a plastic surgeon. Why a plastic surgeon?
I've wanted to become a plastic surgeon forever. My mom was a secretary for a plastic surgeon for the longest time and she would tell me about all the different stuff that she did and all the stuff that he had. Obviously, it's a very rewarding job. There's definitely money to be made. Guess what's the most desired sweet 16 birthday gift right now? A car? Brand new clothes? No, it's rhinoplasty, plastic surgery. So when I'm an adult and I'm in that field, I think it will be a rewarding job. Also, you get to do a lot of charity work, like the Smile Train. There's a lot of reconstructive surgery that I can do, not necessarily just the fake stuff. I can help kids who are born with cleft palettes, which I would love to fix and help out with that, because plastic surgery is very expensive.
Will you continue to pursue acting or is becoming a plastic surgeon the end goal?
I'm sticking with acting for sure. I'm going to see how it goes, see how it flows after Echo comes out in theaters. Plastic surgery is definitely a backup. Acting is my main thing. But in this business, you can definitely tell when it's either going up or when it's going down, and I'll be able to recognize that, and I think when I do, I'll be like, "Okay, I guess I need to focus on medical stuff now." But, for me, right now, I would love to be an actor. I think that's definitely what I want to do.
Your brother, Ryan, is also an actor and I was wondering if you guys have ever worked together or if you two ever plan to work together on a film.
We've done a couple little things with each other. We did a couple print jobs together, just being brothers. But he's very different, in a way. His movies are more like hardcore, horror-type things that are a lot more serious and mine are a bit more lighthearted. But I could see us, hopefully, working together in the future. I think that would be really fun.
Would you ever be interested in doing one of those hardcore, horror action movies?
Well one of my favorite movies is Aliens, which is the perfect mix of horror and action. I love that movie. The Matrix and Star Wars – all that type of stuff. I would definitely love trying those other things and being a part of them. But I think, for now, I want to focus on the funnier, lighthearted stuff, but I always want to try something different. Another guy I'd like to work with is Jason Statham. He is the most bad-ass guy ever. I would love to do a movie with him.
Tell us about your character in Alexander and the Terrible, Horrible, No Good, Very Bad Day.
I play Elliott. He is the older brother of Alexander's love interest. I am the beginning of his bad day. He gets to school in my family's carpool so he sits in between us and I nudge him because I know he likes my character's little sister so I'm kind of giving him crap for it. It's pretty funny: I take pictures of him and put his face on over a bikini body or a ballerina. It's a lot different from Munch's character. He's a lot more of a bully. It was kind of cool to show people I'm not just one character. And I got extremely lucky with that because it's in October, so it's relatively close to Earth To Echo's release so it was good for me to get into something else, and working with Jennifer Garner and Steve Carell, that's just awesome, that's what it's all about.
What's next for you as an actor?
I get to play the voice of Johnny Quest in a Warner Bros. movie, which I did most of and I think they're going to do some more of in November. That'll be cool, but after that, I'm just back to auditions. ~Daniel Horowitz