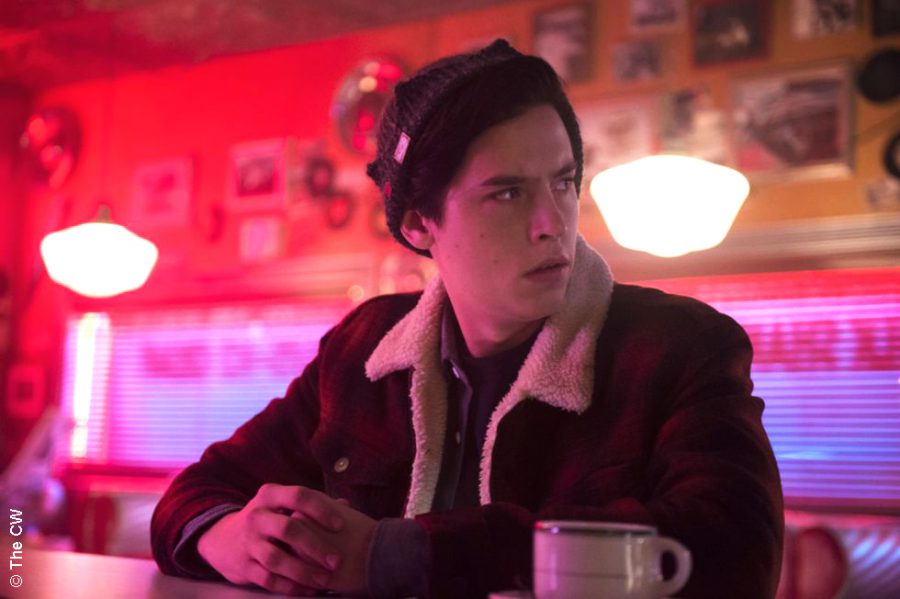 We've come a long way from the days of football, Archie's (KJ Apa) music, the River Vixens and Josie & The Pussycats.
"Shadow of a Doubt" was an interesting one. I know TV is subjective, but these kids are supposed to be our avatars. High school is a r̶e̶p̶r̶e̶s̶s̶e̶d̶ distant memory for me, but I'm thinking of the viewers who are 18 and younger.
What can they really take from Riverdale? In season one our main characters were football players, cheerleaders, musicians, journalists… and they were actually teenagers who went to parties and had fun!
In season two, our characters are gang members, affiliated with the mafia and accomplices to murder (!).
In this week's episode, the mayoral campaign is heating up as the town prepares for the debate. Meanwhile, Veronica (Camila Mendes) is entertaining potential suitors from other prominent crime families… even though she has a boyfriend? This isn't really explained in the episode.
Betty (Lili Reinhart) suspects her father is the Black Hood, and decides to enlist Cheryl's help in her investigation. After all, who knows more about murderous fathers than Cheryl Blossom?
I enjoyed seeing Cheryl and Betty work together toward a common goal, but it just made me realize there hasn't been enough of that this season. Season two has had 20 friggin' hour-long episodes. And yet how many moments can you recall from this season? Doesn't it mostly feel like a blur?
The real-life friendship between Lili Reinhart and Camila Mendes (who play Betty and Veronica, respectively) is infinitely more compelling than "B and V." It's been 20 episodes, and Betty and Veronica have barely hung out.
And the guys are just as bad. Archie's best friend this season has been Hiram Lodge (Mark Consuelos). Jughead (Cole Sprouse) went from lovable outcast… to gang member. Raise your hand if you buy Cole Sprouse as a gangster.
I don't want this to seem like an evisceration of Riverdale. It just feels like the writers aren't playing to the strengths of their actors. KJ Apa on social media is a lovable goof — just like Archie Andrews in the comics. Cole Sprouse is a legitimately weird, clever guy — just like Jughead Jones in the comics!
If season three could have writing tailored to the talents and personalities of our leads, then the show could truly be memorable. Season one showed potential, but season two hasn't quite lived up to it.
When the identity of the Black Hood is finally revealed, it won't mean as much because we haven't been enjoying the ride. A character died in this week's episode, but I didn't feel anything. Either I'm a sick sociopath (jury's still out), or the show hasn't been emotionally compelling enough.
There are only two episodes left. Let me know how you think it'll all end in the comments.
My prediction? Fred Andrews (Luke Perry) will be elected mayor, the Lodges will be revealed to have been pulling the strings behind the Black Hood, the Serpents will make peace with the North Side, and Archie and Veronica will either split, or cheat. ~Yanis Khamsi