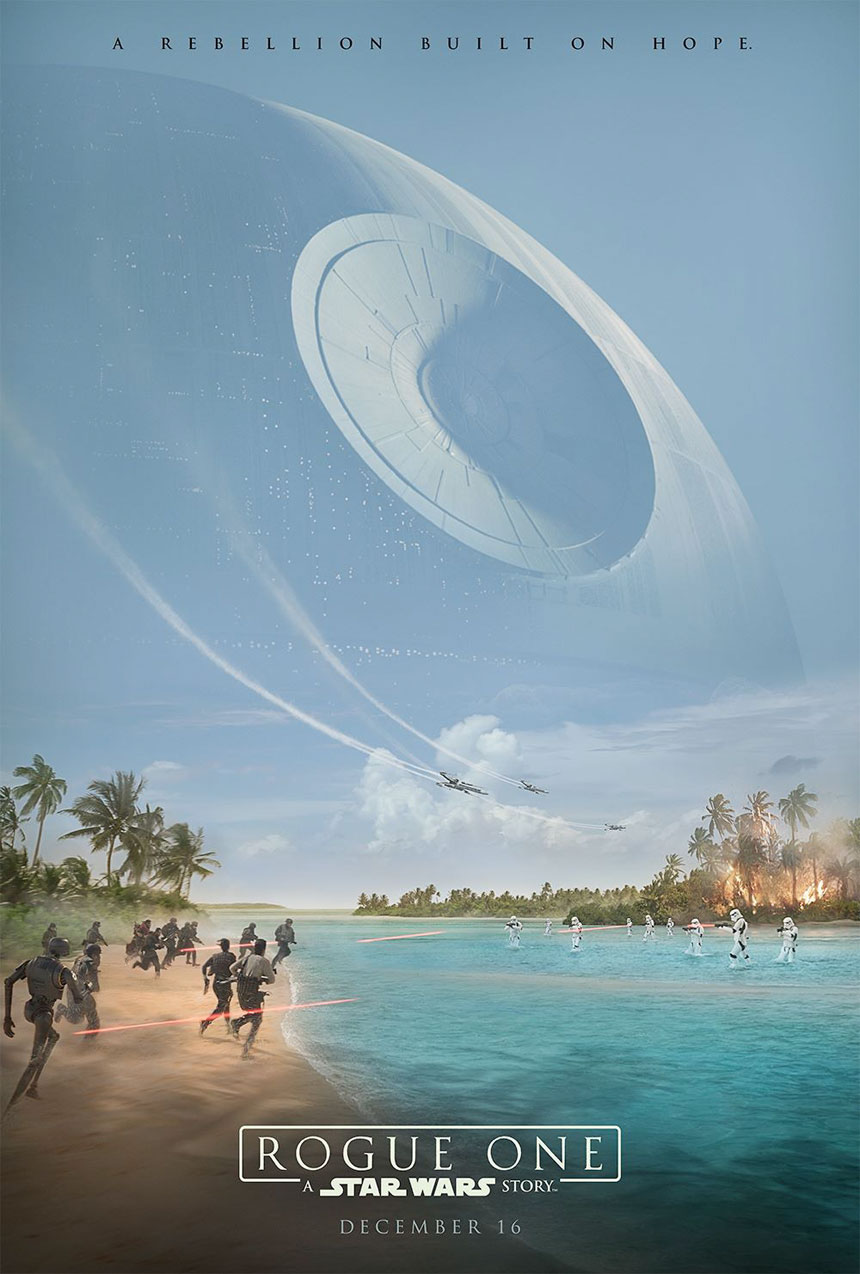 It's a good week for fans of sci-fi, as our top two trailers will give you your fill of space and aliens.
The new trailer for Rogue One: A Star Wars Story gives fans a peek at the Death Star, Rebel Pilots, an extremely tall K-2SO, at battling AT-ATs, and of course — the evil Darth Vader.
Catch a glimpse of aliens in the new trailer for Arrival, and take a look at the new horror film Don't Breathe, in which a blind veteran ends up being far less helpless than a group of young thieves expected.
Scroll down to check out even more of this week's new trailers. ~Natalia Makarski
1.) Rogue One: A Star Wars Story
2.) Arrival 
3.) Don't Breathe
4.) Bad Santa 2
5.) Complete Unknown 
6.) Allied
7.) Kingsglaive: Final Fantasy XV
8.) Hidden Figures
9.) When the Bough Breaks
10.) The Great Gilly Hopkins
Rogue One: A Star Wars Story: When Jyn Erso (Felicity Jones) is arrested by the Rebel Alliance, she is asked to retrieve information about the Death Star – a nearly constructed weapon with the power to destroy an entire planet. It's up to Jyn, Cassian Andor (Diego Luna), Bodhi Rook (Riz Ahmed), and their pragmatic droid K-2SO (Alan Tudyk) to form the Rogue One squadron, and help bring peace to the galaxy.
Arrival: When mysterious spaceships land in various locations around the world, the military hires an elite team consisting of linguist Louise Banks (Amy Adams), Ian Donnelly (Jeremy Renner) and Colonel Weber (Forest Whitaker) to investigate. It is up to them to determine whether these alien crafts come in peace — or are a threat to humanity.
Don't Breathe: A group regularly breaks into the homes of the wealthy to steal. One of the thieves, Alex (Dylan Minnette), has a father who owns a security company, so they target his customers because Alex knows how to bypass their security systems. He's joined by Rocky (Jane Levy) and Money (Daniel Zovatto). Money finds out about a blind military veteran (Stephen Lang) who won a major settlement after his child's accidental death. However, the veteran is not nearly as helpless as they thought.
Bad Santa 2: Booze-soaked, foul-mouthed con-man Willie Soke (Billy Bob Thornton) is back to his old tricks, posing as Santa, this time to swindle money from a charitable organization. He's joined by his equally wicked mother (Kathy Bates).
Complete Unknown: As Tom (Michael Shannon) celebrates his birthday, he is startled to see a woman from his distant past at the party. Jenny — or Alice (Rachel Weisz), as she now calls herself — first denies knowing Tom, but eventually reveals a shocking secret. After disappearing 20 years earlier, she began to reinvent herself every few years, taking on a new name, a new career and a new life each time. After giving Tom a glimpse of what life could be like if he let go of safety and security, Alice asks him to make a choice that will change everything.
Allied: In 1942, during WWII, Max Vatan (Brad Pitt), a French-Canadian intelligence officer, meets French Resistance fighter Marianne Beausejour (Marion Cotillard), on a deadly mission behind enemy lines. Later reunited in London, their relationship is threatened when it's believed Marianne is a Nazi spy.
Kingsglaive: Final Fantasy XV: The magical kingdom of Lucis is home to the sacred Crystal, and the menacing empire of Niflheim is determined to steal it. King Regis of Lucis (Sean Bean) commands an elite force of soldiers called the Kingsglaive. Wielding their king's magic, Nyx (Aaron Paul) and his fellow soldiers fight to protect Lucis. As the military might of the empire bears down, King Regis is faced with an impossible ultimatum.
Hidden Figures: The inspirational true story of the first female African-American mathemetician, Katherine Johnson (Taraji P. Henson), and her two colleagues, Dorothy Vaughan (Octavia Spencer) and Mary Jackson (Janelle Monáe), whose groundbreaking calculations helped NASA catch up in the "Space Race" with the Soviet Union and allowed John Glenn (Glen Powell) to become the first American astronaut to successfully make a complete orbit of the Earth.
When the Bough Breaks: When couple John and Laura Taylor (Morris Chestnut, Regina Hall) are unable to conceive their own child, they hire Anna (Jaz Sinclair) to act as their surrogate and then take her in when she appears to be the victim of domestic violence. Unfortunately, she develops a fixation on John. When he doesn't respond favorably to her advances, Anna leaves, threatening to either keep or harm the baby. John and Laura find out that the law is on Anna's side, but they will do anything to get their baby back.
The Great Gilly Hopkins: Gilly Hopkins (Sophie Nélisse) is a witty 12-year-old who has never seen her birth mother, and has been moved from foster home to foster home. When she learns she will be sent to yet another new home, she wastes no time making trouble. That is, until she meets Maime Trotter (Kathy Bates), who wants to be the mother that Gilly needs. Gilly concocts a plan that she believes will reunite her with her birth mother. When that plan fails, it threatens Gilly's only chance to be part of a real family.