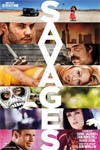 Directed by Oliver Stone, the action-packed thriller Savages is based on Don Winslow's 2010 novel of the same name and penned by Winslow, Stone and film biz wunderkind Shane Salerno. Starring Taylor Kitsch, Blake Lively, Aaron Johnson, John Travolta, Salma Hayek and many more, Savages is a fantastic crime drama that keeps you on the edge of your seat.
Chon (Taylor Kitsch) and Ben (Aaron Johnson) have been best friends since high school, yet these two dashing beach bums have matured into very different men. Chon fought as a ragtag marine in Iraq, while Ben spent his time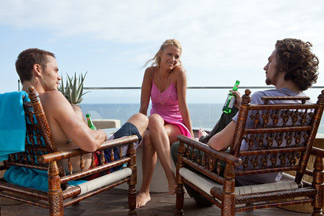 traveling the world helping out with humanitarian efforts. We catch up with the duo several years later and many dollars richer. The best friends are operators of a grand scale, high-quality marijuana operation that sees them living in an ocean front house in Laguna, California in a ménage à trois set up with their dazzling young muse Ophelia (Blake Lively). All together, the trio make a well-oiled machine of love, fun and profits until a deadly Mexican drug cartel insists the entrepreneurs give them a hefty slice of their business.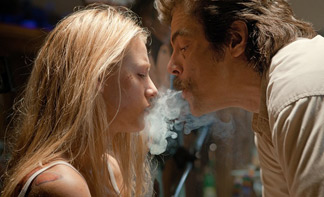 Fronted by the brutal henchman Lado (Benicio Del Toro), we soon come to find that the cartel is actually headed by the cold-hearted matriarch Elena (Salma Hayek), who plans to kidnap Ophelia and hold her hostage until Chon and Ben give into her steep business demands. Pretty soon Ophelia's life uncomfortably rests in Chon and Ben's hands, who ultimately must decide whether to fight against the relentlessly murdering Cartel, or become one with their savagery.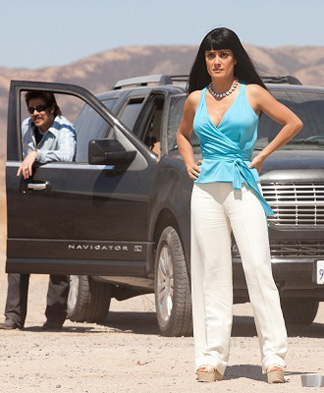 Savages has a very talented cast—a triumph that may have never come about. Hunger Games actress Jennifer Lawrence was originally cast as Ophelia, but dropped out of the film due to scheduling conflicts and was replaced by Lively, who performs her role perfectly. Stone swapped 90210's Trevor Donovan with Kitsch after watching 30 minutes of Kitsch's work in Battleship. Nevertheless, it's these actors' steadfast audacity and bottom line acting chops that delightfully contrast with the Cartel's fantastically acted scumbag murderers and rapists like Lado. Hayek is also very convincing as the complicated leader of the band of thieves.
The DVD and Blu-ray combo pack include an unrated version of Savages. The DVD features commentary from each of the movie's writers as well producers Eric Kopeloff and Moritz Borman, while the Blu-ray features a five part behind-the-scenes segment entitled Stone Cold Savages. Other DVDs/Blu-rays being released today include the animated comedy Brave, 2 Days in New York and The Watch. ~Brandon Bastaldo