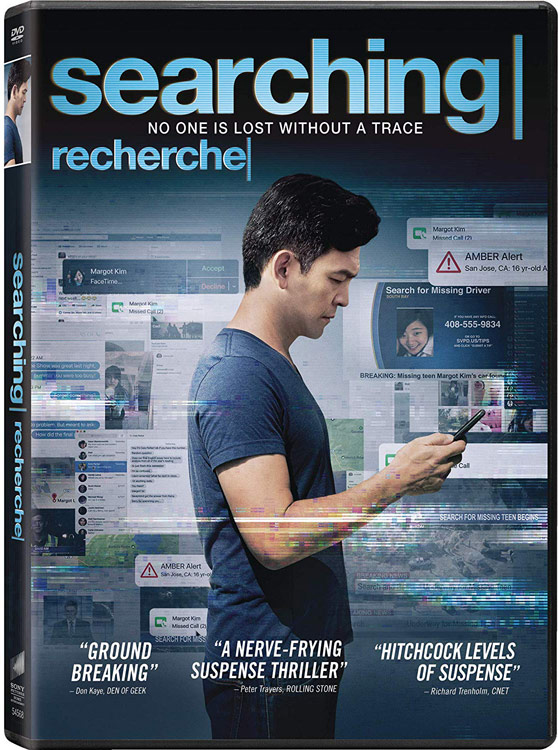 When Searching opened in theaters last summer, it debuted in the top five at the box office, exceeding predictions. Critics and audiences loved it.
With a first-time director at the helm, and an unusual premise, it originally opened in only nine theaters. A month later, it was in 2,000 theaters and by the end of its run, it had earned more than $70 million worldwide. Not bad for a movie that had a relatively small budget and takes place almost entirely on computer screens.
From the moment Searching begins, it grabs your attention. Despite the unusual format, it's familiar. We all look at computer and phone screens every day. We go to Facebook, Instagram, Google and YouTube. We FaceTime and Skype.
The storyline follows a loving couple, David (John Cho) and Pamela Kim (Sara Sohn). They welcome a baby girl named Margot to the family and we see her grow up, through online photos and videos. We witness as all three communicate through FaceTime on their phones and computers.
Then tragedy strikes and David is left on his own with Margot (Michelle La), now a teenager. When she goes to a classmate's house to study and phones to say she'll be home late, David goes to bed. He wakes up in the morning and Margot isn't there, although his computer says she called twice at about 11 p.m. When she doesn't come home after school, he begins to worry and after contacting some of her friends, he calls 911 to report her missing.
Detective Rosemary Vick (Debra Messing) takes on the case, telling David she believes Margot likely just ran away. David researches online, getting all of Margot's passwords to her various social media accounts in an effort to learn all he can about what she's been up to in the past few months. He sets up a spreadsheet, methodically keeping track of all that he finds.
What he discovers is surprising, and at one point, something he finds is so chilling, it actually gave me goosebumps.
Filmed using iPhones, GoPros, drone cameras, webcams and mini-cameras, the movie never loses the audience's attention. This finely crafted thriller kept my attention throughout — and then some.
Naturally, as the missing case heats up, I was trying to figure out the mystery, but there's a twist in this movie that you probably won't see coming. Even then, the case isn't fully solved — I was still on the edge of my seat, attention glued to the screen to find out what had happened.
In a behind-the-scenes featurette titled Changing the Language of Film, first-time feature director/screenwriter Aneesh Chaganty and screenwriter/producer Sev Ohanian reveal how they made a short, eight-minute film that they presented to a production company. The company loved it and asked for a feature length film. Aneesh, who was a Google employee in his early twenties at the time, was reluctant. Sev was more enthusiastic. They came up with ideas that would make a feature length film that takes place entirely on computer screens plausible and finally said yes to making it.
Debra Messing says in a featurette that her head "exploded" when she read the script. Aneesh quit his job at Google, but much of what he'd learned there, including how to emote in a variety of ways online through texting, videos and photos, aided him in crafting the film. Sev explains that the film couldn't have been done by a more experienced director, because they broke many of the rules of filmmaking, but because Aneesh was so young, he didn't know it couldn't be done.
The star of the film, John Cho, unused to being filmed with handheld cameras, questioned during filming why at least some of it couldn't be done using a standard, full-sized film camera, asking if even just the ending could be done that way. Aneesh listened to his concerns, but finally decided to keep it all on the computer. We see news broadcasts about the case streamed on laptops and computers, but it never veers away from that format.
Joseph Lee, who plays David's brother, says although it seemed challenging at first to only talk to screens, he soon realized that we do that all the time in real life, which made it easier. As for  Debra and John, we learn in the featurette Update Username: Cast and Characters that they were placed in different rooms in the same house to deliver their lines back and forth in real time via FaceTime.
The result is incredible. It's innovative, fresh and unique. In the featurette Searching for Easter Eggs, Aneesh and Sev give away the fact that some of the things that we see onscreen in the background when David is looking for information gives clues as to what might be behind Margot's disappearance. Overall, the film is clever, incredibly entertaining and full of surprises. 5 out of 5 stars. ~Alexandra Heilbron