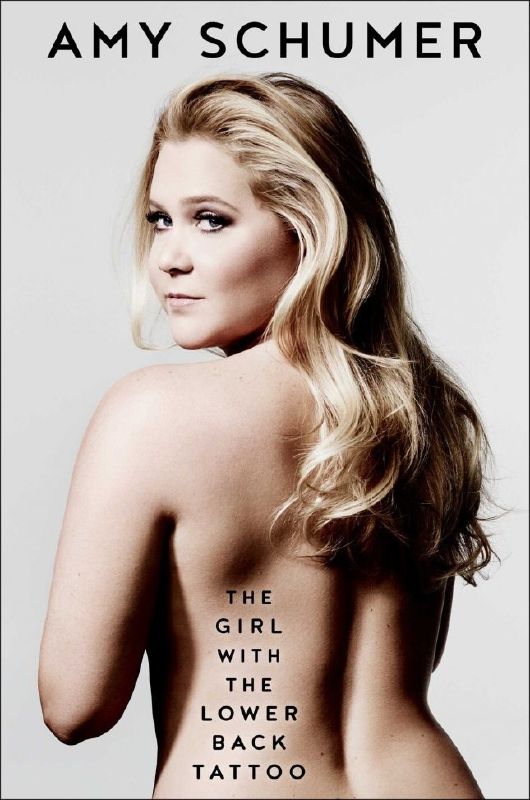 Amy Schumer has always been somewhat of an open book (no pun intended), but in her just-released memoir The Girl with the Lower Back Tattoo, the Trainwreck actress has never been so candid — and strikingly vulnerable.
While there are many surprising confessions and startling revelations throughout her book, here are five of the most shocking:
1. Her "number" 
The outspoken comedian, whose stand up often deals with sex, dedicated an entire chapter to listing 44 "Things You Don't Know About Me," which included how many people she's slept with.
"To date, I've slept with twenty-eight people. I can't remember all of their names, but I remember the nicknames I gave them (Third Ball, Pit Bull Guy, Cousin Steve—JKJKJKJK)," she joked.
2. She lost her virginity at 17 during non-consensual sex
While Amy often takes a very fun and lighthearted approach to discussing sex, she bravely revealed an unsettling piece of her sexual past — she lost her virginity to a boyfriend who took advantage of her while she was asleep.
"Without asking first, without kissing me, without so much as looking me in the eyes – or even confirming if I was awake," she wrote. The boyfriend, upset, apologized the next day, and despite his wrongdoing, Amy felt compelled to comfort him. "I was seventeen years old and wanted my boyfriend to like me."
3. Her mother had an affair with her best friend's father
In one of the more personal essays in The Girl with the Lower Back Tattoo, Amy discusses her past with her mother Sandra, and the traumatizing moment that changed their relationship forever.
"One day after school I came home and saw my mother slumped on the couch. She'd clearly been crying hard," Amy wrote. "Because she couldn't communicate vocally, she had to sign it to me. Since she is a teacher of the deaf, we all know a good amount of sign language in my family."
That's when a 13-year-old Amy discovered her mother had been having an affair with Lou — her best friend's father. "Slowly, her hands trembling, she rose and signed to me, 'I am leaving your father. Lou and I have fallen in love with each other.'"
4. She was in an abusive relationship 
Arguably the most jarring admission was the emotionally and physically abuse relationship the star endured during her early 20s with a man she identified as Dan.
"It proceeded to get worse and worse, and I started escaping the apartment whenever I could. I'd go to Starbucks, lock myself in the bathroom, and sit on the floor and cry," she wrote. "I knew I should go back to the East Coast, but I thought no one would ever love me as much as he did. I believed he was just as passionate about me as I was about him, and that if I did a better job of not making him mad, we'd be fine. I really felt he loved me. And I really loved him."
She described a particularly violent incident when he shoved her onto the hood of a car, bruising her head and elbow. When she attempted to flee, he resorted to breaking a mug over his head and grabbing a butcher knife.
"And that's when I was sure he was going to kill me," she recalled. She eventually escaped, and advised to her readers that, "It can happen to anyone. You're not alone if it's happening to you, and you're not exempt if it hasn't happened to you yet."
5. She met boyfriend Ben Hanisch on a dating app
In spite of her turbulent past, Amy appears to be in a very happy place, in both her career and her personal life. Since late last year, she's been dating Chicago-based furniture designer Ben Hanisch. And it's a pretty cute story how the couple met:
Amy was hanging out with SNL cast member and Trainwreck co-star Vanessa Bayer when Vanessa suggested a dating app specifically aimed at creative people. Perusing through the app, she "liked" a few of men, and, of course, one of those men was Ben.
"We sent each other very simple hellos and short, funny messages," the funny lady recalled. A few weeks later, the two decided to meet in person. Following an oddly-timed acupuncture appointment, Amy walked out into the rain and saw Ben, who had no umbrella but was holding a soaked paper bag, and in it was a bottle of wine. "We smiled at each other and in that moment, everything felt right," she wrote. ~Shelby Morton
Are you excited to read The Girl with the Lower Back Tattoo? Tell us below!