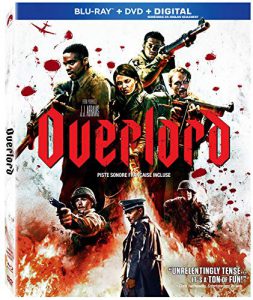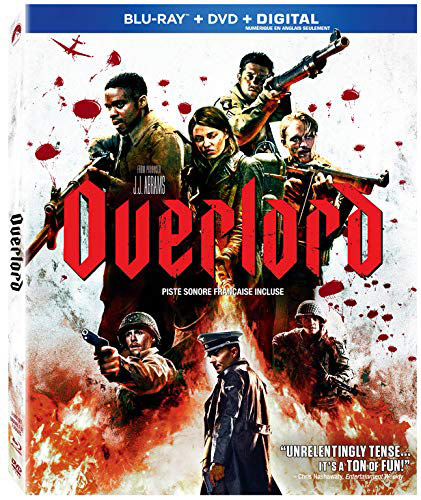 In Overlord, when Boyce's (Jovan Adepo) paratrooping unit is shot down in France during Operation Overlord, the surviving members regroup behind enemy lines and enlist the help of Chloe (Mathilde Ollivier), a local resident of the French town, to help them in their mission to destroy a communications tower. However, they soon discover that far more nefarious deeds are being conducted by the Nazis, led by SS trooper Wafner (Pilou Asbaek).
Those looking for Nazi zombie B-movie fun more in line with the Norwegian cult film Dead Snow might find themselves a little disappointed with this Bad Robot production. In most regards Overlord was oversold by its fantastic trailer, however, that isn't to say it isn't without its merits and entertainment.
Where the film excels is in its atmosphere and production. Director Julius Avery's film is sleek and polished in a way that one wouldn't expect for a B-movie premise. Absent are the camp and gimmicks one might expect, and instead you have a cast and crew who treat this film with a reverence that is more serious. While that may not be what some audiences expect, it does offer a refreshing experience.
The film also boasts fantastic practical effects highlighted by its opening jump sequence. Though visual effects aid in filling the background of the single-take plane jump, the focus on Boyce from starting in the plane to finishing on the ground is handled practically and it is a visceral experience. There are also some gore-geously beautiful prosthetics works here that bring the horrors of this film to life, particularly the money shot of Pilou Asbaek seen in the trailer.
The disappointment though comes in that the film is much smaller in scale than what was teased in the trailer. In that regard the trailer is somewhat misleading, but that's on the marketing team and not the filmmakers.
Overall, Overlord did deliver a thoroughly entertaining experience with a talented young cast led by Wyatt Russell, Jovan Adepo, and Mathilde Ollivier. Its blend of atmosphere and beautiful special effects make for a riveting experience. ~Paolo Maquiraya
Special Features
Creation – 11-minute featurette of the cast and crew discussing the concept and premise of Overlord from writer Billy Ray.
Death Above – seven-minute featurette covering the film's opening sequence in the plane and how it was shot and executed by cast and crew.
Death on the Ground – nine-minute featurette with cast and crew covering the physical setting of the town and the characters played by Mathilde Ollivier, Pilou Asbaek, Iain De Caestecker, and Jacob Anderson.
Death Below – six-minute featurette in which the cast and crew discuss the physical set of the film's underworld.
Death No More – 12-minute featurette in which the cast and crew discuss the creatures of the film, how their designs came to be, and the prosthetics that brought them to life.
Brothers in Arms – five-minute featurette in which the cast and crew discuss the experience of working with director Julius Avery.
If you have seen Overlord and would like to rate/review it, click here.