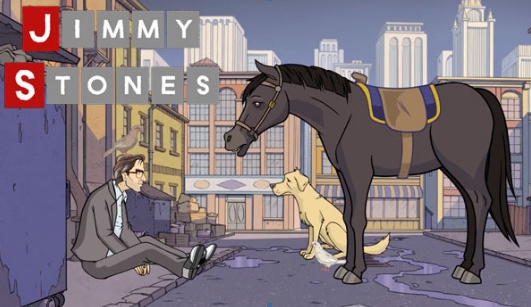 The Simpsons producer Bill Schultz and Dexter creator James Manos Jr. have a hilarious new animated TV series specifically for the web called Jimmy Stones. Bill's tongue-in-cheek humor had me in stitches while describing this exciting new project, and he also explained how audiences can get involved in a hands-on way to get this irreverent new series produced. Read on to see how you can be part of an animated Hollywood series.
How did you get attached to this project?
I was introduced to [Dexter creator] James Manos Jr. and he's just a fascinating guy. He presented me with this treatment that he wrote about this character named Jimmy Stones and I read it and it was just this crazy world. I thought, what an amazing vision this guy has. It's a world that's never been done before in animation. And it just got me excited, how it could be an amazing opportunity to work with a writer of that caliber.
What can you tell us about Jimmy Stones?
Jimmy has been through a divorce; treated badly by the courts; given court-ordered supervision – and he's just like, "I can't do it – we were married for four years and you want me to pay $20,000 a month? It's ridiculous, so I'm just going to get a menial job, and you know, just check out." So he gets a job taking tickets for the carousel in Central Park and his policeman buddy Rudy comes by on a horse. Jimmy was a stockbroker, making six figures and doing quite well before, so Rudy says, "Jimmy, you've got to pull yourself out of this." Then all of a sudden, the horse starts talking to Jimmy and says, "I'm so sick of this fat ass on me, all day long, all he does is kick me and whip me. I was a proud black mustang – my name was Slick Black and I was roaming free when they got me and now my name is Buttercup and this fat ass rides around on me all day. You know what, I've had it." And Jimmy's like, "You talking to me?" The horse takes off, Rudy falls, and the horse commits suicide. Which apparently is true, a certain number of horses every year commit suicide, I believe.
Oh no, that's insane!
See, I would never know that, but Jim Manos, he's bit sick.
(Laughing) The horse actually commits suicide?
Yeah. And so, Rudy says to Jimmy, "What did you do to my horse?" He didn't know Jimmy was talking to him, so there's that – the audience knows Jimmy talks to the animals and the animals talk to him, but the rest of the cast doesn't have any clue.
That's so funny.
One of the other animal stories that's funny is we have a squirrel in the cast, and he starts talking to Jimmy Stones, and he tells him his back story. He says, "I moved here from Jamaica, I've got like 12 kids, I cheated on my wife once and now I've got rabies."
No! (Laughs)
And you know, he's working four jobs, trying to do the right thing.
I think animal lovers will love this – having animals talk and saying crazy things is just so funny.
Yeah, we talked to Animal Planet, but uh, it's a little bit too edgy.
No doubt. Jim created it, and he also voices Jimmy Stones in the trailer?
Yes he does, but to be honest we're looking at casting a name actor. Like we were talking to Jason Bateman; we've thought of George Alexander, and they all said leave us alone.
No, really?
No. (Laughs) Lauren Vélez from Dexter plays one of the pigeons, and Rosie Perez we think is going to play the other pigeon, so we're definitely looking at having fun with the casting. I worked on The Simpsons, and one of the things The Simpsons is known for is "Simpson-izing" people – bringing them on and letting them play other characters. It's one thing to get Mick Jagger to come on and play Mick Jagger, but it's another thing to get an actor to play a character; you know we could get Brad Pitt to come on and play, like a poodle.
(Laughing) That would be hilarious.
See, you're laughing already right? I think that would be fun, we could have little cameos with some celebrity casting. Which would be creatively fun and also good exposure.
Yeah, that would be amazing. I was wondering, how much is Jimmy Stones based on Jim Manos?
Well, I would say none from the standpoint that this is fiction, and you know, I don't know what goes on in a writer's mind — between you and I, Jim's not in debt, he's not in an alley drinking booze.. he doesn't have a booze problem that I'm aware of…
Good to know!
I think that everybody writes what they know, but I wouldn't call it autobiographical. He knows people who've been through a divorce, and could probably speak about it; but I think he's quick to point out that this is just a creation. He's like, "I wasn't a serial killer when I created Dexter."
Exactly. In the short clip that's available, there's suicide, sex, drugs, alcohol — are there any vices Jimmy doesn't have? And is anything off limits?
No, and you know, I produced several prime time series — Simpsons, King of the Hills, The Critic, etc. for broadcast television, so when I read this, I knew this was not for broadcast television, and I didn't even think it was really for cable, because it's so dark and diverse and niche. Jim as a creator has such a unique vision and a way of looking at things, and when you talk to him, nothing is off limits.
That was one of the reasons we knew this was likely going to go the route of the crowdfunding. We hoped there would be enough people out there who would say, you know, we don't need standards and practices to protect us from someone who's got a little bit of a skewed vision, we want to see it.
Yeah, I definitely want to see this series.
The challenge is that if I could get a room full of 100,000 people and we could pitch it, I think they would contribute, even $1 each. But how do you reach 100,000 people? So that's why we're doing the kick starter. I've been selling shows to networks for 25 years, mostly kids shows: Clifford the Big Red Dog and Bobby's World and Garfield and such, but, but also prime time stuff. And you know, you pitch that horse scene at networks and they say, you know, our research shows that people really like horses – I don't think having a horse commit suicide – could he maybe just be upset?
That's funny. Once you get the funding, when can we start to expect seeing episodes?
In three or four months, but what we would do, as part of our pledge to our funders is to really open up the curtain. Or open up the kimono, and let them see how the process goes. As soon as we have funding, we immediately would start sharing the process. People would get to see how we make these shows, they'll see the casting process, the storyboarding, designs, the writing process, they can even get a reward – we are are going to allow somebody who buys that reward a chance to sit in on a story meeting.
That sounds really cool. There are different levels of donations, right?
Right. So if somebody's desire is to have their name in the credits, why not? If it succeeds, we can continue it, and then grow the funding and make more episodes. If we can get up to 26 or 30 episodes, we could have enough of an audience where we might be able to get a big channel to pick it up and  make it available for more people and put more money into it, so that we can do even more fun things. Jim and I are not getting any of our fees, we just want the money so we can pay other people to do the work that needs to be done.
It's a labor of love.
Exactly.
I wish you so much luck with that. Thanks for talking to us today!
To see what Jimmy Stones is all about, click here to watch a promotional clip from the show. There's a link where you can get involved and various levels of donations, all the way from $1 to $100 (which gets your name in the credits) to $10,000. If there are any aspiring screenwriters out there, you can have your script reviewed by both Bill and James for a donation of $2,500. There are 30 days left and so far $16,917 has been earned, so click here to make sure this show gets produced! You can also check out Jimmy Stone's Twitter  and Facebook pages.  ~Alexandra Heilbron