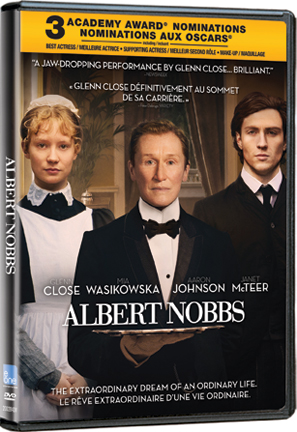 Albert Nobbs is the story of a woman in late 19th century Ireland who poses as a man in order to find work. Alone in the world, at the age of 14, Albert (Glenn Close) was the victim of brutality at the hands of men. In an effort to protect herself, and to survive, she dressed as a boy and found a job as a waiter.
When the movie begins, it's many years later and Albert is now working at a ritzy hotel where she also lives.  Slowly, she's put aside enough money to consider buying a shop, but it's not until she encounters another woman posing as a man that she begins making definite plans.
It would be unfair to give away which character is that woman, because the actor playing him/her so closely resembles a man and does such a great job with her portrayal that it comes as a shock when it's revealed. However, she confides in Albert, telling her she's married to a woman and advises that she do the same, recommending young maid Helen as a prospective wife.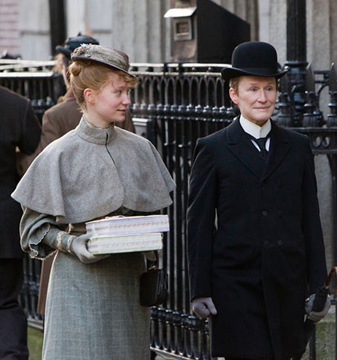 Helen (Mia Wasikowska) is attracted to bad boy Joe (Aaron Johnson), who works at the hotel as a handyman, and she initially turns Albert down. However, Joe has noticed that Albert receives generous tips and has come to the conclusion he must have quite a stash put away. When Helen tells Joe about Albert, thinking it amusing that the odd little man asked her out, Joe sees it as a way to get something out of him. He advises Helen to go out with Albert and ask for something nice — for herself of course. So Albert buys her two extremely expensive boxes of chocolate, which wind up in Joe's hands, as does a bottle of whiskey that he asks her to procure on her next date.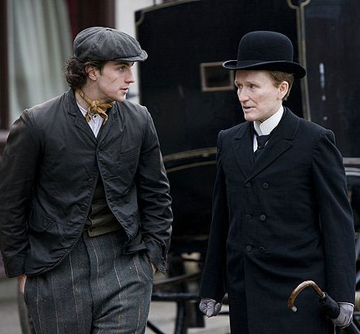 Glenn Close does a remarkable job as Albert — she could easily pass for a man on the street — no easy feat. Other actresses have tried but haven't quite pulled it off. Ditto for Janet McTeer, who makes a rougher, taller and even more convincing man. Both actresses were nominated for Oscars for their work and it's hard to believe they didn't win.
The story is cleverly written and although we find out how and why these two women decided to pose as men, there are more questions. At one point, when Albert asks Helen to marry him, Helen becomes angry, not only because she doesn't love him, but because it's clear Albert doesn't love her. This is clear to the audience as well.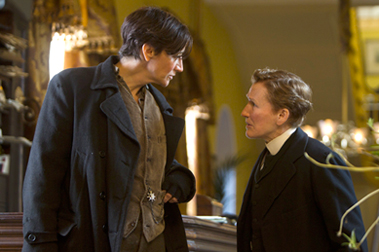 Albert doesn't love Helen; she just wants a companion and it seems anyone will do. Does that make Albert a lesbian? It doesn't seem like it. Albert is a quiet person who does her job and when not needed, blends into the background. She doesn't seem to have ever had strong feelings for anyone. Years of being alone have made their mark on her.
If she had never been the target of brutal men, she would most likely have gone on to get married and be a wife and mother. She doesn't seem to be attracted to women at all; she just wants a friend and a partner to help her with her shop. In fact, if she hadn't decided to buy a shop, it's unlikely she would ever have asked Helen to "walk out" with her.
Albert Nobbs is an interesting movie that sparks questions about relationships, about the quality of life in the Victorian era and the inequality and unfairness of the time.
Special features on the DVD are limited to three short deleted scenes—two of which shed a little more light on the story—as well as interviews with the cast and filmmakers.
All in all, it's a fascinating story that unlike most Hollywood movies, will make you think and that you'll likely remember for some time to come.
Albert Nobbs goes on sale today on DVD and Blu-ray. Other new releases include: : Chronicle, Miss Bala, Rampart, Fear of Water, Hard Core Logo 2 and The Devil Inside.