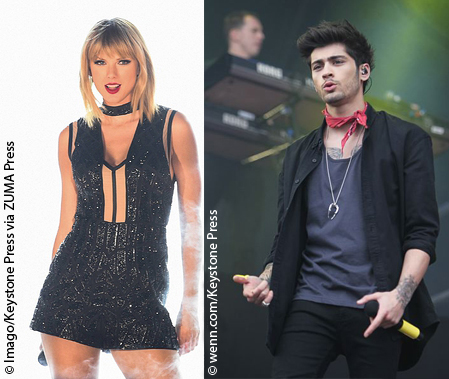 In a surprise collaboration that has the internet abuzz, Taylor Swift and Zayn Malik have released a duet for the upcoming Fifty Shades Darker soundtrack.
Titled "I Don't Wanna Live Forever," the song is the first to drop off the soundtrack and marks Taylor's return to music since her Grammy-winning album 1989, which stormed charts in 2014. It's written by her, Jack Antonoff and Sam Dew, and produced by Jack.
The song features Taylor, 26, singing the following lyric: "Baby baby, I feel crazy/Up all night, all night and all day/I gave you something, but you gave me nothing/What is happenin' to me."
Zayn, 23, of One Direction fame, then takes over. He sings, "I don't wanna live forever, 'cause I know I'll be living in pain."
Taylor shared the artwork and a clip from the song via Twitter late Thursday night. Take a look and give the snippet a listen below.
The song is available to download on iTunes, and within an hour of its release, was No. 1 on the U.S. iTunes chart.
The bound-to-be-steamy Fifty Shades Darker, which released a second official trailer earlier this week, hits theaters Feb. 10, 2017. The film's soundtrack is also set to drop that day.
What do you think of Taylor and Zayn teaming up for "I Don't Wanna Live Forever?" Share your opinions with us! ~Matthew Pariselli
Z | T | 50@fiftyshades #fiftyshadesdarker @itunes pic.twitter.com/m4meFS4F79

— Taylor Swift (@taylorswift13) 9 December 2016
#fiftyshadesdarker#idontwannaliveforever pic.twitter.com/Q51nqZ4ppX

— Taylor Swift (@taylorswift13) 9 December 2016