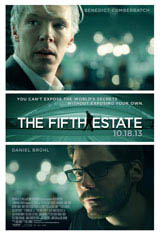 The Fifth Estate is an inside look at how WikiLeaks became as big as it did – to the point where the founder of the site is now in hiding at the Ecuadorian embassy in London, where he has been granted diplomatic asylum. According to the movie, which is based on the true story of Julian Assange (Benedict Cumberbatch) and the site he founded, WikiLeaks started as a fantastic idea: allow people to contribute information on big scale corruption anonymously. The movie is seen through the eyes of computer whiz Daniel Berg (Daniel Brühl), who joined Julian after meeting him at a conference and helped get the website operating on a much bigger scale than it was when Julian ran it alone.
Exposing corruption in huge organizations such as banks and governments puts the two men in danger and they are constantly on edge, worrying whether they're being followed or spied on. Benedict Cumberbatch does a great job of portraying Assange as a paranoid, mad genius who can't even trust those closest to him, those who've helped him make WikiLeaks a huge success. As Daniel, Brühl also gives a convincing performance as a conscientious man who believes in the cause, but who is kept in his place and on his toes by Julian, who doesn't want anyone else getting credit for his idea, no matter how much they've contributed.
Also turning in spot-on performances as two American State Department officials who find their jobs on the line thanks to WikiLeaks are Laura Linney and Stanley Tucci.
Based on the book Inside WikiLeaks: My Time with Julian Assange at the World's Most Dangerous Website by Daniel Domscheit-Berg and David Leigh and Luke Harding's WikiLeads: Inside Julian Assange's War on Secrecy,  the story is probably not an entirely true depiction of what actually happened, but it gives us a good look at Assange through Berg's eyes, and it's not a flattering look. Assange seems hell bent on having power at any cost. The website, which started out as an exposé of corrupt governments that torture and/or kill their own people, winds up putting innocent people's lives in danger.
The movie is a thriller that never stops moving and keeps you guessing right to the end.  Special extras in the Blu-ray/DVD combo pack include trailers and TV spots, as well as featurettes that take you behind-the-scenes in The Submission Platform and In-Camera Graphics, while Scoring Secrets gives you a look at composer Carter Burwell's soundscape for the movie. Also releasing on DVD/Blu-ray and home release today are: Rush, Cloudy with a Chance of Meatballs 2, Jackass Presents: Bad Grandpa, Metallica Through the Never, Night Train to Lisbon, Violet & Daisy and the TV mini-series Bonnie and Clyde. ~Alexandra Heilbron