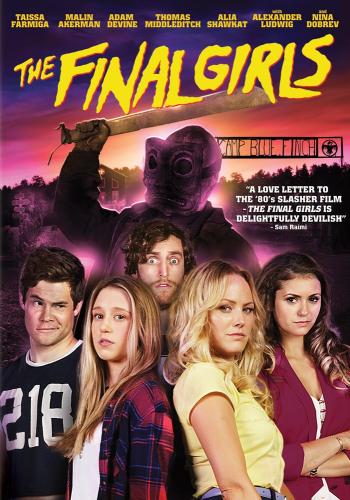 Halloween might be over, but the horror has just begun – if you know what I mean. The Final Girls is an ode to the slasher films serving a twisted plot with a slice of comedy. Max and her friends reluctantly attend an anniversary screening of an infamous '80s horror film Camp Bloodbath. Judge not yet, my friends.
An unfortunate accident pulls the gang back into the cult classic film and they are trapped in the 92-hour film. And no, they can't escape unless they put their adolescent minds to it. The machete killer is ready to slice and dice anything and anyone who gets in their way.
The film stars Taissa Farmiga, Malin Akerman, Adam DeVine, Thomas Middleditch, Alia Shawkat, Alexander Ludwig and Nina Dobrev.
We are giving one lucky winner a Blu-ray copy plus Camp BlueFinch shirt signed by cast members Taissa, Nina and Angela Trimbur.
Want to enjoy a date night with friends or the machete killer? Your pick.
Simply leave a comment below telling us the name of your favorite slasher film.