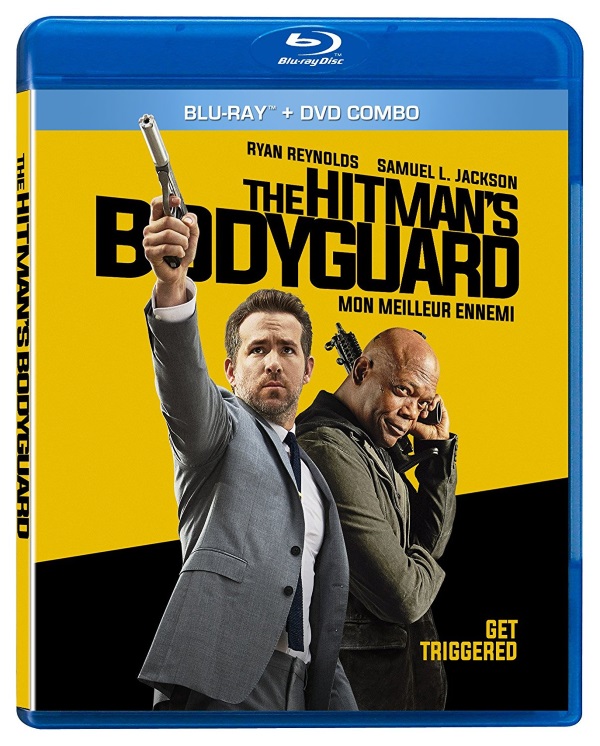 Action-comedy The Hitman's Bodyguard finally hits home entertainment this week, and the film is a great choice for any movie lover looking for some serious high-octane action and laughs.
The film follows former triple A-rated bodyguard Michael Bryce (Ryan Reynolds), whose business isn't going so well since one of his clients was shot and killed. He's now stuck helping less-than-high profile clients in an effort to make ends meet.
While Michael is doing his best with the hand he's been dealt, violent dictator Vladislav Dukhovich (Gary Oldman) stands trial at The Hague for crimes against humanity, but nearly all the witnesses scheduled to testify have mysteriously disappeared, with the exception of former hitman Darius Kincaid (Samuel L. Jackson).
Darius agrees to testify in exchange for the release of his imprisoned wife, Sonia (Salma Hayek). His ride to The Hague is arranged, but along the way, Dukhovich's henchmen intercept the transport.
Darius escapes, along with an Interpol agent, who happens to be Michael's ex, Amelia Roussel (Elodie Yung). Amelia reluctantly calls Michael to finish the job and get Darius to The Hague. Unfortunately, she doesn't realize Michael and Darius have a volatile history. What ensues is a humorous, action-packed adventure, as Michael tries to protect the one man he wishes he could just kill.
The film is a steady stream of laughs and action. In addition to that, the unlikely partnership between Michael and Darius is endearing to watch. Watching the two learn to work together instead of trying to one-up each other adds to the entertainment factor. Salma Hayek as Darius's fiesty better half is also a scene-stealer, and she was comical when she wasn't constantly cussing up a storm. Gary Oldman as Dukhovich also played his role well, proving his ability to showcase a character who's every bit as evil as the deeds he carried out.
Overall, the film is a fun watch. While I didn't find it side-splitting, it did have its fair share of laugh-out-loud moments, and the dynamic between Ryan's and Samuel's characters was entertaining. Watching Darius throw a wrench into Michael's meticulous and carefully laid out plans was funny, and seeing the two go from enemies to besties who would have each other's backs was equally as satisfying to watch. The movie doesn't have much depth to it, and Samuel's trademark use of the word "motherf*****" was a bit overdone (we get it, he says the word — A LOT), but it's still a great choice to curl up with on a cold night for some chuckles.
Special Features:
Get a rundown of the love-hate relationship between the film's two top stars in The Hitman's Bodyguard: A Love Story.
Hitman vs. Bodyguard gives viewers a breakdown of Michael's and Darius's different styles.
In Dangerous Women, we get a closer look at Sonia and Amelia, the ladies who prove to be just as tough as the main men in their lives.
Get a detailed look at how some of the film's explosive and heart-pounding action scenes were filmed in Big Action in a Big World.
Finally, get into the nitty gritty of the film with a director's commentary by Patrick Hughes, as well as a series of deleted, extended and alternate scenes, in addition to a hilarious selection of outtakes. ~Alexa Caruso
If you've seen The Hitman's Bodyguard and would like to rate/review it, click here.