Bridge of Spies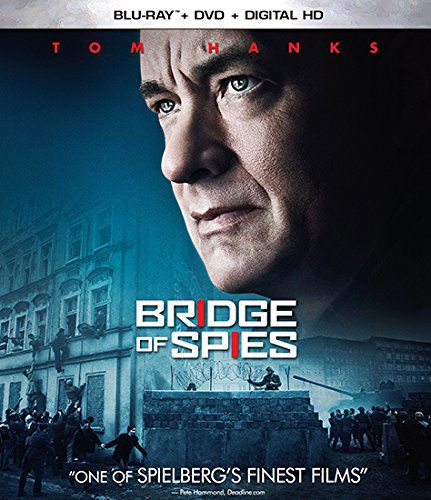 is a finely crafted, beautifully acted movie that offers the viewer intrigue, mystery and danger. It's based on a true story and some of the key points of the movie were shot on the very locations where the incidents took place.
Tom Hanks portrays lawyer James Donovan who is asked to take on a criminal case — even though he hasn't done so for years. This one is important though, so he agrees, even though he knows it will make him the second most vilified man in America. The most vilified is the man he's representing – Rudolf Abel – a man who is believed to be a Russian spy, despite his British accent and home base in Germany.
Mark Rylance turns in an excellent, understated performance of a quiet, unassuming man whose main hobby is painting. That's just what he's doing when the Feds bust in to his apartment and arrest him. He quietly complies, and when he meets Donovan for the first time, he is just as quiet and compliant, despite the fact that he's facing the electric chair. As he tells Donovan numerous times, "Would worrying help?" Donovan grows to like Abel, who, if a threat to the United States, seems docile and meek.
This is set during the Cold War, a time when director Steven Spielberg was growing up, and he really nails the emotion of the time period and the sentiment among Americans. They were terrified that a bomb would drop on the States that would kill them all, or at the very least, deprive them of basic necessities, such as water. Donovan's son, after watching an instructional film at school as to what to do if the Soviets drop a bomb, is terrified and fills the bathtub full of water in preparation.
The rest of America is just as on edge, and when Donovan accepts Abel's case, his entire family becomes a target.
Tom Hanks brings a quiet strength to his character – Donovan is a moral man who cares very much about the welfare of other people. He doesn't see Abel as a threat, but as a man doing what his country ordered him to do. He believes lives are more important than politics — and his persistence plays a very big role in what comes about when an American pilot — Francis Gary Powers — is captured by Russia, and Frederic Pryor — a young American man studying in Germany — is taken into custody just as the Berlin wall is going up.
There's a scene at the end, when Donovan is on a train, that mirrors an earlier moment he had on a train while in Europe. He saw something horrifying – and what he spots brings back that memory. It's a brilliant, moving way to end the movie, and while watching, I wondered if it was the brainchild of the screenwriters or the director. It was neither. While watching the bonus features, I learned that Tom Hanks came up with the idea and presented it to Steven Spielberg, who liked it and agreed to end the film that way. Amazing.
Bonus features:
A Case of the Cold War: Bridge of Spies, shows what was happening in the world in the late 1950s, when there was tension between Russia and the U.S. and there was a very real threat of war. Francis Gary Powers Jr. talks about his father's beginnings and how he became a pilot, while American student Frederic Pryor reveals what he went through in East Germany when the Berlin wall went up. We discover that Powers' trial is reenacted in the movie word for word from the actual trial.
U-2 Spy Plane gives a look at what it took to film the scenes involving the pilots. Francis Gary Powers Jr. reveals he worked as a technical consultant as well as an extra on the film. In a voice over, his father, Francis Gary Powers, describes what happened within his plane after he was shot down.
Berlin 1961: Recreating the Divide  – Tom Hanks talks about the historical aspect of filming in East Germany where the actual events took place. Archive footage of the time shows young people trying to get through barbed wire to get to freedom. American technical consultant Jane R. Helmchen, who worked in West Germany as a teacher just after the wall was built, talks about how difficult it was to get through to East Germany from West Germany at the time. We see how parts of East Berlin were recreated for the film, because modern day Berlin is too different now.
Spy Swap: Looking Back on the Final Act – the bridge swap is enacted on the actual bridge where the exchange took place. We hear the voice of Francis Gary Powers talking about being imprisoned in Russia. His son reveals his father wasn't aware of what was being said about him at the time in the U.S. – some were saying he'd defected, told the Russians all the information he had, and was planning to live there, none of which was true.