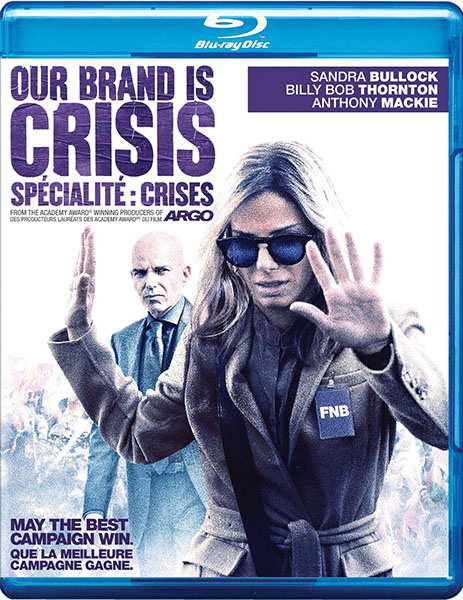 It's 2002. Bolivia is electing a new president. In a very tumultuous time in the South American country's recent history, choosing the right leader has never been more important to the Bolivian people. Presidential candidate Rivera is the clear front-runner. Conservative candidate Pedro Castillo is 28 points behind and needs to completely re-brand. And he enlists an American management team to do it.
Retired political consultant and strategist Jane Bodine is pulled back into duty when her former colleague Nell, part of Castillo's new team, visits her at her secluded ranch — and makes her an offer she can't refuse. No, it's not about the money. Nor about the rush of the kill. It's not even about defeating a clearly corrupt opposition. It's about vindication. Vindication against one Pat Candy — a rival consultant who happens to be representing Rivera. The two have a volatile history that Jane is looking rewrite. It's officially game on. "Calamity" Jane is back.
Our Brand is Crisis follows Jane's less-than-orthodox methods of getting Castillo, leader of the fictional Bolivian Nacionalista Revolucionario (BNR) Party, elected, as she navigates a world she no longer understands or respects. It is a fictionalized account of the real-life campaign strategists Greenberg Carville Shrum's (GCS) involvement in the 2002 Bolivian presidential election, and explores the moral and personal ramifications of campaign warfare, and what "winning" really means in a time of social and economic crisis.
The cast is an ensemble of truly talented players, including the always stellar Anthony Mackie, a hilariously dimwitted Scoot McNairy, Joaquim de Almeida as the elusive Castillo, a mysterious Zoe Kazan known only as "LeBlanc," a perfectly cast Billy Bob Thornton as sleazeball Pat Candy, and the very welcome addition of Ann Dowd as Nell (if you're a Leftovers fan, you'll know why I'm so excited).
Then there's America's Sweetheart Sandra Bullock as "Calamity" Jane Bodine. Despite the nickname, it's hard to pin down who exactly this character is, and maybe that's a good thing. She's an unnerving amalgam of many different people — neurotic recluse with a serious lack of social etiquette, reluctant yet compelling mother figure, goofy teenager with a serious substance abuse problem, highly intelligent and ruthless campaign strategist, as well as a deeply damaged woman whose past still haunts her. It is really encouraging to see a female character given the freedom to be as layered and utterly messed up as any man can be. And lead a film, too. Interestingly enough, this part was originally written for a man. Sandra Bullock fought hard to change that. Spoiler alert: it's as simple as a name and wardrobe change, folks. Or should be.
Llamas, beware. There are definitely some tone issues with this film, it goes from (mildly) hard-hitting political drama to slapstick comedy in the blink of an eye. It's definitely hard to remember that this is a movie about actual, real-life crises when Sandra Bullock is busy mooning someone out of a school bus window. It's a movie that takes itself very seriously at times and then other times, not at all. These kinds of silly moments really take the sting out of the powerful political satire the movie clearly wants to be. But after further consideration — as I often like to play the Devil's advocate — this unevenness may work towards a greater, more satirical purpose. Jane, despite her natural ability, clearly no longer has any respect for the people she's expertly serving. She (like the majority of the human race) views politics, and politicians, as morally corrupt, lacking in any substance and utterly, depressingly preposterous. This may be why the movie gets a little outrageous at times, to reflect Jane's disillusionment with the very institution that made her. And broke her, as becomes sadly evident.
I found myself laughing out loud at some of the subtly awkward moments and many biting one-liners. Yes, Jane too often speaks in obscure quotes — from Goethe to Goebbels — which to the naked eye might seem like a crutch on the writers' parts. But this is actually a deliberate device to reveal a tired woman who no longer has a mind of her own. And it's pretty fun to watch her fall so far down the rabbit hole before she's finally inspired to find it.
As the smarmy Mr. Pat Candy uncharacteristically quotes Nietzsche, "Beware when fighting monsters, that you yourself do not become a monster." Our Brand is Crisis begs the question: How far can and will one to go to win?~Shelby Morton
Blu-ray Special Feature – Sandra Bullock: A Role Like No Other, which explores how Sandra fought to change the lead role from male to female and how she and the director, David Gordon Green, created the character of Jane Bodin.