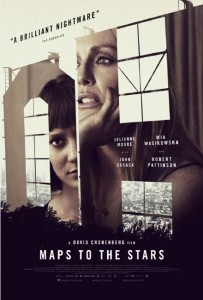 With TIFF around the corner, we rounded out the top ten trailers that have Tribute fans excited. While many of these are action films that have been kicking butt at the box office, there were two upcoming films that also made the charts. The Robert Pattinson starrer Maps to the Stars took the ninth spot while Johnny Depp's Mortdecai rounded out the top ten trailers.
1) Into the Storm
2) Let's be Cops
3) The Giver
4) The Hundred-Foot Journey
5) Guardians of the Galaxy
6) The Expendables 3
7) Lucy
8 ) Teenage Mutant Ninja Turtles
9) Maps to the Stars
10) Mortdecai
1) Into the Storm trailer: In just a single day the town of Silverton is devastated by an unexpected string of tornadoes. The entire town is at the mercy of these erratic and deadly cyclones and storm trackers are predicting that the worst is yet to come. 2) Let's be Cops trailer: When two best friends (Damon Wayans Jr., Jake Johnson) dress as police officers for a costume party, they become instantly famous in the neighborhood. However, these non-cops soon find themselves tangled in the real life world of crime, mobsters and dirty cops. 3) The Giver trailer: Every person in the world has been chosen to have a specific role in the perfect world. Teenager Jonas (Brenton Thwaites) has been chosen to be the receiver of memories and he goes into training with a man called The Giver (Jeff Bridges). 4) The Hundred-Foot Journey trailer: After a tragic incident, the Kadam family moves from their native India to make a fresh start in a safer place. Their van breaks down just outside the quaint village of Saint-Antonin-Noble-Val in the south of France. Papa finds a place for sale that he believes would be perfect for them to open an Indian restaurant, the Maison Mumbai. His secret weapon is his talented son, Hassan (Manish Dayal), for whom cooking is an art and a passion. 5) Guardians of the Galaxy trailer: Peter Quill (Chris Pratt) starts off as an Earth child whose mother is dying. When she passes, it changes his outlook on life. He's then raised as a space adventurer and thief whose life is in danger after stealing a mysterious orb. Many in the universe seek the orb, although only some know its true power and purpose. When Quill discovers why thugs and villains are after the orb, he must bring together rivals and enemies to help protect the universe. 6) The Expendables 3 trailer: Barney (Sylvester Stallone) comes face-to-face with Conrad Stonebanks (Mel Gibson), with whom he co-founded The Expendables years earlier. Stonebanks subsequently became a ruthless arms trader and someone who Barney was forced to kill… or so he thought. 7) Lucy trailer: A woman (Scarlett Johansson) forced to work as a drug mule for the mob in Taipei, Taiwan finds out that a drug implanted in her body has accidentally gotten into her blood stream. 8) Teenage Mutant Ninja Turtles trailer: When New York City is taken over by the evil Shredder and his Foot Clan, four unlikely outcast brothers rise from the sewers and discover their destiny as Teenage Mutant Ninja Turtles. 9) Maps to the Stars trailer: Released from a sanatorium, Agatha Weiss (Mia Wasikowska) returns to Los Angeles, where she gets a job as movie star Havana Segrand's (Julianne Moore) assistant. Her younger brother Benjie, 13, is a child star who recently was released from drug rehab and her father, Dr. Stafford Weiss (John Cusack) is a TV psychotherapist. 10) Mortdecai trailer: Armed only with his good looks and special charm, debonair art dealer Charlie Mortdecai (Johnny Depp) traverses the globe searching for a stolen painting said to contain the code to a lost bank account filled with Nazi gold.