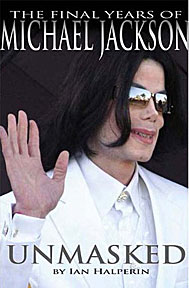 The first part of this book appears so well-researched that it's surprising when the second half falls apart. In the first several chapters, author Ian Halperin does a great job as an investigative journalist, uncovering all the documents involving the first time Michael Jackson was accused of molesting a child. As Halperin explains, he was inspired to do the book because as the father of a young child, he wanted to expose Jackson as the pervert many believed he was when he was found innocent of every charge during his 2005 child molestation trial, and see him serve time. Instead, Halperin discovered piles of evidence proving Jackson was, in fact, innocent.
Everything is put out in the open, from Jordan Chandler's 1993 accusation under the effects of a drug that was widely used by psychologists to produce false memories of sexual abuse in their patients, to a tape recording made by Chandler's father Evan, saying he would take Jackson for all he was worth, saying the outcome on his child was of little importance, to the fact that Evan did not go to the police until well after he realized Jackson was not going to cave into his monetary demands. Jackson was subjected to a horrifying, humiliating photograph session in which he had to pose nude for police, even though it was clear from the first glimpse that the boy had lied – Jackson was not circumcised, as the boy had claimed. In the end, Jackson's insurance company settled the claim despite Jackson's protestations that he wanted to fight the accusations.
They should have listened to Jackson, because 10 years later, another boy decided to cash in. His mother went about it in exactly the same way, first asking for money, and this time, Jackson refused to pay. The accusations by Chandler had taken a great toll on Jackson's health, and the trial would take an even greater toll, but Jackson knew he had to fight the charges and clear his name. Unfortunately, many people believe where there's smoke there's fire, and refused to believe Michael Jackson was never a child molester, despite all the evidence to support his innocence.
If there's anyone out there who still believes Jackson was a pedophile, and undoubtedly there is, they should read the first half of this book and find out why there's no shadow of a doubt that Jackson was innocent.
However, Halperin decided that wasn't enough to fill a book, and went to California to meet people who "knew" Jackson, and talked to them. But as he points out in the first half of his book, people will say anything about any celebrity, for all kinds of reasons, and very rarely is it the truth. He met two men who said they'd slept with Jackson, but wouldn't allow their names to be published. Halperin claims to have met Jackson himself, saying that at one point, Jackson stared at him for a long moment. Strangely enough, Halperin decides Jackson was coming on to him – it's not clear why, since nothing comes of it. It could have been that Jackson was suspicious of Halperin's claim to be a gay hairdresser. Jackson undoubtedly met all kinds of strange people in his lifetime (some even worked for him and lied about him for quick cash from tabloids after being dismissed), and had more than enough reason to be suspicious of people after all that he'd been through.
Though the book was ready to go to press just before Jackson died, the book was pulled and updated as soon as his death was announced. But that doesn't quite explain the spelling errors and repeated paragraphs in several areas of the book that have nothing to do with his death. The appendix at the back of the book is particularly sloppy. It contains Jordan Chandler's interview with a psychiatrist, and only that, and it's at times unreadable because of the repeated paragraphs and what appears to be missing sentences or sections. And since most of the interview appears in an earlier section of the book, why include it again, especially, as Halperin says, it's basically a case of false memory initially brought on by the drug sodium amytal? Why not instead include copies of the many documents mentioned in the abuse accusations?
For that matter, why rush the book out now (other than to make quick cash)? On a daily basis, the media is finding so much out about Jackson's life that this book will be of no consequence in a matter of weeks. For instance, it seems that the Jackson family has known for years about a son Michael had from a one night stand–and it's being alleged that the boy's mother, who moved into Neverland with her son after Jackson's divorce from Debbie Rowe, may also be the mother of Blanket. She lived at Neverland when Blanket was conceived and born, and was there until 2005, when Jackson left the ranch to live overseas. None of this has been proven yet, but the "one night stand" sheds some doubt on Halperin's statement that Jackson was gay. If he was gay, why was he always surrounded by children and women (Tatum O'Neal, Brooke Shields, Elizabeth Taylor, Diana Ross, Lisa Marie Presley, Debbie Rowe) but not men? There's not one report of a male over the age of 16 hanging out with Jackson on a regular basis, or any basis at all, for that matter.
However, for his investigative work on the child abuse allegations, Halperin deserves kudos. And as he expresses at the beginning of the book, that was his goal – to get to the bottom of it. He did that, and it might have been wise to stop there.
~Alexandra Heilbron
Unmasked: The Final Years of Michael Jackson
by Ian Halperin
Transit Publishing
287 pages