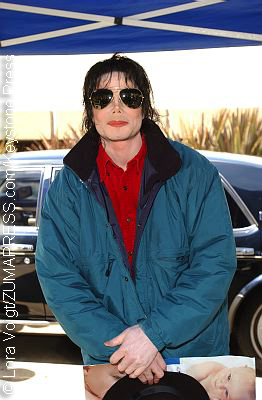 Fans of the late Michael Jackson may remember his pet chimpanzee, Bubbles. Unfortunately, after Bubbles grew up and became somewhat aggressive as an adult, he was sent away to a California animal trainer, and we never really heard from the ape again. However, it has been reported that the faithful pet will be the subject of a new Netflix film.
According to Deadline, Netflix paid almost $20 million at the Cannes Film Festival for the worldwide rights to the film titled Bubbles. 
Oscar-nominated director Taika Waititi (Thor: Ragnarok) is set to co-direct the animated movie with Mark Gustafson. It will be produced by Andrew and Walter Kortschak.
The chimp was initially living at the Jackson Family home in Los Angeles, but moved to the Neverland Ranch in 1988. While living at the Ranch, he slept in a crib located in Michael's bedroom, was trained to use the toilet, and even enjoyed snacks in the Neverland movie theater.
He was eventually moved to the Center of Great Apes, which is a sanctuary in Wauchula, Florida. The chimpanzee has lived there since 2005, and is said to enjoy painting and listening to flute music. He lives at the sanctuary among 40 other chimps and orangutans, including his friend Riley, who starred in Ace Ventura.
What do you think about this news? Let us know in the comments if this is a movie that interests you! ~Brenden Zerihun 
#Chimpanzee Bubbles is our new #ApeSpotlight! Bubbles was once owned by Michael Jackson & has been a part of the sanctuary since 2005. pic.twitter.com/0tNEGbrw9r

— CenterForGreatApes (@CFGA) May 18, 2017