Wind River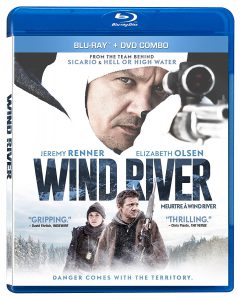 follows U.S. Fishing and Wildlife Service agent Cory Lambert (Jeremy Renner) after he finds the frozen body of 18-year-old Natalie Hanson (Kelsey Asbille) on the Wind River Indian Reservation behind his father-in-law's house.
The FBI sends in a new special agent to determine if Natalie was murdered. Jane Banner (Elizabeth Olsen) — a Florida native stationed in Nevada — arrives significantly underprepared for the bitter Wyoming winter. Cory's mother-in-law helps her out by lending winter gear that used to belong to her granddaughter Emily (Cory's daughter), who was best friends with Natalie, but died three years earlier under similar circumstances.
Bureaucratic red tape complicates Jane's investigation, so she asks Cory to help her track down Natalie's killer. The two of them, with the help of Sheriff Ben (Graham Greene), set out to find the responsible party.
Going into Wind River I had high hopes — I can't think of a film that Jeremy Renner has been in that I didn't like, and I've been following Elizabeth Olsen's career for a few years. Watching Jeremy and Elizabeth interact offscreen while doing press for Wind River at Sundance and while doing press for Marvel (he plays Hawkeye) also contributed to my anticipation, since they seem to be very comfortable around each other.
Overall, I really enjoyed Wind River. It was beautifully filmed and had I not been comfortably bundled up at home, I definitely would have felt the chill from the Wyoming winter. There is no shortage of snow, and with most of the movie taking place outside, director Taylor Sheridan (who also wrote the screenplay) does a lot of really beautiful things.
One shot that stood out was of a spider walking across the snow as Cory tracks through the wilderness. Not only was it aesthetically a nice shot, it seemed to show that Cory wasn't hurting anyone he wasn't supposed to. And while there is a fair amount of blood in the film, the only times that there were any "blood on the snow" type of shots are when Natalie dies and as they are investigating the scene, which definitely added to the impact.
My only negative comment about Wind River is that a viewer discretion warning of some kind would have been nice — there's a scene involving self-harm and another showing Natalie being raped, which can be hard to watch for many, and triggering for others.
The soundtrack added to the chill. Most of the outdoor shots, specifically those with characters traveling through the wilderness, were backed by wordless vocals that made the sound of the wind blowing even more haunting.
Sheridan also does a brilliant job with the writing. One line in particular that stuck with me comes as Cory and Jane are talking about how far an underdressed Natalie could have run barefoot through the snow at night. As Jane tries to figure it out from a more scientific perspective, Cory simply says, "How do you gauge someone's will to live?" All of the performances were fantastic. I particularly enjoyed the way the naivety of Jane's character played against Cory's worn nature.
By far, Renner's performance was the one that stood out. He's got a sense of quiet strength as Cory that seems to be the glue holding his part of this community together. I wouldn't be surprised if his name is on an Oscar in the next few years — he's been nominated twice: as Best Actor for The Hurt Locker in 2010 and as Best Supporting Actor for The Town in 2011.
We don't see a lot of lightness or laughter from Renner in Wind River, but he proves once again that he does somber really well.
One of the most moving parts of Wind River is when Cory goes to check in on Natalie's parents. The two girls had been best friends until Emily died. It would have been difficult for me not to tear up as Natalie's father, Martin (Gil Birmingham), breaks down completely as Cory hugs him. There's definitely a kind of comfort that comes from knowing the person there for you has felt the same pain and it's clear in that scene.
Another performance that shouldn't be overlooked is that of Martin Sensmeier, who plays Natalie's brother, Chip Hanson. When Jane uses past tense while referring to Natalie, Chip completely loses it, realizing his sister is gone. The pain and frustration is beautifully played by Sensmeier and the moment is completely heart-wrenching.
At the start of the film it says, "Based on a true story" and at the end there's a blurb that talks about the lack of statistics on murdered or missing Native Americans, so there is no way to know how many there really are. In an interview with National Public Radio, when Sheridan was asked what the story was based on, he replied that it's based on thousands of actual stories just like it. In the same interview Sheridan also explained that the lack of attention given to women sexually assaulted on reservations was the motivation for writing the film.
Wind River is a work of art that highlights a very important issue in North America, and in my opinion it is a must see. Bonus features on the Blu-ray are simple — Behind the Scenes and Deleted Scenes.
If you have seen Wind River and would like to rate/review it, click here. ~Hayley Michaud