Zoe Saldana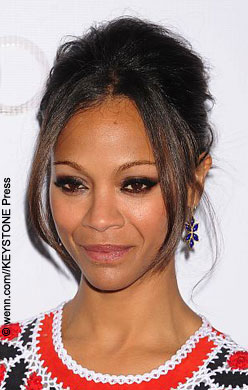 was almost dropped from a film because of her pregnancy.
The 36-year-old actress, who gave birth to twin boys Cy and Bowie in December with artist husband Marco Perego, claims her decision to start a family was "inconvenient" for some Hollywood executives and she came close to losing a role as a result of it last year.
The Guardians of the Galaxy star said: "Let me tell you something, it will never be the right time for anybody in your life that you get pregnant. The productions I was slated to work on sort of had a panic. I heard through the grapevine there was even a conversation of me being written off of one of the projects.
"I was like, 'Oh, my God, are you kidding me? It's this bad?' Right when I just feel super-duper happy, is that inconvenient for you?' That me, as a woman in my thirties, I finally am in love and I am finally starting my life? And it's [screwing] your schedule up? Really?"
The actress also thinks film studios should have to pay for child care while actresses are on set since they often spoil male actors by paying for them to use "a really phat penthouse or them staying in a yacht instead of them staying on land."
The actress told USA Today: "You're taking me away from my home. You're taking my children away from their home. And you're going to make me work a lot more hours than I usually would if I was home. Therefore, I would have to pay for this nanny for more hours — so I kind of need that. And they go, 'Nope, we don't pay for nannies."'