Dane Cook Biography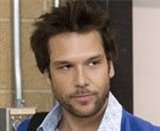 Born: March 18, 1972

DANE COOK
Date of Birth: March 18, 1972
Born in Cambridge, Massachusetts, Dane Cook grew up in Arlington, Mass. Blessed to have been born into a funny family, he knew from a young age that he wanted to be a comedian. He began performing stand up part-time in 1990, then went fulltime three years later.
In 1995, he landed the role of Kyle on the short-lived ABC-TV sitcom Maybe This Time, starring Marie Osmond and Betty White. He then moved to the big screen with roles in Flypaper (1997) starring Robert Loggia and Sadie Frost, and Buddy (1997) starring Rene Russo and Robbie Coltrane. In 1999 Cook wrote and starred in a short entitled Spiral, which earned him a Pixie Award for Best Actor in an i-Feature Film.
Along the way, he's continued to do stand up, appearing on Comedy Central and many of the late night talk shows, as well as hosting Saturday Night Live. In addition, he's played to packed houses at venues such as Carnegie Hall, The Theatre at Madison Square Garden, Continental Airlines Arena, and sold out the 50,000 seat football stadium at the University of Florida's Gator Growl.
Other supporting roles in movies include Stuck on You (2003) starring Matt Damon and Greg Kinnear; Torque (2004) starring Ice Cube and Martin Henderson; and Waiting... (2005) starring Ryan Reynolds and Justin Long. The following year Cook made his starring debut in a major feature film: Employee of the Month (2006) opposite Jessica Simpson as his love interest. Most recently, he lent his voice to the animated film Planes (2013).
In his spare time, Cook, who lives in Los Angeles with his dog, Beast, enjoys photography and playing guitar.