Ellen Barkin Biography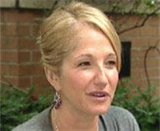 Born: April 16, 1954

Ellen Barkin is probably best known for her steamy roles opposite Dennis Quaid in The Big Easy and Al Pacino in Sea of Love. But this unconventionally beautiful actress never believed the hype about her own sex appeal.
Born in the Bronx, N.Y. to a father who was a chemical salesman and a mother who was a hospital administrator, she attended the renowned High School for the Performing Arts in New York and went on to study history and drama at Hunter College. Ellen continued honing her craft at the famed Actors Studio and made her stage debut in 1980 in the play Irish Coffee.
Like so many actors, she got her start on television in a soap opera. Ellen landed a role on Search for Tomorrow, but continued to appear on stage. She made the leap to feature films in 1982 playing the sole female lead in the Barry Levinson film Diner. It wasn't until 1987 though, that Ellen had her breakthrough role in The Big Easy and firmly established herself as a sex symbol. Two years later she proved she could hold her own against anyone when she starred opposite Pacino in Sea of Love. At this point in her career Ellen had Hollywood in the palm of her hand, but she chose motherhood over superstardom.
"I guess that was the point at which I became what one would consider a movie star, but I made a conscious decision that I wanted to be a mother at that point." In 1987 during the making of the film Siesta, the actress met and fell in love with her co-star, Irish actor Gabriel Byrne. The two married and had two children, Jack and Romy. In 1993 the couple made the announcement that they were separating. The split was well regarded in Hollywood as one of the most amicable on record and the two remain close.
In 1992, Ellen received her first Golden Globe nomination, for her starring role in the Blake Edwards comedy feature, Switch (1991).
She went on to star with acting heavyweights in films such as This Boy's Life (1993) with Robert DeNiro and Leonardo DiCaprio. In 1995 she starred as Calamity Jane in Wild Bill and began an affair with the much younger actor David Arquette (17 years her junior). At the time the relationship was front page fodder for the tabloids, but it soon cooled and the two remained friends.
Her performance in the TV movie Before Women Had Wings (1997) earned her a second Golden Globe nomination and her first Primetime Emmy award.
Ellen made headlines again when she quietly married billionaire Revlon cosmetics owner Ron Perelman in June 2000. Engaged for a year, the couple exchanged vows in a synagogue in New York with guests, including her ex-husband Gabriel Byrne, looking on. Unfortunately, the two have since separated.
Among her other numerous appearances on the big screen, of note is her participation in the star-studded Ocean's Thirteen (2007) by director Steven Soderbergh, and Brooklyn's Finest (2009), a suspense film co-starring Richard Gere, Don Cheadle and Ethan Hawke.
Ellen reconnected with Robert De Niro on the boxing film Hands of Stone (2016) and the same year, she took on the starring role in the new TNT crime drama series Animal Kingdom, which has so far enjoyed five seasons.