Mickey Rourke Biography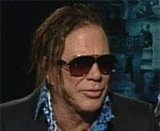 Born: September 16, 1952

Date of Birth: September 16, 1952
Part boxer, part actor, part rebel, part kook—this native of Schenectady, New York, is made up of a lot of contradictory parts. Maybe that's why the French love him so much. All the controversy over his career aside—in 1989 he donated part of his earnings from the film Francesco to the IRA and in 1994 he was arrested by the LAPD and charged with spousal abuse—he's really shone in some films as a sort of soft-spoken thug.
"I thought my talent would transcend my outspokenness," Rourke said about his reputation in 1994. "I was wrong. I'm willing to give them 100 percent this time. I just want a second chance at Hollywood."
And he deserves a second chance based on some of the fine performances he's turned in over his career. He first gained notice as the soft-spoken arsonist who cautions William Hurt about getting involved in illegal activities in Body Heat. And he shone as the weary beautician in Diner. But it wasn't long after these films that he began to self destruct, building a reputation for himself as ornery, difficult and a bit of live-wire.
In fact, it didn't surprise anyone when Rourke put acting aside to take up boxing in the late '80s. As a kid, he'd shown great promise as an athlete, excelling at baseball and boxing. But he let that all slide in favor of just hanging out. But, he says, "I always knew I'd accomplish something very special—like robbing a bank perhaps."
Rourke won his first professional boxing bout in 1991 under the name of Marielito. However, he has put the gloves aside and has gotten his career back on track with a Golden Globe-winning/Oscar-nominated performance in The Wrestler (2009).
Says Rourke: "I always thought it was about great acting. I didn't know it was political. That's what drove me up a wall. Then when I calmed down six years later, I didn't realize I was going to be angry for so long. Now I learned my lesson. Nobody cares if you're angry. The only person who gets beat up is yourself."