A Scanner Darkly - User Reviews
Thank you for rating this movie!
Read your review below. Ratings will be added after 24 hours.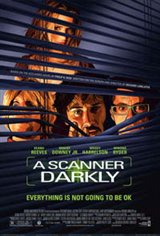 ---
Please rate movie 1 to 5 stars
Showing 1 to 30 of 30
February 27, 2007
I took a lot of vicodin so i can`t say that my opinion is completely valid. However, it did NOT keep me awake.
September 18, 2006
Not bad - not the best but certainly not the worst movie we`ve seen lately.
September 17, 2006
Got ripped off on the cinema ticket (about $11 US), then the scramble suits and inappropriate animation did my head in! Very irritating. Would definitely have enjoyed it more if it was just without any cartoon effects. Winona`s smokin` hot though.
September 13, 2006
I have to wonder how much of the original story is missing. The screenplay did not do an effective job of bringing the story to this medium. I found the pacing slow, and there were a lot of disposable characters, as written. I was disappointed. I didn`t enjoy the cgi, but I think it contributed to the confusion and unreality intended. I wish I`d rented it, frankly.
September 12, 2006
awesome
August 31, 2006
I thought it was a good movie, but was a little put off with the way it was filmed, I didn`t like the animation, the story line was unique and the acting good.
August 31, 2006
Philip K. Dick, what a imagination this man has! It was a great movie, loved all the effects, and the overall anti-drugs message that cme ringing through lod and clear. Great movie, deserved more credit at the box office than it got.
August 25, 2006
It is great to see any P. k. Dick material put to film. It is always a challenge.
August 23, 2006
Very griping, a must see
August 21, 2006
This one was okay, but the story often seemed as confused as its drug-addled characters. And it hammered home the `drugs are bad` message so hard, it`s as though the film`s creators think we`re stupid. The actors are pretty good though - Robert Downey Jr., Woody Harrelson, Keanu Reeves and Winona Ryder all do a fine job - and while a lot of people think the interpolated rotoscoping thing is creepy, I really enjoy watching flicks using this technology.
August 18, 2006
it was an amazing trip into Philip K. Dick`s world. Linklater managed to amaze me once again as he did in Waking Life, without repeating himself. As for the acting, the characters seemed to be written for the actors that portrayed them. Overall, a great ride and I would recommend it to anyone with an open mind
August 18, 2006
The best anti-drug movie I have seen yet ... at least at the movies! Contrary to the usual documentaries where you are confronted with emerced bodies and syringes, this movie depicts the dangers of the drug scene from within and without as well as its detrimental effects on the users.
August 18, 2006
Excellent film, thought provoking and very entertaining.
August 14, 2006
People need to get off the drusg. This is a type pf mive that doesn`t have a story, it usually leans on the characters to drive the film. Although, there was some Good perfromance (Robert Downey/Woody) I was disappionted with keanu`s low profile in the Film. He Just doesn`t have ot anymore and to me i always use to think ht was a Good Actor. Good Film, Mind Blowing,Impressive CGI, Clever Script.
August 12, 2006
The rotoscoping was an obvious, if dated, way to portray the scramble suits. The movie was quite faithful to the story as I remember it. That may be a comment on my memory however. A superb adaptation of a Dick story!
August 11, 2006
An interesting use of cgi but I wouldn`t want to see any more movies using this technique. This reminds me of Clockwork Orange.
August 06, 2006
I knew I should have gone with Barnyard.
August 04, 2006
Incredibly boring...Keanu Reeves is way past his prime.
August 04, 2006
With all those actors why the graphics? It`s set in the near future, there was no need of way out sets. Linklater seems hell bent on alienating his audience. Apart from handful of older phillip k dick fans it was skater kids, goth, and young grass crowd. Unless he`s trying to impress Japan Anime market (worth impressing) then it`s a bad business decision to color Keanu, and the rest of his stellar cast. I wanna see live flesh, in my movies, there was nothing in there a good f/x crew could have accomplished in live f/x. Linklater get over teh cartoons man, you got good actors, paint over them.
August 01, 2006
A really cool and deep movie that contains an excellent cast.
July 31, 2006
Have to see it,.......So different and a bit funny, a must see,....
July 30, 2006
I really enjoyed the whole concept. I wished it ended differently though. But overall, loved it.
July 29, 2006
Kinda dull. Hard to watch the shape shifting suit. Fell asleep. Sin City wannabe.
July 24, 2006
Pretty good flick!!!!!
July 21, 2006
Loved it. Will see it over and over. Can`t recommend it.
July 16, 2006
A SCANNER DARKLY IS ONE OF THE BEST FILMS OF THE YEAR!THRILLING, PROVOCATIVE & FRIGHTENING!
July 13, 2006
A surreal journey through the life of Americans caught between drugs and a bequeathed model way of life. Trust is out of the question when you don`t even know yourself. Keanu Reeves tries to understand life and death through conversations and anxiety driven trips with sketchy friends that set the mood and tones of this paranoid world. An empty culture left behind by it`s bored citizens trying to claim a motive to a life on drugs. Philosophically and poetically engaging.
July 13, 2006
Very well done. I loved the animation the most. It was $7.50 (for the ticket) well spent. Had a good storyline it could have been changed a little bit but it was still good. I want to see it again! Beebs
July 07, 2006
Trilling, engaging and frightening
July 07, 2006
Excellent Film! It is quite thought-provoking with regards to the drug culture. Will something like this happen some day?