Contraband - User Reviews
Thank you for rating this movie!
Read your review below. Ratings will be added after 24 hours.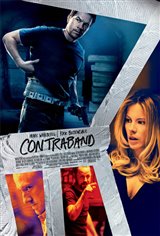 ---
Please rate movie 1 to 5 stars
Showing 1 to 49 of 49
October 28, 2013
very well
October 27, 2013
mark whalberg is amazing
October 26, 2013
5 star movie
October 16, 2013
Top action movie
October 15, 2013
Very nice
October 13, 2013
Will see
October 09, 2013
Very very good
October 08, 2013
5 star movie
October 06, 2013
Mark whalberg is amazing actor
October 06, 2013
Contraband is five star movie
October 06, 2013
Top movie
August 18, 2012
been done to death..poor dialogue--inadequate acting. predictable and without purpose.
July 23, 2012
good action movie. plot was a silly, but decent entertainment.
July 03, 2012
good...mindless fun!
June 14, 2012
typical wahlberg action movie - simple storyline, lots of fighting and explosives - if you like his movies then you'll like this one as i did.
June 11, 2012
this smart action movie with a bit of good comedy had me sitting at the edge of my seat. great movie.
May 14, 2012
enjoyable action movie.
May 10, 2012
wahlberg was good in this relatively straightforward and predictable action movie. he was the only thing worth watching.
May 08, 2012
enjoyable action flick!
May 07, 2012
despite some plot holes, the movie holds up as solid entertainment.
April 30, 2012
not the most original story, but some decent action, enough to keep you watching
April 28, 2012
good movie with a good story. poor acting.
April 28, 2012
poorly directed movie with a run of the mill script. great ensemble cast, crap movie.
March 31, 2012
wahlberg keeps proving that he is an amazing action and dramatic actor, this movie has a lot of great twists that sets its self apart from other action films!
March 17, 2012
i liked this movie. it has a good story, violence, but feel good as well.
February 23, 2012
violence comes to mind first and foremost. the premise is a bit misleading and a bit unrealistic, but believable through the actors. marky mark at his best!!
February 23, 2012
this movie is not worth your time and money...maybe a rental or a download for that one time watch. the plot is very boring because of the movie being so predictable. you will feel like you have seen the movie before but really dumbed down.
February 10, 2012
should have been called "clicheband" ... lack of originality and very predictable storyline with an absolutely implausable end. save your money and wait for it to come on netflix or, better still, forget it was even made.
February 05, 2012
fantastic! suspenseful!! keeps you guessing! loved it!
February 04, 2012
very good movie and story line.
January 24, 2012
the trailer depicted a bit of a different storyline than that which actually took place in the movie. but it was still very good, even with a somewhat predictable ending.
January 23, 2012
the best movie i've seen in a long time !loved it :)
January 20, 2012
kick ass
January 20, 2012
good watch, good acting, story like initially confusing but makes sence in the end.
January 18, 2012
like all movies of this shady-action genre, pretty much the same, but enough difference to be fun to watch. i enjoyed it. for sure, anything related to contraband smuggling is messy, messy, messy...
January 18, 2012
this is a good movie and would recommend it to everyone. not the greatest but its worth it.
January 17, 2012
aint gonna say this is a super great movie, but it is definitely better than sherlock holmes game of shadows
January 16, 2012
not great... unoriginal like usual and not worth the money. it seems everything has been done already so all movies pretty much suck. this one i wish i passed on... but it was a couple hours out with friends so in that way it was good. but the movie itself was trash. watch sherlock holmes instead.
January 15, 2012
your typical ex con being forced back into something cause his famikly being held at randsom.. YAWN, cant these hollywood writers come up with something new... GUESS WHAT HAPPENS IN THE END!
January 15, 2012
great action movie in jan!
January 15, 2012
this was a verry good movie
January 15, 2012
It was not very good. I was very disappointed. I was looking for it to give me a "Four Brothers" kind of felling but it felt more like "the Marine". Nothing smart about the movie and a lot of characters were thrown in there and not used well at all. If you have never heard of this movie and stumbled onto it at 4am, when nothing else is on. Then you would enjoy it. For a big blockbuster movie? One star.
January 15, 2012
Fast paced, entertaining.
January 14, 2012
Excellent sit on the edge of your seat movie! Very entertaining!
January 06, 2012
Great action film!!
January 03, 2012
Sounds good but the same idea as Gone in 60 seconds but with some of the same cast
October 08, 2011
Very exciting but a bit predictable..