Crazy Rich Asians - User Reviews
Thank you for rating this movie!
Read your review below. Ratings will be added after 24 hours.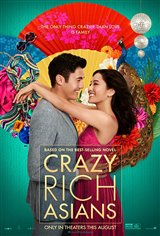 ---
Please rate movie 1 to 5 stars
Showing 1 to 50 of 89
April 14, 2022
A rom com replete with luscious and unexpected views of beautiful Singapore and the local food. The characters are engaging and interesting. The pacing was perfect - there wasn't a dull moment. The actress who played Constance Wu's mother, Kheng Hua Tan, stole the show in what few scenes she had, infusing her moments with deep and believable gravity. I hope she's in the sequel. Overall great movie. Will watch again (actually did!).
June 19, 2021
Adds a new slant to the rom-com genre.
August 11, 2019
Wow so many good reviews from both critics and Tribute viewers. I guess i watched a different movie with the same title as I really didn't think it was very good. It seemed like one of those made-for-TV Hallmark romance shows, except with an all Asian cast and set primarily in Singapore. And no, before everyone gets all bent out of shape, I am not racist and it has nothing to do with the fact it has an Asian cast - I would have found it just as lame if it were an all American cast or an all Swedish cast or an all 'fill in the blank here' cast. It just wasn't that good. Characters were two-dimensional, subplots were not developed very well, and conflicts seemed too easily resolved. It really just reminded me of a made for cable TV movie. Anyway, just my 2 cents (or in this case, my 2 stars). PS - I love Asian people!
January 08, 2019
I watched it three times because it was that good!
December 08, 2018
This movie is in my Top 3 of movies that came out in 2018
November 02, 2018
LOVED IT!!!!!!!!!!!!!!!!!!!!!!!
October 26, 2018
This is the type of movie that gives you the feel good and fantasy-escape experience but not equivalent to the outrageous explosive type funny movie like"the Hangover". I say Crazy Rich Asians movie is NOT a 5-star movie, I give it 5+ stars; for I still remember the movie with a good feeling.
October 25, 2018
Awesome movie! Go see it. Great group of diverse actors. Hope to see this type of story again.
October 17, 2018
The movie didn't have any plot, character or dialogue that was interesting or original. It was the same tired old story set in Singapore, staring asian actors. Very handsome leading man though
October 10, 2018
Great fun and place. Believable
October 08, 2018
Super fun, very magical. Slightly more emotional than I was expecting, but I loved most everything about it.
October 07, 2018
It was really funny clean good comedy haven't seen a good movie in awhile this is a must see well written and the actors were great 👍🏾
October 06, 2018
I really liked seeing Asians & Asian/Americans show a little sense of humor, it was refreshing!👍
September 29, 2018
The best part of the film (for me) was the beautiful scenes of Asia that made me reminisce about my trip to Malaysia, Thailand and Singapore earlier this year. The story is simple and predictable, lacking the gripping family drama I expected but it was mildly enjoyably with a few laughs along the way. I went with the girls and we had fun marvelling at the over-the-top wedding, beautiful mansions and trendy fashion (definitely a chick-flick). There is no way my husband would have sit through this.
September 29, 2018
Ideas from 30 years ago. Not very funny.
September 27, 2018
Helps to be connected to the Asian American community to catch the puns, quips and ethnic witticisms. Classic comedy that will stand the test of time. A must see!!
September 27, 2018
Love it. A modern Cinderella story though so typical of reality.
September 26, 2018
Amazing! I saw it with my bud and they enjoyed it just the same!
September 25, 2018
Thoroughly enjoyable rom-com. A sort of Cinderella story retold in modern terms. The actors were terrific, and the dialogue was sharply humorous. It was a wonderful social satire that has universal appeal.
September 22, 2018
Please do not waste your money or time . Not funny at lol....extremely predictable.. Truly , find another movie
September 21, 2018
This movie really needed Bruce Willis.
September 21, 2018
I LOVED IT AND HIGHLY RECOMMEND
September 20, 2018
I really enjoyed!,, fun and light and no shooting and violence !,need more movies like this!,
September 18, 2018
I've seen this twice and I'm going back to watch it again next week.
September 18, 2018
Ive seen this twice, a great movie.
September 17, 2018
I loved it so much, I'm seeing it again tomorrow. Very entertaining, in every category.
September 16, 2018
Very entertaining. Glad i went with the wife
September 15, 2018
Funny movie.
September 14, 2018
True to life
September 13, 2018
was okay. a professor and didn't think to google the guy? nice scenery.
September 12, 2018
A simple light hearted date movie with some funny moments. If you go in with that expectation you will be good.
September 11, 2018
Amazing! Amazing movie! Went 3 times to watch this movie and there were no seats! Beautiful Love story and showcases Singapore's beauty...almost like Dubai. All the characters were wonderful and saw many different age groups in the theater enjoying this movie. People of mixed diversity were among those laughing along with us. Clean, decent film with beautiful scenery.
September 11, 2018
Best marketing Ever. Got ratings by Who? I could only stand it for 1 hour. I had to walk out. Should have gotten my money back. No conflict, really who cares, very boring nothing happens.
September 10, 2018
A funny movie
September 10, 2018
Started slow then enjoyed it and loved the wedding
September 10, 2018
Loved this movie!
September 10, 2018
Great!
September 09, 2018
I did not read the book. My mind was open to the story. One successful beautiful college instructor is invited to boyfriend's cousins wedding in Singapore. I love the scenery in Malaysia and a Bachelor party on a container ship such fun. The wedding is Beautiful! I won't tell you about controlling mothers and grandmothers they drive the story. Go see this movie It is a good time!
September 09, 2018
Boring and certainly not a comedy. During the movie I had 3 options: take a nap, leave, or endure it to the end. I endured it but still not sure if that was my best choice. Skip this movie.
September 08, 2018
nice story but not a comedy. i got kind of bored and couldn't wait until it was over. kept looking at my watch. no problem with the cast. they did a good job. my friends thought the same. we were looking for a good comedy. i gave it credit for not being a dirty movie.
September 05, 2018
In a way, yin vs. yang. Old money and power of high profile people vs. American girl with low middle class working background. In the old days low class Asians could not rise in social status; a fun romantic comedy where American girl does it....and no f words, sex trysts, shootem ups, torture and the like. Great ending....great entertainment, and kids can watch it.
September 05, 2018
Excellent, clean, romantic movie. I'm so grateful they didn't fill this movie full of profanity, sex, and other vulgarities. The lead characters were people who were thoughtful, kind people with integrity, rare this day and age. Very well cast, good acting, great story. Yes it's a familiar storyline but very well done.
September 03, 2018
a fun and funny romantic comedy. Makes me want to visit Singapore. So nice to see an all Asian movie and I'm not Asian.
September 03, 2018
Well, ok, its a tired old plot....poor girl falls in love with rich guy yata yata yata. But, I found it refreshing and uplifing with a feel good ending. Also, if you can believe it; zero drugs, murders, hard to follow plots et al. A good clean well acted movie with great sights of Singapore and pretty Asian women.
September 02, 2018
Nothing much to watch. Skip this to save time and money.
September 02, 2018
was slow at the beginning. Last 40 min was good.
September 02, 2018
Amazing movie! Perfect for romantic date
September 01, 2018
Boring...... chick flick at its best.......
September 01, 2018
This qualifys as a chick flick or romantic comedy. Enjoy if you are on a date but if watching by yourself keep checking your watch until it's over.