Dear John
Thank you for rating this movie!
Read your review below. Ratings will be added after 24 hours.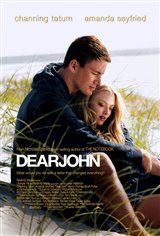 ---
Please rate between 1 to 5 stars
Showing 51 to 59 of 59
February 07, 2010
Pretty awesome but tooooooooo much drama
February 07, 2010
This was a very good movie I cried many times and it shows people how true love is between two people. No matter where you are in the world love will always remain the same or grow stronger. Definitely tops the list of movies in my list right beside the Notebook.
February 06, 2010
OMG she was so out of his league with her bug eyes and all.
February 06, 2010
Get ready to cry a river ladies and make sure to bring your sunglasses for when you have to leave!!
February 06, 2010
you are going to cry a lot! be ready!
February 06, 2010
So enjoyed this movie. This couple is really believable, you truly feel they are in love. Some very tender moments with the Dad as well. A few tears shed but you come away from this movie feeling wonderful.
February 06, 2010
People just didn't understand what it was about. It wasn't about the romance. it was about the heartbreak in life that soldiers had to endure when going off to war. Very good movie.
February 06, 2010
Nicholas Sparks did it again, and amazing, for his 4th movie. The Notebook has always been my favourite, and now this movie is at the top with it. Sparks is my favourite author (read all his books) so I knew going into the movie that I was going to be impressed..and I was blown away. Amazing characters, amazing plot and it inspired me in my own relationship. A truly heartwarming love story.
February 05, 2010
Excellent!! After Top Gun - one of the best!