Dreamgirls - User Reviews
Thank you for rating this movie!
Read your review below. Ratings will be added after 24 hours.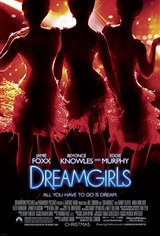 3.95 / 5
User Rating
Based on 9541 votes and 112 reviews
---
Please rate movie 1 to 5 stars
Showing 101 to 112 of 112
December 29, 2006
Eddie Murphy was excellent in this very over the top movie. The singing seemed way to staged and campy to be taken seriously. People in the theatre actually started laughing during the movie when the actors would start singing. Jennifer Hudson is way overrated in this film and does not deserve all the praise she is getting, let alone a Golden Globe nomination. She is a good singer, don`t get me wrong, but a lot of her songs seems like she just won`t stop yelling. The movie was watchable for Eddie Murphy but don`t expect anything as good as Chicago.
December 28, 2006
I`ve waited twenty-five years to see this movie, and the wait was worth it! Jennifer Hudson was born to play the part of Effie White, and if there is any justice in Hollywood, she will win the Oscar. Fantastic!
December 27, 2006
It was nice to see film without the unnecessary sex deliver good quality. Jennifer Hudson is a star!!!!!!!!
December 27, 2006
Everyone did great. Jennifer Hudson is going to be a STAR!!!!!
December 27, 2006
Strong Film. Definitely a Oscar Contender. However kinda feels like a lot of prolonged music videos sewn together.
December 27, 2006
Average movie. The storyline and the singing are a little cheesy at times. Hudson gives an extraordinary performance - maybe the best this year. Beyonce hardly does anything - Fox and Murphy give okay performances - far from great. Overall, this movie may be a better rental.
December 27, 2006
It was the best movie I watched in 2006 and I am not a fan of musical. The performances are great and certainly, Jennifer Hudson is a diva. The story goes much deeper than a musical movie. It has a wonderful social and political message.
December 26, 2006
Great movie. It`s rare to hear applause in the middle of a film! Jennifer Hudson is a revalation, absolutely outstanding. Even Beyonce does really well. The performances were flawless! Just loved it.
December 26, 2006
This movie was AMAZING!, Jennifer Hudson was amazing not only was her voice mesmerizing her acting was completely believable. I felt eveyone else fell short in comparison to Jennifer. So it`s clear who the dreamgirl really is!!!
December 25, 2006
An okay film. Needed greater character development though.
December 25, 2006
ITS SO , SO , SO AMAZING!LOTS OF DRAMA!THAT`S HOW REALITY IS! ------ANDEKA------
December 25, 2006
LOOOKS SO GOOD!