Gangster Squad - User Reviews
Thank you for rating this movie!
Read your review below. Ratings will be added after 24 hours.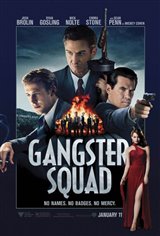 ---
Please rate movie 1 to 5 stars
Showing 1 to 25 of 25
November 13, 2013
Good cast, poor script, ridiculous shoot-outs (everybody should be dead) and over-the-top violence. generally yuck.
March 08, 2013
not believable in the slightest, lots of machine guns blazing and bullets missing everyone - lousy acting -probably a teenagers idea of an awesome movie but far from it if you are a mature person with even half a brain...rent it.
February 16, 2013
Very high paced!! It'll keep your attention. Good story, kinda cheesy makeup. But good entertainment
January 27, 2013
This movie was outstanding. If this movie better win some awards. The story line and the acting couldn't have been better. Definitely a MUST SEE movie.
January 25, 2013
Amazing movie!
January 25, 2013
Best movie of the year. Best acting of the year. A must see.
January 23, 2013
The best mob film since "The Departed"!
January 20, 2013
Really good movie ! I really recommend if you're into action movies, but if you can't handle blood very well then this might not be the movie for you...
January 20, 2013
I've read a lot of hate regarding this movie and I do not understand it. It was awesome, and i'm glad I didn't listen to the posts and skip seeing it. The fight scene in the end was fantastic, and the acting was superb.
January 19, 2013
It's terrific entertainment,much like Westerns,Musicals,War Stories ,etc.They are basically all the same .Some have it and some don't,this one has it.By the way I can't stand Sean Penn...still can't
January 16, 2013
interesting movie. nice 'old era LA' visuals. lots of action. good plot; but some parts too predictable. a bit weary of seeing S.Penn doing 'too much of himself' for his role. R.Gosling was a bit too 'boyish' for my liking. excessive smoking by the two younger characters (R.Gosling and E.Stone) but still worth the see.
January 14, 2013
Amazing movie- full of non-stop action, awesome storyline. I would see it again. Storyline was captivating. To those giving it a bad review, you need to see a really bad movie to appreciate this one.
January 13, 2013
Ok if you like a remake of The Untouchables " same movie , different bad guy..disappointing
January 13, 2013
best film of the year
January 13, 2013
This movie was excellent! I would see it again. Sean Penn was excellent as the gangster and Brolin, Gosling and the other actors all equally did the movie justice. Great storyline, action, if I could score it higher I would!
January 13, 2013
It was really good movie
January 13, 2013
very entertaining, kept me interested until the end and it had a couple of very suspenseful moments. All over a good action movie.
January 13, 2013
Nice action, kept me glued to my seat. Underdog cop in a corrupt city taking on the mob with only fists and hand guns gotta love it!
January 13, 2013
lots of good action and very entertaining but it has Hollywood action written all over it which is not necessary a bad thing! and not to forget a line up of great actors! If you are looking for a good action movie this is it!
January 13, 2013
Don't go in there expecting a meaningful story, it is great action however with a reasonable story lots of guns and shootings. Cops turned gangsters trying to kill gangsters... what is there not to like!
January 12, 2013
good movie. will it win a award no .but a good movie
January 11, 2013
Disappointing , thought it would maybe get 4 out of 5.. But barely rates a 2. The script was ridiculous , skip this time waster
January 11, 2013
One of the best movies I've seen in a while. It has action, a good story and intense scenes.
January 02, 2013
Well done
May 13, 2012
good old fashion gangster movie