Goon: Last of the Enforcers - User Reviews
Thank you for rating this movie!
Read your review below. Ratings will be added after 24 hours.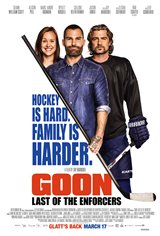 ---
Please rate movie 1 to 5 stars
Showing 1 to 10 of 10
August 29, 2017
the theater I was in was non stop laughing ...lol. I like it .. I have no issue with the language.. hell look at the type of movie it is ..lol come on people ... great move !
July 13, 2017
Awesome movie. Don't hate because of vulgar language! It's hockey. What did u expect, guys in dresses having tea party!! Awesome job jay, you always make me laugh and now with this second goon movie, puts the cream on the cake!!! Rock on jay, goon rocks!!!! Wooooo
April 29, 2017
The hockey scenes were good and quite funny at times. Also having to choose between hockey and family priorities was well done. However, far too much crude language, sexual references, and using God's name in vain which ruined the show for me. The amount of blood splattered in the fighting was also way over the top. Jay Baruchel's character was vulgar and unnecessary. Could have been a much better show. Face Off from the early '70 s a far superior hockey film. Hope this is the last of the Goon films after this one.
April 13, 2017
I watched this movie. I did not hear one laugh throughout the time I spent watching it. The auditorium had people in it but they were absolutely silent
March 24, 2017
Likely the worst film I've ever seen in my life.
March 20, 2017
A Canadian hockey comedy, for Canadians. Its about The Highlanders, a hard hitting east coast team, and their fight to win. Though rough around the edges, with a bit of bad language, the movie can be very serious at times, as the players face off, however it does have lots of comedy. It also takes time to explore the world of the wives and women of hockey, both at home, and during the games. You will feel that you have met these people growing up in Canada, and as if they are part of your day to day life. Nice to see a quality Canadian movie for Canadians. Goon 2 is a pleasant surprise, proud to be set in Canada, and does not require three years in film school to appreciate some obscure dramatic merit. Keep your stick on the ice.
March 19, 2017
Very funny. Seann William Scott puts in an outstanding performance as do the other cast members. Who would have thought a Canadian/Nova Scotia/Halifax movie could be made like this and and excel on the big screen. Well done Jay Baruchel and entourage.
March 19, 2017
Good not as good as the first one but still pretty good
March 18, 2017
Okay bUT as a hockey movie... Just okay
March 17, 2017
The year's best movie so far.