Hitch - User Reviews
Thank you for rating this movie!
Read your review below. Ratings will be added after 24 hours.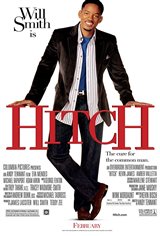 3.77 / 5
User Rating
Based on 11846 votes and 201 reviews
---
Please rate movie 1 to 5 stars
Showing 1 to 50 of 201
August 26, 2015
I loved Hitch, saw it twice. Will Smith is a really good actor.
April 20, 2009
dilm de hitch trés joly
December 13, 2007
Good movie, A++
June 24, 2006
Garbage. This is one of the many reasons why hollywood loses its respect and credibility. So obnoxious and contrived!!!
March 13, 2006
It`s disgusting that these films actually make money. This is why they are made. Even if they are bad they still make money. If you thought this movie was bad and you payed to see it I don`t know how you sleep at night.
March 11, 2006
will smith did it again....if you didnt think it was funny you have no sense of humor.You really see how it is in the real world.
February 16, 2006
horrible one of the worst movies i`ve ever seen, don`t see it!
December 07, 2005
Sooooo funny!!! Will smith is hot in this flick and hilarious!!! and the romantic stuff that happens with him and the girl are also laughable!!!
October 30, 2005
SSSSSSSSSSSSSSSSSSSSSSSSSSOOOOOOOOOOOOOOOOOOOOOOOOOOO BORING!!!!!!!!!!! Can you believe that the people in my class chose to watch this movie instead of Star Wars? I mean, its so predictable, and not even remotely romantic! I kept hoping that something exciting would happen, like, I don`t know, some aliens invading the city and the date doctor is forced to save the girl from being vaporized. There should be some lightsaber duels at least (sorry i have star wars on the brain lately).
October 23, 2005
you learn how to talk to a gril
July 31, 2005
Pedantic; been done before. Eva Mendes is a very weak actress.
June 29, 2005
Not funny at all. I didn`t laugh once. Oh wait, I think I did snort in derision at the stupid, tie-it-all-up-with-a-neat-bow ending.
June 29, 2005
Typical Hollywood garbage. Early in the film Hitch tries to convince a friend of his (with a pregnant wife at home) to cheat on her, oh, go on, at least mingle with those babes... But later we`re supposed to believe that he`s really a good guy who would turn down a client who wants sex, not love. And that all Hitch wants is true love. Yeah, right.
June 26, 2005
Hitch Was One Of The Only Good Will Smith Movies
June 24, 2005
at times funny and enjoyable, other times boring, predictable and dull...and a bit annoying
June 23, 2005
PREDICTABLE BUT FUNNY.
June 19, 2005
Hitch was funny, romantic, knowledgible and true. It was about real life and incredibly funny. An all time must see! -Jase
June 15, 2005
OMg i loved HITCH me and my best friend saw it and we thought it was a greta movie and we almost cried!@!!!! We thought it was one of teh best movies wev seen.......... WE HAD SOO MUCH FUN!
June 15, 2005
Your typical formula for a romantic comedy and with a hollywood ending. Eva and Will were good but the movie had nothing SPECIAL to separate it from other romantic comedies. All the funny scenes were shown in the trailers on tv, the rest of the movie was the dramatic/moral part. Another case where too much advertising spoiled the plot. I enjoyed Mr. and Mrs. Smith way better. A good renter though.
June 13, 2005
This movie was ok not Will smiths bewst work but maybe that fat guys best work. The humor wasn`t to good in most parts but it had some laughs but ill tell you right now it`s not worth it 2 out of 5
June 04, 2005
A romantic comedy in the best sense of the term ... lots of laughs, an interesting story line, lots of guy-girl dynamics (nothing r-rated), and really good performances. I loved it!
May 28, 2005
It was extremely funny..parts were a little slow and depressing. Overall, my husband and I really enjoyed it...we are both Smith/James fans!
May 25, 2005
Didn`t think much of this movie at all. It had a few so so funny moments, but found it long, predictable and not that interesting.
May 23, 2005
omg hitch was the best movie ever!! it was such a cute love story and was soo funny too... all the actors played their parts soo well and i loved that dudes dance to "yeah" [yu cant stop it]lmao..:) will smith looked soo hot.. and hes reason enough to see this movie:P
May 20, 2005
Aishwarya Was supposed to be in this? Good she turned it down!
May 20, 2005
Yeah. I heard Aishwarya Rai was given the role, but she had other projects to do. If only, eh.
May 20, 2005
Serious! Aishwarya Rai was supposed to be in this movie. Holy.
May 20, 2005
Would have been better if Aishwarya Rai went ahead with Eva`s role
May 19, 2005
Horrible. Engough already Will, you just come off as being an arrogant knowitall. I feel nothing for your acting
May 07, 2005
hitch was the best movie ever!! will smith is soooo hott! hes one of the hottest guys.. okay hes a tie with shane west. but hes sooo hot. and it was a gooood movie. if it didnt have will in it, it wouldnt be as good as it is. PS: WILL SMITH IS HOT!
May 01, 2005
hitch is the funniest movie of the year famelys will love it. -jahvon
April 29, 2005
Hitch was FUNNY and romantic that is what I call a perfect movie!!!!!!!! In other words it was GREAT PERFECT WONDERFULL FUNNY and SAD at the same time!!!!!!!!!! It is the best movie I have ever seen 1 part that was funny was when they do the cutip!!!!!!!!! Oh ya I luv this Movie
April 25, 2005
hitch is awsome movie ever
April 22, 2005
This movie was by far one of the best movies ive ever seen. Will Smith played a terrific role it was heartwarming and adorible i recommend watching it over and over and when it comes on dvd im all over it and ive seen it twice in theaters!
April 22, 2005
This movie wus jokes.... but i thought it coulda been better but o well... :) aLiYaH
April 17, 2005
Well.... A must see movie !!!
April 16, 2005
tHE BEST !!!
April 08, 2005
will smith at his best! great movie!
April 07, 2005
IT WAS THE EXTREM bEST!!!!!!!!!!!!!!!
April 05, 2005
Great movie !!!!! Trudgeon`s rock
April 04, 2005
IT DA BEST OF DA BEST ????????????????????/
April 01, 2005
it was a really good movie, its one of those "feel good" movies with a few lessons to be learned a long the way. I came out of the movie entertained ... and wanting my ex back :(
March 31, 2005
It was awesome...one of the funniest movies I have seen in a long time....
March 29, 2005
IT WAS THE FUNNIEST MOVIE EVAAAAAAAA!!!!! its really funny!!!! Its a GREAT movie
March 29, 2005
great movie! very funny
March 28, 2005
This movie was good. another romantic comedy i expected it to be funnier but it wasnt bad.
March 25, 2005
Why waste your money, when you can watch it at home.
March 21, 2005
either you will love it or hate it....don`t listen to anybody
March 20, 2005
EVA MENDES IS SO HOT!! WOW I WAS STUNNED BY HOW GOOD SHE WAS LOOKING IN EVERY SCENE!!
March 20, 2005
Very nice movie!!