Hoodwinked
Thank you for rating this movie!
Read your review below. Ratings will be added after 24 hours.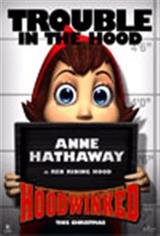 ---
Please rate between 1 to 5 stars
Showing 1 to 50 of 52
August 18, 2009
I love this movie! it is so cute and hilarious
July 26, 2006
Somewhat funny. This was almost a waste of time. Sorry, but I hated it. The only good part of the whole movie was the kung-fu grandma. SHE ROCKS!! 2 stars
July 18, 2006
Very cute! Enjoyable and funny! My favourite character is the squirrel that talks too fast that people don`t understand what he`s saying. =P 5/5
May 22, 2006
Very crafty and clever...not quite as laugh-out-loud funny as some of the other blockbusters but better than some kids movies I`ve seen lately. There`s still lots for parents in there
April 20, 2006
Lives up to the anticipation and was enjoyable overall. Not as good as Chicken Little and little complicated at some points, but still a decent movie for the entire family.
March 23, 2006
The animation was good but the acting was really bad.
March 18, 2006
Hoodwinked wasn`t really that good. It had weak action in the action scenes and was a bit boring.
March 04, 2006
All those people who said they wasted their money on it are either really dumb or need a brain surgen. It was an amazing movie. hookwinked all the way!
February 28, 2006
It was a cute film my 5 year old daughter enjoyed it !!!
February 25, 2006
I realy dont know well i know the story of little red riding hood but this 1 is a bit differnt ill give it 2 stars
February 24, 2006
Praise schnitzels and hail rabbits and goats!! LOL
February 22, 2006
Great movie, great, great movie. It`s a good family movie.
February 21, 2006
not the best grahics, but very well done. im prepaired!!!!!!!!!!!!!!!!!!!!!!!!
February 13, 2006
Walked out 15 min, worst worst worst worst. Don`t waste your time on this one.
February 12, 2006
I heard someone comparing it to SHREK...oh no no no...not really funny and I`m sorry I spent money on it!!!
February 10, 2006
Horrible movie. Don`t waste your money.
February 07, 2006
I think they should start working on the DVD ASAP so we can see it soon! And don`t take anything out!
February 06, 2006
This movie was very well put together, I found it very clever and the details were planned out very well. 4.5 stars! Smart and funny.
February 06, 2006
The squrill was the best!!!!!!!!!!!!!!!!!!!!!!
February 05, 2006
nice story~funny too~
February 05, 2006
i thought that hoodwinked was cool, because everybody tried to act all mysterious when they noticed that they`re secret recipes was missing and i just thought that, that was hilarious.
January 30, 2006
wow that movie was very well put together and funny it has adult humor and child humor its funny should go and c it the best parts are the goat an the squrriel twichy
January 29, 2006
Im sorry but, this movie was soo boring.My son enjoyed it though Hes 7.. My husband and i and the other adult that went to see it fell asleep . I had to literally turn to my husband in dissapointment as to how boring it was...I was sooo sorry we picked this movie..... Oh well
January 28, 2006
its hella funny!
January 28, 2006
hoodwinked is the best especially the goat and the squirrel is soooo cuuuuuuuuttttttttteeeeeeee!!!!
January 28, 2006
The only one hoodwinked is those who paid for this terrible movie.
January 27, 2006
GREAT!!!!! Loved the Goat.
January 24, 2006
OH! an avalachance is coming and I do not feel prepared. OH we all thought is was funny and I do not feel prepared. Wait, I am prepared, I am prepared. It was a GREAT movie. Please don`t hesitate to take your kids. And be prepared to laugh alot. The goat and the wolf made the movie worth it.
January 24, 2006
This was a really cute movie! Great for kids and for adults. Bit of a slow start, but gained momentum quickly with some genuinely funny moments. It wasn`t crass like Shrek (which I personally didn`t enjoy), and was slick, comedic and well thought-out. Nicely done!
January 22, 2006
It was a good movie, but I have seen better.
January 22, 2006
the movie was mostly good, but very predictable at parts. But I must say, a laughed quite a bit! I even think it was better than sherek! I would defenently reccomend seeing it today!!
January 21, 2006
The BEST animated movie. The movie was hilarious for both kids and adults. A definite must see!!!!!!!!!!
January 18, 2006
The animation is soooo good, and I just wish that Steve Coogan had a role in this film. I would have to give it a 7.5. GOooooo Coogan!
January 18, 2006
Its interesting story and unique characters add up to good family entertainment
January 18, 2006
Interesting spin on a well known story.
January 17, 2006
Hoodwinked is a great flick. I really thought it would be boring (in the beginning of the movie), but it started getting more interesting as the story line unfolded. It`s not a kid`s flick. What makes this so interesting is how all the characters are entwined with each other and how they all ended up in the predicament they were involved in, in the beginning of the movie. I thought it was cleverly done.
January 16, 2006
I saw "Hoodwinked" with my 2 children (a boy and a girl age 6 and 8)and we were not disapointed. It was cleverly written with enough humour for the adults and a fast paced, clever story that kept us all amused until the end. This movie was not in the same caliber as Shrek I and II but it is the best "kids" movie to come a long in a while. Worth the admission price. Enjoy, and then read, "The True Story of the 3 Little Pigs" by John Szieska (sp?).
January 16, 2006
Please make the trip to the theater with a kid, what a great thing to do on a sunday afternoon. The "goat" part is hillarious, and do not drink to much coffee if you don`t want to act like the squirrel !!!
January 16, 2006
Poorly made. Pretty stupid.
January 16, 2006
Nice good clean family entertainment! Something in there for adults and children. 4 starrs outa 5.
January 16, 2006
Average movie. Definately doesn`t come close to Shrek. Animation was excellent and laughs were plenty although the story line is too complicated for little kids to follow and understand.
January 15, 2006
Some gags were outrageously hillarious, while the rest of the movie was somewhere left lost in the woods.
January 15, 2006
Average movie. Is it funny? Sure, in some spots, however, it`s more of a DVD purchase than a view in the theatre type of movie.
January 15, 2006
loved it the best beter than sherek i want to but it the first day it is out!
January 15, 2006
i would say hoodwinked was the funniest movie for kids its really funny and is a cool movie !
January 15, 2006
Hoodwinked is a great movie foe kids its really funny and you just cant get enought of it
January 15, 2006
Wow, the jokes and funny lines in this movie are so frequent my fellow movie watchers in the theatre missed quite a few. I am sure I missed some too, yet I chukled or laughed non-stop. Worth every penny.
January 14, 2006
What a great movie! Too bad it wasnt out over Christmas@!@@
January 14, 2006
I love hoodwinked! it is awsome! there is some new characters and they hear each persons side of the story and it was a comedy.
January 13, 2006
Very very funny, great for kids and adults both!