Hyde Park on Hudson - User Reviews
Thank you for rating this movie!
Read your review below. Ratings will be added after 24 hours.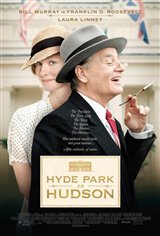 ---
Please rate movie 1 to 5 stars
Showing 1 to 7 of 7
September 07, 2013
Really enjoyed this movie. I'd give it 4.5 stars if I could. It differs from the fast-paced, action thrillers flooding the market. It is a rather light, amusing character-driven drama with insight into several historic personalities. Each of the 4 leads deserves awards for their portrayals of Roosevelt, his cousin & the King & Queen of England. They all seem most realistic with their lovable flaws & strengths. An amusing glimpse behind the scenes at these historic figures centering around one event before the War where they first meet. They are portrayed so that we sympathize with them as humans beings having to be in the spotlight as leaders. How wonderful to see how Roosevelt was so r
June 29, 2013
not very good
April 16, 2013
Interesting
February 10, 2013
How would I rate this film? Well, within the first five minutes, Bill Murray (as The President??) gets a h**djob. Do I need to pay money to see THAT? I was outta there - and I got my money back! Film is garbage!! Zero stars - if I could.
February 07, 2013
It good movie
January 30, 2013
Give this movie a miss. I love historical movies but this is an outright lie, designed to malign King Geo VI and Queen Elizabeth. I have a book with two letters written by Queen Elizabeth from Hyde Park and they were having a delightful time, including at the picnic - but the writers have taken this delightful time and turned it into something sordid and untruthful. Skip this one.
January 26, 2013
Sure, it wasn't a 'can't miss', "film of the year" nomination, if you like all of hollywood tappings of excitement and heroism.Bbut if you like a pleasant paced, character based, scenic, period film, depicting Roosevelt 'the man', then you will enjoy this film. It shows a softer optimism and activtism used on his "constituents" then history depicts to draw in those around to him,both in his political and personal affairs... with all it's little presidential secret musings creating the drama and the comic relief to keep the story interesting but still almost "Walton style"! I personally loved it!