Inglourious Basterds - User Reviews
Thank you for rating this movie!
Read your review below. Ratings will be added after 24 hours.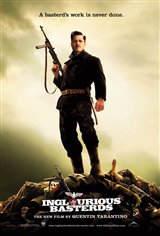 3.88 / 5
User Rating
Based on 662 votes and 167 reviews
---
Please rate movie 1 to 5 stars
Showing 1 to 50 of 167
October 27, 2019
Loved everything about this movie. Waltz is the best and the rest of cast are great in this picture. Very well cast.
February 02, 2018
Brilliant masterpiece of insanity! Alternative history where Nazis get their asses kicked! :D Hilarious scenes like the American soldiers trying to play Italians, while their Lt. Raine speaks with insane accent, are priceless! I actually had to google if this accent exists and it does, which makes it double-hilarious. :D Landa is the coolest Nazi villain ever, coldhearted and highly intelligent. Shoshana´s revenge is awesome and tragic at the same time because she couldn´t witness it. Definitelly worth watching, but it really, really isn´t for children!
November 09, 2010
While completely historically inaccurate, I can't remember the last time I ahd this much fun watching a movie. Brilliantly original script and story. Loved the performances, especially by Brad Pitt.
August 25, 2010
I know it's Tarantino so it will be quirky to say the least but HUH???? I think I just took a Berlitz course in French, German and Italian. I am sorry but I thought this was awful....
August 10, 2010
Wow!!! what a great movie!!! Original concept and excellent script. Tarantino does it again!!
July 28, 2010
I'm still not entirely sure why both words in the title are misspelled, but I think that's the only things still bothering me about this movie. It's extremely entertaining from beginning to end. The tone, style and attitude of this movie perfectly exemplify what Tarantino does best: beautiful violence, snarky dialogue, serpentine plot logic, crude and brutal gore and a love of cinema so deep that it leads you to believe that Quentin Tarantino has celluloid film zipping through his veins. In fact, the enormous climactic scene even takes place in a golden age movie palace. One of the great things about this fim's pacing though, is that, despite having announced the ending about 45 minutes into
January 03, 2010
this movie was crap. Way to much talking/subtitles. Couldn't even finished this movie. A waste of money. I walked right out of the theater. My friend fell asleep. I have no idea how it got so many stars and good ratings. Brad pitt may have had some good acting in this movie but this movie sure sucked.
December 20, 2009
I'm tired of tarantino's want to be different the (german wanabe colombo) and main actor, was the only good thing in the movie
December 20, 2009
I'm tired of tarantino's want to be different the (german wanabe colombo) and main actor, was the only good thing in the movie
December 17, 2009
Alot of the advertising is misleading becuase it was centered around Brad Pitt's character and the Basters, though this does not take up a major role in the film. The dialogue was well constructed, and very fun to listen to. I disliked the countless subtitles but it added style to the film, nonetheless. The acting was superb, esp. Cristoph Waltz! There wasn't as much violence as I expected, and the action sequences were very intense and brutal though very rapid; for example, roughly 15 people get killed in a shoot out in a mere 20 seconds. Nevertheless, this movie is very good, hence 5 stars !
December 14, 2009
what is the deal with people loving QT. He is a terrible director. movie was 90% talking about stuff that didn't even matter.
December 05, 2009
A waste of two hours. Tarantino has done much, much better.
December 05, 2009
The opening scene ranks right up there as one of the best in history.....
November 07, 2009
BEST tarantino movie EVER so awesome
November 06, 2009
Fun and surprising. I wasn't bored at all--every second was riveting. It was funny, too, Tarantino style.
October 18, 2009
I'm not a Tarantino fan (actually I can't stand the guy) but this is a really great movie, I'm glad I saw this in theatre. It's intense, it's funny, and very well written and acted. Definitely two thumbs up.
October 11, 2009
Great movie. Cast was wonderful. Movie was funny and kept you interested. I am a big fan of Tarantino and this one is another hit. Highly recommend it.
October 05, 2009
Great movie just not a classic ... Pulp is a classic, Platoon is a classic ... this is not
October 05, 2009
Stupid and very, very boring.
September 29, 2009
Great Movie!!! Best Tarantino yet. Brad Pitt is awesome as usual. Little bit of gore but nothing like the others. MUST SEE for anyone with somewhat of an open mind
September 26, 2009
Terantino is a GENIUS!!!!
September 26, 2009
STUPID MOVIE -
September 25, 2009
Great stuff of course, as one would expect from Mr.Tarrantino. However; much as I really like Brad Pitt and I admit he has done fine work, he was not cast well for this film. He only made the Krauts; especially Herr Waltz, look like dramatic(and comic), masters.
September 23, 2009
I dont think this movie is very gory considering QT.the Jew hunter was awsome.The story was weak. action was slow. decent film.3/5
September 22, 2009
Spectacular movie. I really like Tarantino to start, and this movie reflects a kind of maturing in his art. An alternative history, the greatness of Tarantino's style is here to be found and enjoyed - but do not shape your expectations by Kill Bill, Pulp Fiction, or that Grindhouse aberration. The conversations in Inglourious have that mundane edge Tarantino is famous for, but they are much more potent as devices for suspense and scene setting. Quite enjoyable, and all the more since Tarantino had the guts finally to do on film what should have been done ages ago, screaming out the ultimate Allied fantasy with avengeance. And btw, Cristoph should be up for an Oscar. And after all t
September 20, 2009
Not Quinton's best movie but still very good. For all those haters, this is a Tarantino film so you should expect lots of blood gore and weirdness. So if that's not your type of movie then don't see it. It's not a factual story so dont think thats what your going to see. It's fiction and pretty imaginative at that so don't hate. If it's not your cup of tea then see something else
September 20, 2009
I LOVED this film. Quentin Tarrantino does it again. The man is a genius. Now, I realize this won't be for everybody, but if you really pay attention, its a fantastic story being told, and in a way no one else could ever tell it. Brad Pitt is stellar as usual, and headlines a very strong cast. I guess you either love or hate this type of film, and I for one....LOVE it.
September 19, 2009
RUBBISH!!! Save yourself the agony and time! Rent or buy "Valkerie" or "Paschendale"; both true stories, both highly recommended!
September 19, 2009
I felt like taking a screwdriver to my temples! My advise is: Take your wife or husband out to dinner and watch a romantic movie instead. The wives will appreciate it more and the husbands can get some rest for the long night afterwards!(wink wink!)
September 19, 2009
When is Quinton T going to make a film worth watching. 8 hrs of my time and $10+ wasted when I could of been doing something else more productive...like doing the laundry or vacuuming the house. It's bad enough he had to make 3 "kill Bill" movies.(Snooze-fest!!!) Pulp Fiction.(Stupid!)etc etc... If I had only known Q.T. directed and wrote this terrible piece of CRAP, I would of not gone to the show. Take my advise please! Call it a night and stay home and clean! Your wives and kids will thank you for it!!!
September 18, 2009
This movie is fantastic. I hate war movies in general, but due to the fictitious nature of the world and the incredible acting by Cristoph Waltz, this has become a quick favourite of mine. I recommend it to anyone who would like to see a well-made film and an oscar-worthy performance.
September 18, 2009
I had seen Kill Bill and wasn't very impressed with some parts of it, especially the fountains of blood, so I didn't really expect anything from this movie. It wasn't typical, like all the other movies out there. It was divided in chapters and the first chapter was riveting. It wasn't completely accurate especially the ending, and I wish every movie had the clean cut ending this one had. Quentin Tarantino is not afraid of killing his characters, which adds to the validity of the movie. It had one truly disgusting and degrading scene which lasted only a couple of seconds. Overall it was entertaining.
September 17, 2009
Either like it or hate it kind of movie. Absolutely garbage in my views
September 16, 2009
absolute garbage!
September 15, 2009
surprisingly good for a Tarantino film. Melanie Laurent was outstanding! However, I could tell that Diane Kruger was struggling with her German as she did not speak convincingly. The other actors were great and Pitt did not have to stretch for his part either. Did not feel like 3 hours and definitely worth watching.
September 15, 2009
super entertaining movie..loved it
September 15, 2009
so fake and bad the whole movie...so boring!!!
September 15, 2009
DO NOT bother watch this stupid movie people..its a Tarantino sick imagination movie! waiste of time big time
September 14, 2009
I'll give this movie 4 stars. It's certainly a great movie and the acting is INCREDIBLE, but I guess the one reason I'm taking away one star is that it just feels about half an hour too long. But I can see the director's difficulty in cutting any scenes simply due to the acting abilities of every scene.
September 14, 2009
Not Brad Pitt at his best -- rest of the cast outshines him. Nevertheless, perhaps Tarantino's best movie. The point of the final scene is undercut in today's America where so many, from Charlie Manson to white supremacists proudly display the swastika on their foreheads.
September 14, 2009
Another great movie!
September 13, 2009
Fantastic! Best new movie I've seen in a long time!!
September 13, 2009
Great movie, the characters were excellant, scary but funny at the same time,,not my fav Brad movie, but he's not the best actor out there, just nice to look at..lol. buttons was one of his best and burn after reading.. as for the rest of the crew, fantastic truly believable acting. even though the movie was mostly sub-titled it kept you watching and you missed nothing,, great fiction one could only wish the war ended that way....
September 12, 2009
best villain I have seen in a long tome and as well good acting not by pitt but every other actor
September 12, 2009
Absolutely great. Best movie of the summer.
September 11, 2009
Incredible movie. It literally is impossible to not be satisfied with this one. I am not a fan of watching the same movie many times while its still in the theatres but I have already seen it 3 times and am going back again tonite. Recommendation: Extremely High Satisfaction: Extremely High Overall: One of the best movies ever created!
September 11, 2009
terrific! could have watched it for another 2 hours. Tarantino is the best of all time...
September 11, 2009
Fake story line. Just good acting and action. The story does not reflect anything that has happened during that period. Just the acting.
September 10, 2009
It's not as good as Pulp Fiction, but what is... Awesome acting, funny, creatively violent, its a little bit different than what you would expect any movie to be but with an open mind I think this is Quentin Tarantino's best since Pulp Fiction, i enjoyed it as much as Reservoir Dogs and it was almost as good as Pulp Fiction even.
September 10, 2009
Awsome movie, the people on here that didnt like it should go see a PG movie, they might be able to understand it more !! lol Quentin did a fabulous job, i give this movie 5 stars