Mean Girls - User Reviews
Thank you for rating this movie!
Read your review below. Ratings will be added after 24 hours.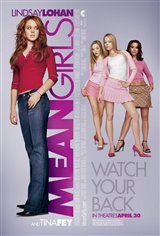 4.42 / 5
User Rating
Based on 18394 votes and 220 reviews
---
Please rate movie 1 to 5 stars
Showing 151 to 200 of 220
May 09, 2004
What i thought of Mean Girls was that it was SOOOOOO GOOD!! But yet when i was watching the previous i thought cadie(lindsay lohan) would be REALL mean in the movie. So i really wanted to watch and i went to watch ti but she wasn`t so mean that she would be as mean as regena.
May 09, 2004
It was a great movie because it was not only funny but tought you lessons that you should pay attention to for when you are older. I would really like to go and watch it again.
May 09, 2004
MEAN GIRLS IS SO FUNNY . i love lindsay lohan she is gorgeous n so sweet n talented =) .. rachel mcadams plays a good teenager for a 27 yr old .. and lacey chabert has the cutest lisp and the other girl is sooo funny =) this movie is 100000000 million stars its awesome
May 09, 2004
OMG!! Mean girls is like so totally awesome!! The only thing i was left thinking about other than the movie was soo amazing was where they shop!! I wish they were real people so we could be BFF!! I would totally be friends with them because we are both SO cool! YAY
May 09, 2004
that was an amazing movie
May 08, 2004
I thought it was one of the best movies i`ve ever saw, it was so ... true in a funny sort of way.
May 08, 2004
i loved all the outfits! they were soooooooo cool! iloved it i want to see it over and over!
May 08, 2004
I think it shows how high school is truly like , i can`t really say that i`ve ever experienced being picke don or even being an outcast, i`ve always been the one that gets along with everyone ...evven the plastics but the movie shows how we truly are wether we try to be or not . it was awsome !! luv ya !
May 08, 2004
It wasnt what i thought it would be but it was totally awsome!I`d totally see it again and again!Rock on Mean Girls!I think it was one of Lindsay Lohan`s best movies.
May 07, 2004
I thought it was the best teen comedy of the year mean girls really relates to girls at high school or at any school
May 07, 2004
It was so awesome like shut up!
May 07, 2004
I think mean girls what a awesome movie! It was so amazingly sneaky, with the bus and everything! Yea...it is definetly on my top 5 movie list!
May 07, 2004
i thought mean girls is the best movie i have ever seen, Lindsay i love you
May 06, 2004
I`d see it again and again. I highly recommend it. Loving it... LOL!!
May 06, 2004
surprising entertaining.
May 06, 2004
One of the smartest teen commedies in the past 20 years.
May 06, 2004
Awesome!! but the guy ending could have been a little more intense... it wasn`t sentimental enough... if was as if it was his duty to end up with her after apologyzing or something!
May 05, 2004
SO SO SO SO SO COOL
May 05, 2004
it was awesome....the best movie ever!!!
May 05, 2004
This movie was like, soooo much fun!
May 05, 2004
i think the movie ROCKS MY WORLD O YA YA IT WAS FUNNY
May 05, 2004
I loved it. It is like so ture what girls are like.
May 05, 2004
i thought mean girls was a funny way of seeing what`s going on in reality with every teenage girl. gossip`s not a good thing, but we`re all guilty of it. this movie was a funny way of seeing what gossip really does, and that it`s not a great thing to be a part of. people do get their feelings hurt, and the sick feeling in yur stomach sux.
May 05, 2004
It`s a cool movie and I hope that they`ll make a part two cuz it rocks
May 05, 2004
I thought it was great! I took my 8 year old daughter... I think it may have taught her some stuff!! the theatre was full of 16 and 17 year old hirls, so it kind of set the mood!!! Very Good Job!!
May 04, 2004
This movie was magic! It really teaches you that what goes around comes around and the life long lesson is to treat people with respect and show a little kindness towards other human being. Basically, mean people will always get what they deserve in the end and never under estimate a persons ability to get even. Well done, great movie....
May 04, 2004
it so anwsome,and funny
May 04, 2004
I think Lindsey Lohan is so hot, I went to see the movie just for her, I love you Lindsey
May 04, 2004
I think that movie was the best movie i ever saw..it was so so funny.And it really shows what would happen in realy life with friends...The movie ROCKS!
May 03, 2004
I think it was the best movie i have ever seen and i think it`s a movie you can watch over and over again!
May 03, 2004
i thought that mean girls was going to be just another one of those stupid blonde moment kinda movie...well it kinda was but i thought it was funny...i am brunette but doi act very blonde...over all i think that it was an awsome movie and i would see it anyday..and if i had the chance to work with lindsay lohan or any of the girls in the movie i totally would....great job guys
May 03, 2004
Lindsay Lohan is so HOOOOOT!!!!!!
May 03, 2004
I saw this movie yesterday, i can`t say that its a good movie, but then agian its not horrible. its one you would want to see in the "cheap" theathers, because it would be dissapointing if you paid full price. But its whatever you like in a movie I supose...
May 03, 2004
I thought Mean Girls was awesome it really related to how girls today act in high-school.
May 03, 2004
I thought it was fantastic and that Tina Fey did a fabulous job showcasing the hilarity of the high school "mean girls" and how they are beyond a realistic comprehension for those of us who don`t think popularity is everything.
May 03, 2004
awesome! the truth about how girls really are
May 03, 2004
it was great! lindsay rocks!!!!
May 03, 2004
it was really cool i liked how lizzie mgurie was in it it had really good charcters for this movie it was awesome MOVIE
May 02, 2004
At first I thought the movie was AWESOME but then it got weird. When Regina gets hurt (I dont want to say to much to ruin it for other veiwers) it kind of throws off the whole movie. Maybe it was just me.
May 02, 2004
i thought this movie was great! the best part is te jingle bell rock part i think...for some reason! Lindsay Lohan can do everything. she makes this movie what it is...AWESOME!
May 02, 2004
Man I should have known when a SNL cast member makes a movie its all down hill from there, dose anyone remember "Corky Romano"...eshhh this movie "Mean Girls" could have been I bit better (and I do stress only a bit better) if someone with tallent helped in makeing it. Why is Hollywood preducing so much crap lately. Ah well at least there is a few good movies (yet agian I very much stress a few good ones) out there to watch.
May 02, 2004
i thoguth it was really goood for some girls that are going throught this in high school too
May 02, 2004
It was ok but how come they always get 28 year olds to play 18 year olds its stupid
May 02, 2004
great movie!!!!!!!!!!!!
May 02, 2004
mean girls rocked it was the coolest movie, and thats coming from a 16 year old
May 02, 2004
it`s awesome it`s a great movie and i wish i had it.
May 02, 2004
I LOVED Mean Girls! It was EXTREMELY funny and so much fun. A Great movie for everyone and the clothes they wear so SO sweet!
May 02, 2004
Wasn`t expecting it to be so funny, But I would really reacomend seeing this movie to anyone.