Pete's Dragon - User Reviews
Thank you for rating this movie!
Read your review below. Ratings will be added after 24 hours.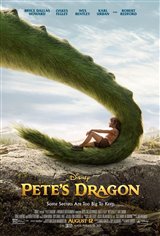 ---
Please rate movie 1 to 5 stars
Showing 1 to 44 of 44
July 17, 2017
Best movie of 2016!
November 29, 2016
Great Movie
November 16, 2016
This was the best Disney movie ever! Really enjoyed the special effects and animation in this movie. Can't wait to get the DVD!
October 20, 2016
Excellent family movie
September 17, 2016
The best Disney movie in decades!
September 15, 2016
Best movie of the year
September 13, 2016
it was a movie that appeals to all ages. we did not have kids with us, but it appealed to the kid in us. a great story.
September 02, 2016
Great fantasy movie .... reminded me of the song "Puff the Magic Dragon." There are moments when it is pretty obvious that the Dragon is fake however that did not take away from my enjoyment of the idea. Moral of the story? Listen to your child's wild stories .... they are trying to tell you about their heart!
September 01, 2016
Excellent heart-warming movie. BEST one I have ever seen with my 5 year old niece and 9 year old nephew. My sister enjoyed too. I loved it. It taught me that it's ok to cry even though a very happy ending. It touched my heart. All children will enjoy watching Pete's Dragon. I admire the Author/Director for such an amazing, loving and the intense emotions involved in some of the scenes. A MUST SEE for ALL ages.
August 26, 2016
the commercials for this movie they are so funny
August 25, 2016
An excellent family movie.
August 23, 2016
Fantastic movie,it saved the summer from all the cheesy super hero crap! You'll want to go home and hug your pet!
August 22, 2016
This was a great movie! A must see for all ages...
August 22, 2016
Great movie to show kids it's alright to Cry! Both of the kids I took had tears in their eyes. And in the end of the movie they came out with smiles on their faces! I'm glad that I took them to this movie.😂
August 20, 2016
Warm and very touching movie. I almost cried.
August 16, 2016
HEARTWARMING, what a pinch of faith, hope, courage and imagination does
August 16, 2016
This movie was great!! My 3 yr old twins sat through the whole movie.. And that's not easy. This kept them interested !! Awesome movie!!
August 15, 2016
Loved it!! Well done and had a moral to the story. Since it's not likely I'll ever have a pet dragon then the next dog or cat who comes to live with me will be named Elliott. 😊
August 14, 2016
Plays like a direct sequel to Redford's earlier hit, The Electric Horseman. Not to be missed.
August 14, 2016
Non-stop action, for those who like that sort of thing.
August 13, 2016
The movie was great but the 3D was terrible. The 3D was nothing like it used to be. I do not recommend 3D at all.
August 13, 2016
Sweet, enchanting and family friendly. A wonderful Disney film
August 13, 2016
This has to be one of the worst Disney movies that I have ever seen. It was so boring that it almost put me to sleep and kids that were around me.
August 13, 2016
Great movie. Love dragons anyway and this was just a feel-good movie with a great message about family
August 13, 2016
The original was much darker -- and better.
August 13, 2016
I really enjoyed the movie. I would recommend this movies for all ages.
August 12, 2016
Good family movie, was a bit slow at times. But nice to have a inspiring movie for the whole family to enjoy.
August 12, 2016
Totally NOT! what I expected. The acting was awesome, Especially OAKES FEGLEY! Here is one boy I will be looking for in the future. Robert Redford is still charming. Great Heart warming story with something for everyone!!!
August 12, 2016
Loved it, no scary scenes for little kids, just fun and adventure.
August 12, 2016
Thank you Tribute for the advanced screening tickets. I really loved this movie! It's very sweet, sincere, and extremely emotional. Elliot the dragon is a wonderful character and his bond with Pete is so touching. This is not a movie for cynical people. It helps to view it through the eyes of a child, but it would take a hard heart not to love Elliot. The movie has a slower pace and an old-fashioned feel compared to other movies. It is beautifully filmed and has a good soundtrack. I couldn't get enough of Elliot and Pete cuddling!
August 12, 2016
This was a feel good movie. While it started a little slow, the story was told well and I'm sure many kids and parents will enjoy it.
August 11, 2016
Thank you so much Tribute for the tickets to the advanced screening to Pete's Dragon. My kids and I enjoyed going to the show. We loved the movie! It combined love, kindness and magic beautifully! It was a heartwarming story with action mixed in. We found ourselves cheering out loud, clapping and even crying. This is a movie for all ages and a MUST see for the summer!
August 11, 2016
As a parent taking a 13 ,14 ,and 5 year old to the same movie, I was pleasantly surprised that they all enjoyed the film for its action ,humor and how much the Dragon was like a really big puppy. It holds a great message about family and had enough action for the older kids ,but not too much for the the 5 year old. Very sweet child actors and the older daughter was a standout in the acting department.
August 11, 2016
Pete's Dragon is a terrific remake of 1977 petes dragon . the film is a stunning exploration. of grief, loss, hope, and family. It's cleverly made with live action and animation that seemed to flow seamlessly. the story is touching and is more about loss and the relationships and how each character deals with loss. the film is fun it as well, I liked the playfulness of the dragon and its willingness to protect its own. I would recommend it to all family members
August 11, 2016
My family really enjoyed the movie. It was a touching story with some funny scenes. We watched it at a regular 3D theatre so the colour of the screen was greeny and the contract was a little dark. It could be better if we watched at an AVX theatre.
August 11, 2016
Really good movie , I love it, my kids love it too. Super
August 11, 2016
Such a good movie. I remember seeing the original when I was a child so I was really looking forward to seeing this movie. Great acting. I love Robert Redford.
August 11, 2016
A beautiful, heartwarming retelling of a classic tale of friendship that is sure to touch the heart of the child in every person. I watched it with my husband and 2 kids (age 12 and 5) and we all loved it. I think it's one of the best Disney live adaptation of a classic.
August 11, 2016
A sweet movie with a good message. I really enjoyed it.
August 11, 2016
A Disney classic racketed up.
August 11, 2016
Enjoyed it very much Nice to have an updated 'live action' version of a classic 'cartoon' that doesn't have any Super Heroes or Villains
August 11, 2016
A very cute and fun family film. Definitely great for the whole family. Actors were great, and feels like it's gone back to what Disney used to really be!
August 11, 2016
We took all 3 of our kids to see this last night and it has instantly became a new family favourite. I found it appropriate for my 5, 7, 9 year old children as well as my husband and myself. The old version was a favourite of mine so I loved being able to experience this new one with my family. It was heart warming and so well done. Might even take the kids again on a cheap rainy tuesday afternoon :)
August 11, 2016
Brought back memories. The original movie is one of my favourite movies and I can feel the same magic with this one. I went with my 3 children and they all loved it. Some parts of the movie brought me to tears. A really great film by Disney!