Pixels - User Reviews
Thank you for rating this movie!
Read your review below. Ratings will be added after 24 hours.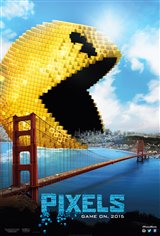 4.37 / 5
User Rating
Based on 2070 votes and 60 reviews
---
Please rate movie 1 to 5 stars
Showing 1 to 50 of 60
August 24, 2016
Like most Sandler films, this one just gets better with age.
November 20, 2015
I loved it, too.
November 20, 2015
Haha-- total 1 star for trailer alone...just wanted to take a moment to make a shout out to the guy--or girl who made the 3 only reasons you should watch this film. Genius!! & 5 star in my opinion...honestly when did everybody get so....(blank)
November 06, 2015
One of the best movies I've ever seen.
November 06, 2015
What in the actual @#$% is wrong with you people? 83% of you gave this 5 stars? That makes me embarrassed to be a human. This movie was pure, unadulterated shit. As a long time gamer I didn't enjoy this, so don't tell people they will if they are. Adam Sandler hasn't made a good movie in close to 20 years now, I just have to wonder what you people are on, or is he paying you off? If that is the case I will gladly take him money to lie about the quality of this and all his other movies. In conclusion, only watch this movie if it will do one of the following things: 1) Get you laid 2) Save your life or 3) Make you money.
September 19, 2015
For a better version, watch the Futurama episode Sandler ripped off.
September 14, 2015
Absolutely loved this movie! I took my 2 boys who are 9 and 10 and they loved it also.
September 14, 2015
Drivel. The only people this movie might appeal to are those old enough to have actually spent time in arcades. The problem is, the nostalgia of these games is not enough to negate the abysmal acting and script.
September 10, 2015
Pixels was a great movie! Especially if you were one to go to the arcade and play PAC MAN AND DONKEY KONG. It was a nice story line and all the actors played their role very well. I believe it is for all ages or those who aware of old arcade games.
September 10, 2015
2 THUMBS UP!!!!!
September 06, 2015
If you like video games you will love this movie
September 05, 2015
Wow that movie is great and fun and cool.
September 04, 2015
REALLY ENJOYED IT!
September 04, 2015
You grumpy old coots take your butt and get outta here!! Pixels is a GREAT movie, and YOU shouldn't have rated it badly!!!
September 04, 2015
Brings back fond memories of playing classic arcade games.
September 03, 2015
Greatest games tribute of all times!
September 02, 2015
My family enjoyed Pixels! We laughed together and the sound track was good. Another family friendly movie from Sandler and company.
September 01, 2015
Pixels was a Great, Colorful, Fun Movie!
August 30, 2015
AWESOME POPCORN FLICK!!!!!
August 29, 2015
Pixels was hilarious and so much fun to watch. It is a terrific family movie to see.
August 28, 2015
Took my kids to see it and they loved it.
August 27, 2015
Loved every minute of it! Brought me back!
August 25, 2015
It's a great movie, loved it, #1 on my list.
August 25, 2015
It was a great movie! If you are looking for a nice summer movie to forget about things and you grew up in the 80s, it is worth seeing. As well, in Adam Sandler's movies, he usually has a good social message. Briefly in this, he talks to one of the kids who is playing first-person shooter games, and tells him how back in the 80s when you were a kid, you went out of the house to an arcade to play video games and socialize instead of nowadays staying home alone. They could have done a little more with 80s icons and a sound track but overall, I was happy I went to see it. The movie made me want to go to an arcade and get lost in a video game.
August 24, 2015
I've never laughed so hard. 80s were done well with only a few messed up phrases they used to say.
August 20, 2015
I worked on this, it was all filmed in Toronto, you will notice that they didn't take down some Toronto signs - Huron lol! Not a bad movie, very entertaining.
August 20, 2015
Amazing movie, we loved it!!! It's a must see for all ages. I don't know why it had bad reviews, it was awesome!!!
August 18, 2015
Sandler hasn't been this good since The Cobbler!
August 17, 2015
Great Nostalgic movie!! Go in with an open mind, it's about video games coming alive, don't take it so serious just have fun with it. I hate the critics that are so hard on Adam Sandler and his films. I think he is fantastic. I wish the people that don't like his "typical" movies would stop watching them and giving him undeserved bad reviews. There are many of us that DO think he is hilarious and can't wait for his next movie. This movie had a great soundtrack and perfect feel of how it was in the 80's! Made me feel great! Me and my teenagers laughed a LOT in this movie. We thought it was great!
August 17, 2015
GREAT FUN AND A BLAST FOR ARCADERS!
August 12, 2015
Liked the animation. Did not care for Sandler's performance and the story was just too far out there.
August 10, 2015
My 12 year old boy saw this twice and loves it! I was skeptical but I laughed out loud several times! Some things are a little far fetched but still a fun movie!
August 06, 2015
Chris Columbus (one of my favourite directors), thank you for directing my favourite summer movie of the year!
August 06, 2015
Sony is wondering how they made such a huge blunder. Heads will roll.
August 06, 2015
really funny and adventurous movie....
August 05, 2015
Careful, Adam. Rumor has it the screen actors' guild hired a hit man.
August 02, 2015
This magical movie interprets a message in you and you might just be inspired by it. I also enjoyed it because the filming and base of the movie were well done and creative. Over all I really enjoyed this movie.
August 01, 2015
I loved how they did the pixels for the characters. and btw the idiots posting 1 star are liars that never watched this movie! dumbasses!
August 01, 2015
All my friends and I really enjoyed the movie. It was such a great movie.
August 01, 2015
I'm an 80's kid so I loved it since it starts in 1982. Our 8 year old son, an avid gamer, also enjoyed it.
July 31, 2015
Don't waste your money. Beyond ridiculous, it's silly. This movie will entertain those who are mentally challenged.
July 30, 2015
It's atucally a really cool movie, worth seeing! And my friend liked it too!
July 29, 2015
Fun movie and full of nostalgia.
July 29, 2015
Sandler's best since Jack & Jill!
July 28, 2015
adam sandler sucks
July 28, 2015
Bad acting from Adam Sandler pretty much ruins it.
July 28, 2015
Sandler looked like he wanted to be somewhere else. If you don't like what you're doing get another effin line of work.
July 26, 2015
Laughed throughout the entire movie; although I love both Adam Sandler and Kevin James. I would definitely recommend this for a date night.
July 25, 2015
great movie went with a friend and she had her kids with her and we loved the movie:) funny:)